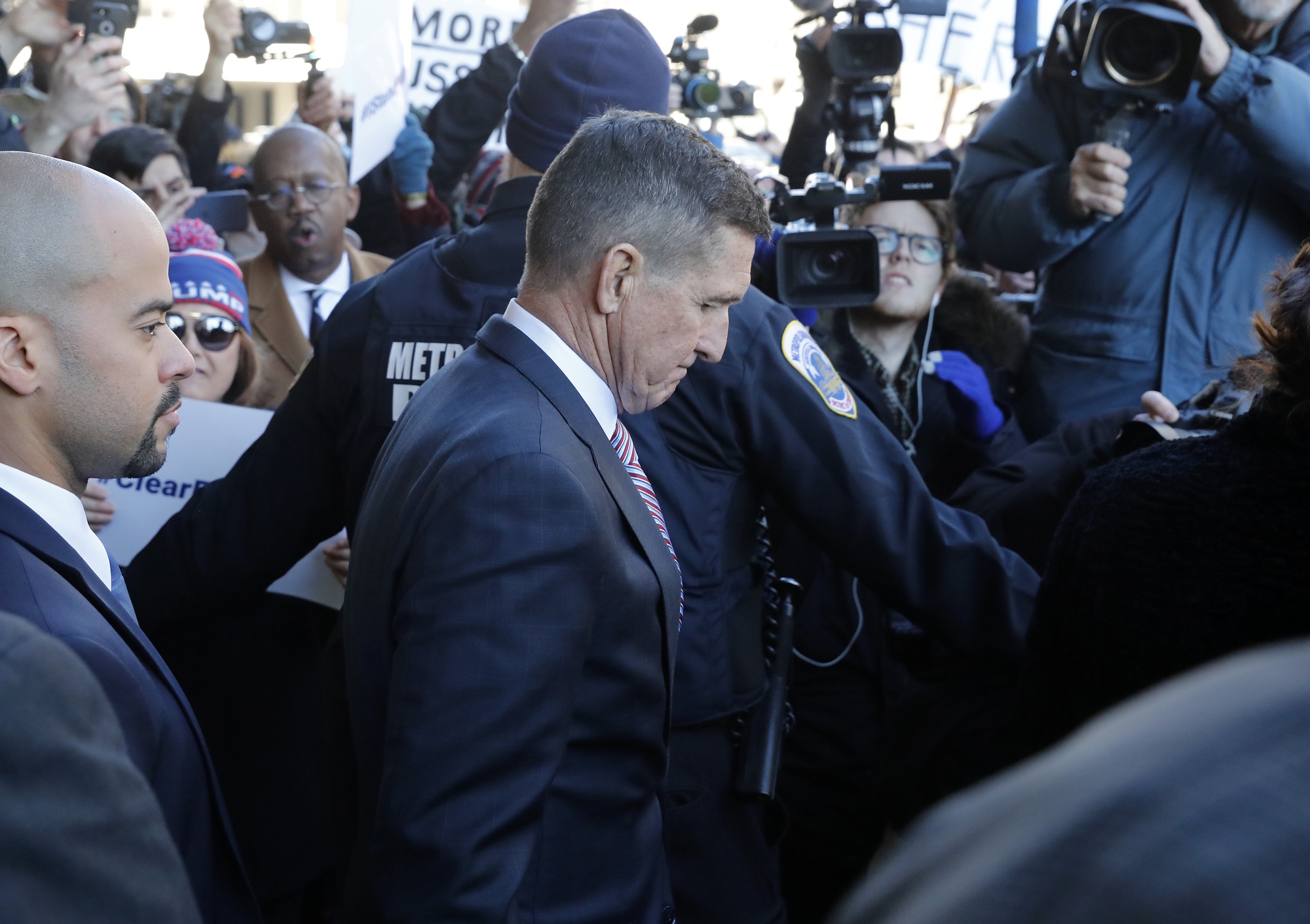 Flynn Transcripts Confirm Talk of Sanctions With Russian Envoy
by Steven T. Dennis, Chris Strohm
Republicans now argue Flynn's misrepresentation didn't matter
Adviser urged Russia to bide its time until Trump took over
Newly declassified transcripts confirm that Michael Flynn, who became President Donald Trump's first national security adviser, discussed U.S. sanctions with Russia's Ambassador Sergey Kislyak before Trump's inauguration.
The transcripts from late 2016 and early 2017 that were released Friday by Republican senators show Flynn urged Kislyak to keep the temperature down between the two countries and to limit Russia's response to measures that President Barack Obama took in December 2016 because of Russian cyber attacks.
The release reflected a new push by Trump and Republicans to dismiss the episode as of little consequence even though incoming administrations have traditionally refrained from interfering in foreign policy -- and even though Flynn pleaded guilty to lying to the FBI by denying he'd discussed sanctions with the ambassador.
Republican Senator Chuck Grassley said in a statement Friday that the transcripts show "that all of the innuendo about Lieutenant General Flynn this whole time was totally bunk. There was nothing improper about his call, and the FBI knew it."
In the transcripts that were released to Congress by John Ratcliffe, the new director of national intelligence, Flynn told the Russian ambassador, "I know you have to have some sort of action" but "to only make it reciprocal" to avoid a "tit-for-tat escalation" of actions by Obama that included the expulsion of Russian diplomats in the U.S.
"Let's keep this at even-kill level," Flynn said. "Then when we come in, we will have a better conversation where we are going to go regarding our relationship."
Read the transcripts here and here
Flynn also sought unsuccessfully to get Russia's behind-the-scenes help in stopping the United Nations Security Council from voting to condemn Israeli settlements. Obama let the resolution go through.
Representative Adam Schiff, the Democratic chairman of the House Intelligence Committee, said in a statement that the documents are as damning as Democrats have long contended.
"The transcripts also reveal why Flynn was properly the subject of a counterintelligence investigation and how the DOJ's effort to dismiss the case against him is so transparently political and destructive to the interests of justice," Schiff said in a statement.
Trump fired Flynn in 2017 for lying about the Kislyak calls to incoming Vice President Mike Pence. In January, 2017, Pence said on Fox News that "the conversations that took place at that time were not in any way related to the new U.S. sanctions against Russia or the expulsion of diplomats."
But Pence recently said he would welcome Flynn back into the White House, and Attorney General William Barr has moved to dismiss the perjury charges against him.
Trump said this month that Flynn's discussion with Kislyak was "a good conversation. He was allowed to do it."
— With assistance by Billy House