Roger Federer tops Cristiano Ronaldo in list of 10 highest sportsmen in the world
- Roger Federer has come out topping the Forbes' list as highest paid athlete
- Cristiano Ronaldo is occupying second position, while Lionel Messi is placed third
- Federer becomes first tennis player ever to top Forbes' list
Swish professional star Roger Federer has become the first tennis star to top Forbes' list of the world's highest paid male athletes beating the likes of Cristiano Ronaldo and Lionel Messi.
Cristiano Ronaldo, Lionel Messi and Neymar are regarded as the richest footballers in the world considering what these three stars have made in their careers.
And surprisingly, the American magazine published that Roger Federer has leapfrogged these three world super footballers on their list of highest paid.
But the difference between Roger Federer and Cristiano Ronaldo on the list is just £1 million as the Portuguese footballer stays second on the table.
Federer joins Tiger Woods as the only two active athletes to hit $100 million (81m) in a single year from sponsorships alone.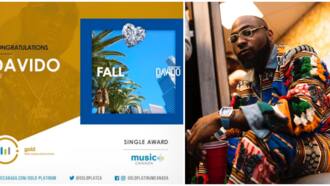 They laughed at me but I did it first! - Davido says as his song Fall is certified gold in the US
Barcelona captain Lionel Messi is occupying third position on the table with £84 million.
Below is the table
1, Roger Federer, tennis player with £86 million
2, Cristiano Ronaldo, footballer with £85 million
3. Lionel Messi with £84 million
4. Neymar of PSG with £77 million
5. LeBron James with £71 million
6. Stephen Curry with £60 million
7. Kevin Durant with £52 million
8. Tiger Woods with £50 million
9. Kirk Cousins with £49 million
10. Carson Wentz with £48 million
On the list, Cristiano Ronaldo, Lionel Messi and Neymar are the only players playing in Europe who are on the list while the others are American footballers.
Earlier, Legit.ng had reported how Real Madrid were named as the most valuable European football side by consultancy firm KPMG in which they beat competition from English side Manchester United.
No doubt about the fact that Real Madrid is among the best clubs in the world considering their achievements so far most especially in the Champions League in the last decade.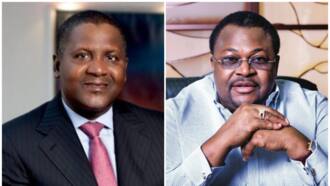 Dangote Group, Globacom and 4 other companies make Nigeria proud in 2020 Africa brands report
According to the annual report done by KPMG, they came up with Real Madrid topping the list as they have been valued at €3.478 billion.
This comes after Real Madrid confirmed on their website that their enterprise value annual has risen by 8%.
However, this is the second successive year that Real Madrid will be coming out as first position on the list of most valuable clubs in Europe.
What Messi told me at the World Cup - Vincent Enyeama | Legit TV