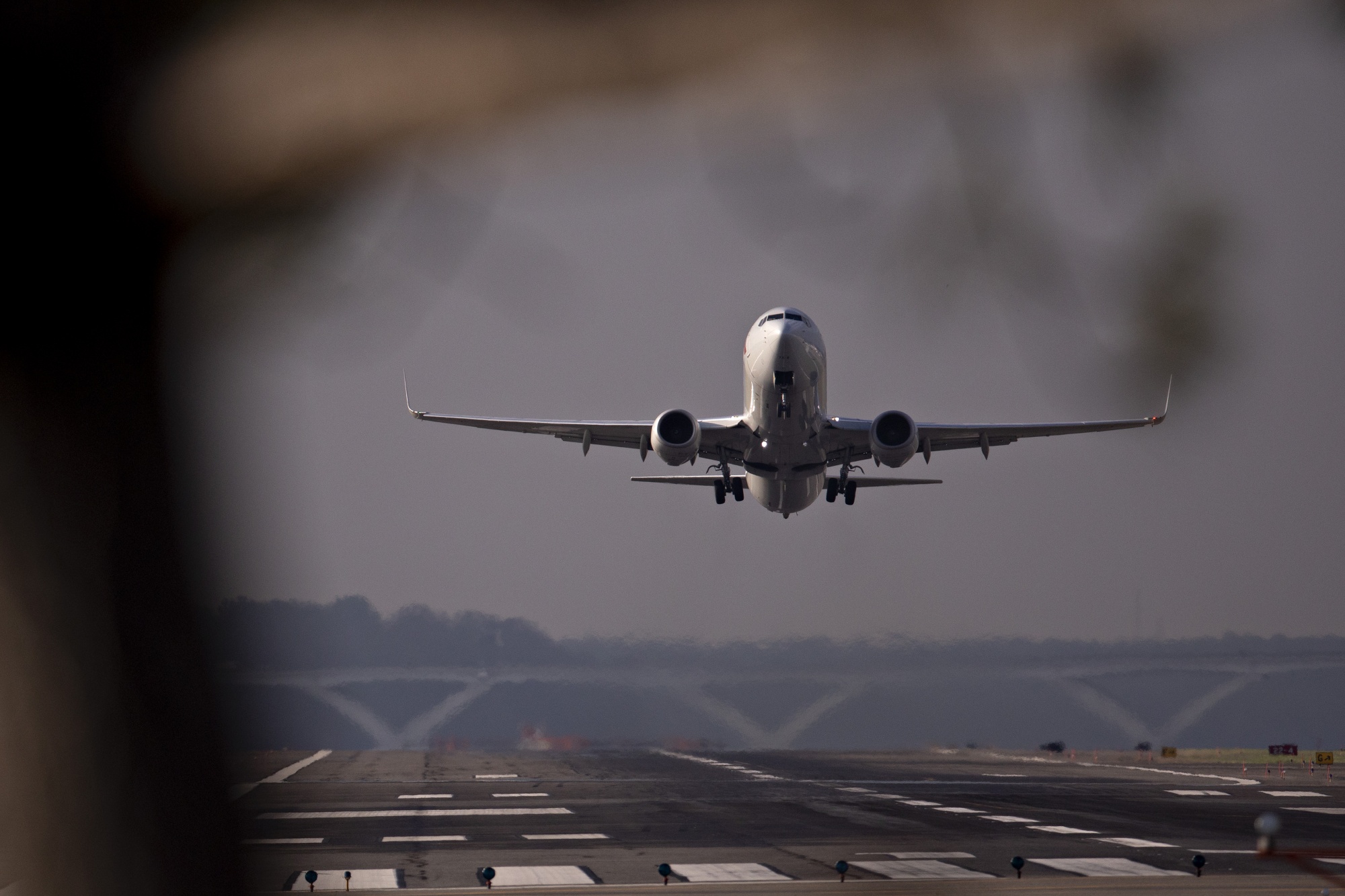 Airline Chiefs Talk Travel Rebound, Cut Jobs Anyway
People are starting to fly again and that's encouraging. But companies are sticking with sweeping layoffs, suggesting a tepid recovery at best.
by Brooke Sutherland

To get Brooke Sutherland's newsletter delivered directly to your inbox, sign up here.

Wondering if a recovery is nigh in the aerospace market? Follow the jobs. 

Shares of airlines and aerospace manufacturers were buoyed this week by nascent signs of life in a travel market that had been all but dormant through April and early May amid the coronavirus pandemic. More than 300,000 people crossed Transportation Security Administration checkpoints on prime travel days over Memorial Day weekend in the U.S. That's a fraction of the more than 2.5 million people that traveled on the same days a year ago, but it's still the highest traffic since late March. The Financial Times noted a spike in vacation rental bookings in states such as Florida, Georgia and Alabama that have reopened their economies, while recreational-vehicle dealers have reported a surge in sales, suggesting there is a level of pent-up demand for travel, one way or another. Airlines say bookings are now outpacing cancellations and planes are getting fuller.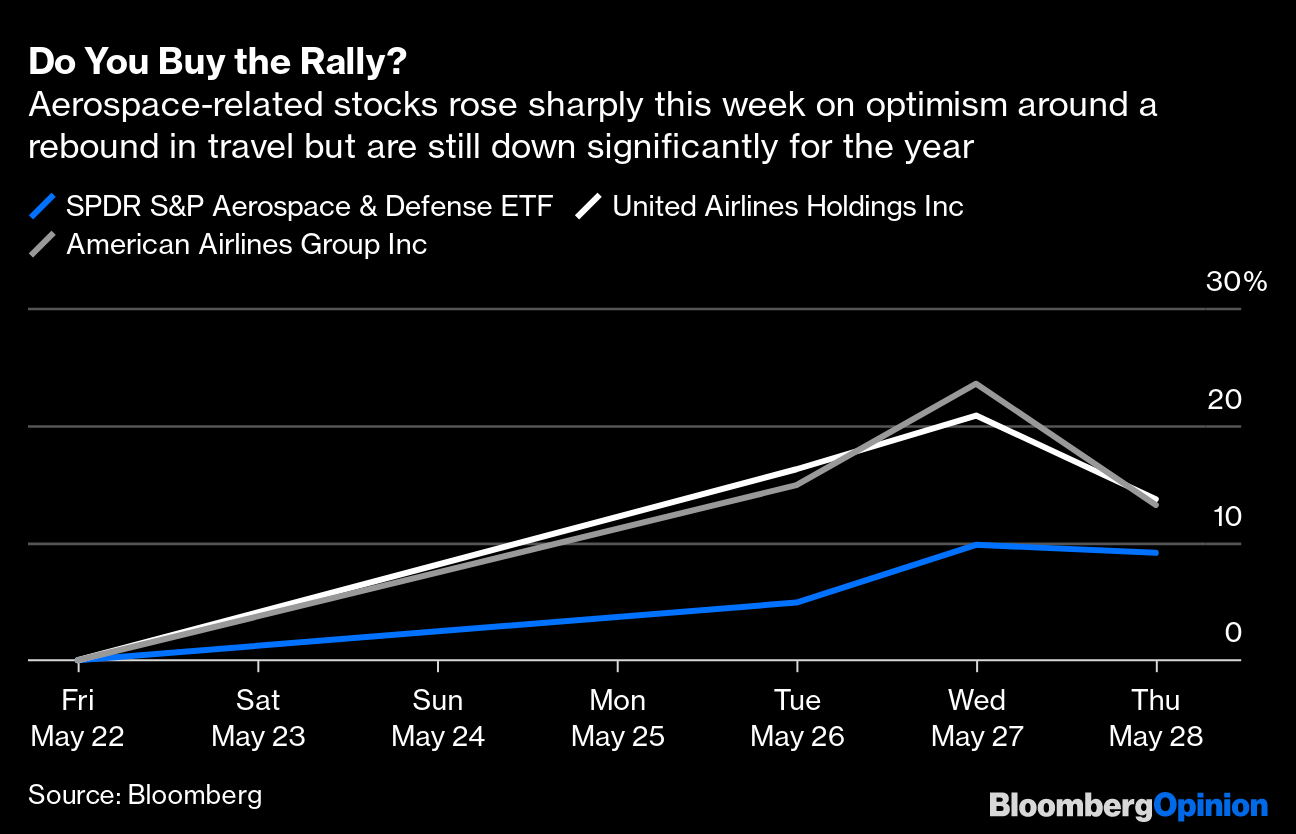 In one of the boldest signs of optimism, Southwest Airlines Co. said this week it expects its flying capacity to roughly reach 2019 levels by late 2020. Southwest's fleet was capped in 2019 by the grounding of Boeing Co.'s 737 Max, but that would still represent a meaningful recovery. The number of Southwest seats available were down about 70% from a year earlier in May and the airline has said it expects to operate at about 50% of its previous capacity in June, with only about 35% to 45% of seats filled. "While we can't see the light at the end of the tunnel yet, it's not quite pitch black in here anymore," United Airlines Holdings Inc. CEO Scott Kirby said at the Bernstein Strategic Decisions Conference. Both he and American Airlines Group Inc. CEO Doug Parker resoundingly dismissed the prospect of bankruptcy when asked about the possibility at the conference, which was hosted online like so many others these days. 
All of this is good news. But it's a bit jarring to square this optimism with the continued cascade of warnings about looming job cuts from these very same airlines. American will cut 30% of its management and support staff, or about 5,100 jobs, hopefully through voluntary departures but if not, through layoffs, according to a memo this week. That's the same percentage that United recently said it's looking to cut, which in its case equates to about 3,500 jobs. Both companies accepted Treasury Department payroll grants that prevent them from making mass job reductions or salary cuts through the end of September. Boeing, meanwhile, avoided having to accept government aid and is under no such obligation to wait. The planemaker notified 6,770 U.S. employees this week that their jobs were being eliminated as it works its way up to eventually cutting 16,000 jobs, or about 10% of its workforce. "I wish there were some other way," CEO Dave Calhoun said in a message to employees where he also noted "green shoots" of an eventual recovery. It should be emphasized that these are job cuts and not furloughs, and that isn't the kind of step you take if you expect a material recovery to happen anytime soon.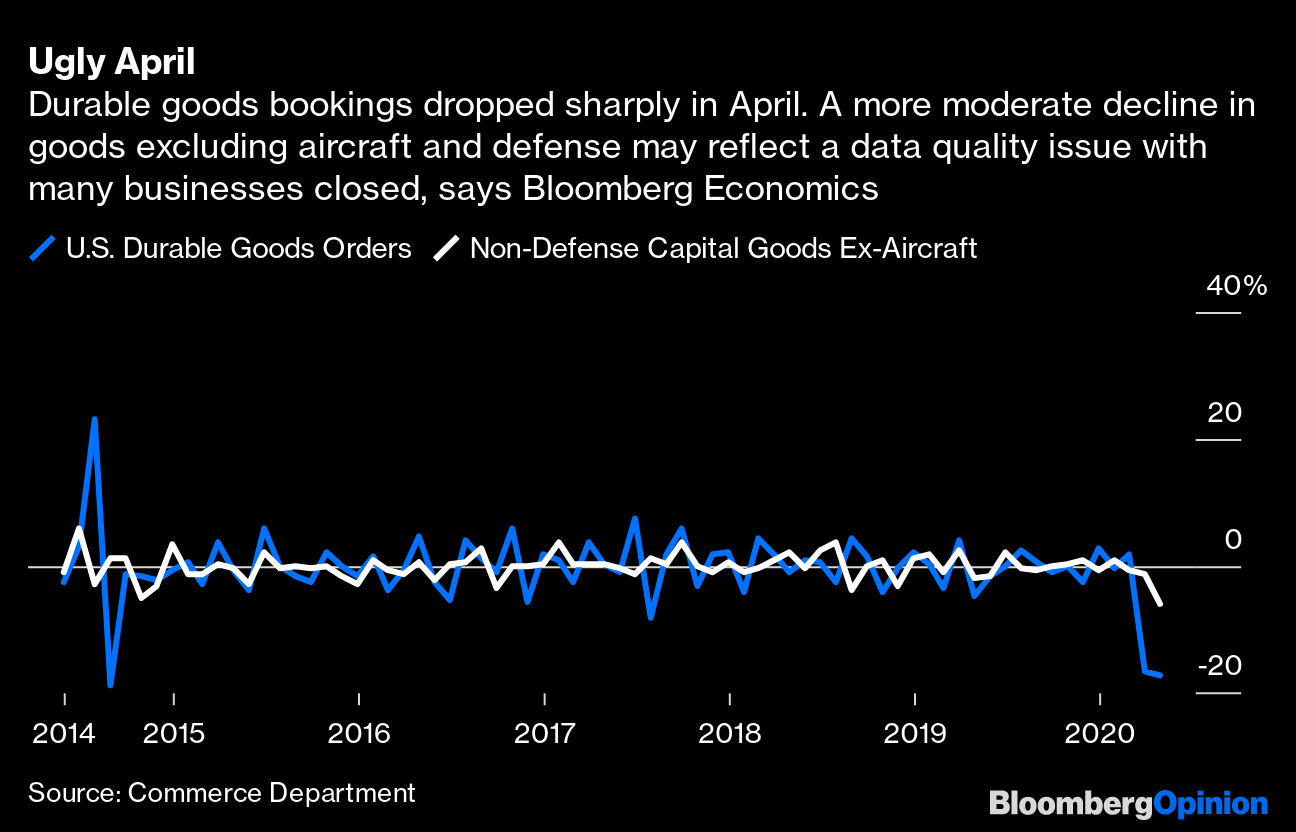 Meanwhile, General Electric Co. CEO Larry Culp, speaking at the Bernstein conference, reiterated plans to cull 25% of the workforce in the company's aviation unit. Whatever improvements are happening in the aerospace market, they haven't materially filtered down yet to the engine maker. GE said shop visits for planes needing maintenance and spare engine orders were both still trending down about 60% for the second quarter as of May, the same as in April. "It's likely to be a slow grind from here," Culp said. "We need to take dramatic action on the cost side to deal with that." Culp said GE may burn as much as $4.5 billion of free cash flow in the second quarter on its way to an overall negative number for 2020. That second-quarter cash burn is a shocking number that's significantly worse than many analysts had been anticipating, but bear in mind, Culp has made a habit out of lowering the bar for GE with dire forecasts that turn out to be overly pessimistic.
At the end of the day, the flights that are happening right now are largely domestic and filled with leisure travelers, American Airlines executives said this week at the Bernstein conference. But airlines make their money on first-class passengers, business travel and international flights. At least some fliers who normally choose first-class options on commercial airlines are instead opting for private jets. Whether Zoom calls permanently replace conferences and everyone starts working from home is a matter of debate, but at least some of that business air traffic seems likely to go away forever. "We've all learned how to be more comfortable on digital platforms," Anders Gustafsson, CEO of mobile computer and bar-code scanner company Zebra Technologies Corp., said at the same conference. "We will probably not go back to quite the level of travel we did prior." What does come back will be slow-going as companies work through the potential liabilities should employees become ill with the coronavirus on a work-sponsored trip. In that kind of world, having a depth of flights with the same departure points and destinations isn't going to matter so much and there's less need for 50-seat short-haul planes, United chief commercial officer Andrew Nocella said at a Wolfe Research conference last week. For aerospace manufacturers, that means fewer planes flying overall, which in turn means less maintenance and less need for new jets.
I hope, for everyone's sake, that these green shoots of recovery translate into something more sustainable, but it's always wise to give more weight to what CEOs are actually doing with their businesses than any signals from the stock market. 
PANDEMIC TAX
We talked last week about whether the pandemic-fueled shift toward e-commerce and working from home may signal a turning point toward perpetually lower profit margins for delivery companies United Parcel Service Inc. and FedEx Corp. Well, UPS is trying to do something about that. The company is adding a 30-cent surcharge for each package sent through its UPS Ground and SurePost services for shippers that have exceeded their average weekly volume in the pre-pandemic month of February by more than 25,000 packages, according to the Wall Street Journal. A $31.45 fee applies to large packages after companies ship more than 500 of them in a week, the Journal says, which could affect items such as desks, bikes and patio furniture that have become more popular with everyone stuck at home. Retailers may be reluctant to pass on the extra fees to consumers at a time when shoppers are hard to come by and e-commerce remains the key driver of traffic, but one workaround is to drive more people to pick up online orders in stores. It's an option that's gaining a surprising amount of traction for larger sellers including Walmart Inc., Target Corp. and Home Depot Inc. FedEx hasn't yet put similar fees in place domestically, but the Journal has reported the delivery company is limiting the number of packages certain retailers can ship directly from their stores. 
DEALS, ACTIVISTS AND CORPORATE GOVERNANCE
GE agreed to sell the remaining vestiges of its lighting business to smart-home products company Savant Systems Inc. for an undisclosed amount. It's a bittersweet moment for a company that traces its roots back to Thomas Edison, the founder of the modern light bulb, but a sale has been a long time coming for a business that at best felt out of place in GE's current reality and at worst was more or less forgotten. Speaking in an interview, Robert Madonna, CEO of Savant Systems, said he'd been in discussions with GE Lighting about a possible deal since last June. Savant's sales pitch is that it's capable of providing a wide range of smart-home features — from temperature control to security, music and mood-lighting — through one system that works with common interfaces such as Apple Inc.'s iPad or Amazon.com Inc.'s Alexa. The C by GE smart switch and motion-sensor technologies are complementary, and demand for smart-home capabilities may tick up as the pandemic forces people to spend more time in their residences, but Madonna repeatedly emphasized the value of "an iconic American brand," one that he has particular appreciation for after growing up in GE's former backyard of Connecticut. "It's a perfect home for what Thomas Edison started," he said. "If you think about it, the light bulb was the first smart-home device. It replaced fire." Elsewhere, the Financial Times reported that the U.K.'s HM Revenue & Customs tax authority has applied to change a claim involving a $1 billion dispute over allegedly incorrect interest rate deductions by GE between 2004 and 2015 to include allegations of fraudulent misrepresentations. GE has previously disclosed this tax issue and is contesting the matter. The company has said it complied with all applicable laws. 

Siemens AG gave more details this week on its plan to spin off its gas turbine and oilfield-equipment assets into a separate company. Siemens will cede majority control and retain a 45% stake in the new energy entity, of which 10% will go to its pension fund. The company plans to gradually bring its holding down over 12 to 18 months. The new energy enterprise — which also includes Siemens's 67% stake in wind-turbine maker Siemens Gamesa Renewable Energy SA — is expected to list on Sept. 28, a bold target as the pandemic continues to fester and energy markets grapple with the plunge in crude prices. Despite the energy business posting a loss for the first half of this year, Siemens will charge the spinoff a fee for the rights to use its name, which may amount to a mid-double-digit million euro figure in 2020, according to Bloomberg News. UBS analysts see a potential 10 billion-euro equity value for the energy business, with an eventual return to growth and margin improvements despite the current challenges. 

Hertz Global Holdings Inc. filed for bankruptcy protection last Friday as the coronavirus pandemic compounded years of bad management, financial engineering and too much debt. This deep dive on the company's troubles by Bloomberg News's David Welch is worth your time. Hertz was such a byzantine mess not even Carl Icahn could save it, writes my Bloomberg Opinion colleague Chris Bryant. The legendary activist investor exited his large holding in Hertz at a loss of almost $1.6 billion, excluding the impact of his holdings in the spinoff of Hertz's equipment-leasing company Herc Holdings Inc. Hertz will likely emerge from its restructuring in some form, but at a cost to its market share. Hertz's international businesses, which aren't covered by the Chapter 11 filing, may be able to operate independently, Jefferies analyst Hamzah Mazari wrote in a note this week.
BONUS READING
O.J., Accounting Fraud, Icahn: The Story of Hertz Going Bust
The Space Business Is About to Get Serious: Michael R. Strain
Covid-19 Blows $400 Billion Hole in Global Energy: Liam Denning
Private Jets Opening Doors to Broader Clientele in Pandemic Era
Demand for Virus-Killing UV Rays Boosts Niche Businesses
Paid-Leave Promise Turns Into 'Mirage' for Most Workers in Pandemic 
This column does not necessarily reflect the opinion of the editorial board or Bloomberg LP and its owners.
To contact the author of this story:
Brooke Sutherland at bsutherland7@bloomberg.net
To contact the editor responsible for this story:
Beth Williams at bewilliams@bloomberg.net