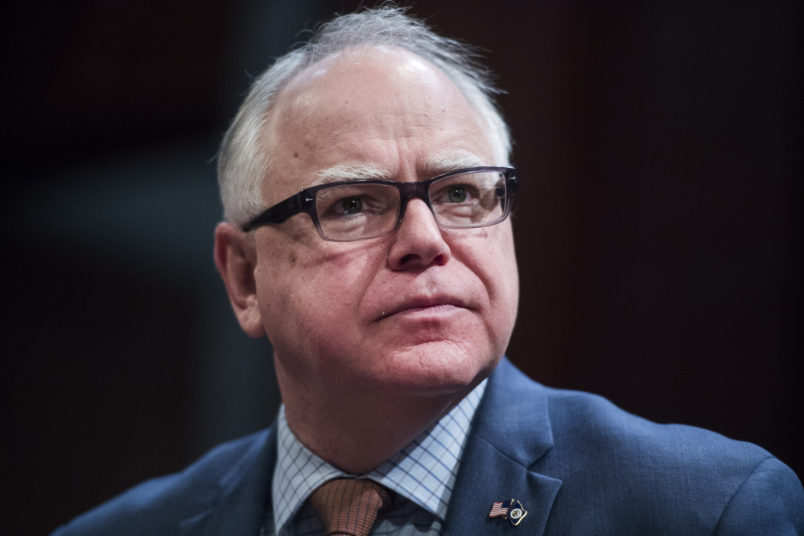 Minnesota Guv. Apologizes After State Police Arrest CNN Reporter And Crew At Protests
Minnesota Gov. Tim Walz (D) apologized to CNN president Jeff Zucker on Friday morning after police officers arrested CNN reporter Omar Jimenez and his camera crew of three as they were covering the protests in Minneapolis earlier that morning.
CNN reported that Walz had told Zucker he "deeply apologizes" for the arrests, which the governor denounced as "unacceptable."
Jimenez, who is black and Latino, and his crew were covering the protests that had been provoked by the death of George Floyd, a black man who died after a white police officer named Derick Chauvin kneeled on his neck for several minutes while several other officers stood by.
Footage of Jimenez's arrest, which was broadcasted in real time, shows police officers asking the reporter and the crew to move as they explained they were members of the media. Jimenez calmly agrees to go and said "Just put us back where you want us. We're getting out of your way."
The officers then arrest Jimenez without explanation even as he asks "Why am I under arrest, sir?"
Then rest of the crew are arrested a few minutes afterward.
They were taken into custody at Hennepin County Public Safety facility. They have since been released.
"In the course of clearing the streets and restoring order at Lake Street and Snelling Avenue, four people were arrested by State Patrol troopers, including three members of a CNN crew," the Minnesota State Patrol tweeted. "The three were released once they were confirmed to be members of the media."
The broadcast shows that Jimenez had shown the officers his CNN media badge right before they arrested him.
Jimenez told CNN anchors Poppy Harlow and Jim Sciutto several hours after he was released that as he was being transported to the facility, he thought of his grandmother, whom he said had been arrested "multiple times" while marching in the civil rights movement.
"When I called her, she jokingly welcomed me to the club," Jimenez said.
Josh Campbell, a white CNN journalist who was also at the protests, noted to CNN anchor John Berman that like Jimenez, he too was asked to move back but that he was "treated much differently" by the police than his black colleague.
"I'm sitting here talking to the National Guard, talking to the police. They're asking politely to move here and there. A couple times I've moved closer than they would like," Campbell said. "They asked politely to move back. They didn't pull out the handcuffs."
Introducing
The TPM Journalism Fund: A New Way To Support TPM
We're launching the TPM Journalism Fund as an additional way for readers and members to support TPM. Every dollar contributed goes toward:
-Hiring More Journalists
-Providing free memberships to those who cannot afford them
-Supporting independent, non-corporate journalism
CONTRIBUTE Learn More
Are you experiencing financial hardship?
Apply for a free community-supported membership
Are you a student?
Apply for a free student membership