CNN reporter arrested live on air by Minnesota police, released an hour later
by Deana Kjuka and Josh Wingrove

A CNN reporter and his crew were arrested live on air by police in Minneapolis early on Friday, after a night of continued protests over the death of George Floyd, an unarmed black man who was handcuffed on the ground while police knelt on his back and neck.

CNN's Omar Jimenez, who the cable network said identifies as black and Latino, and his producer, cameraman and a security guard they hired were arrested live on air before being released later in the morning. They were covering the increasingly violent protests that have erupted over Floyd's killing, which has renewed outcry about the deaths of black people at the hands of police in the US.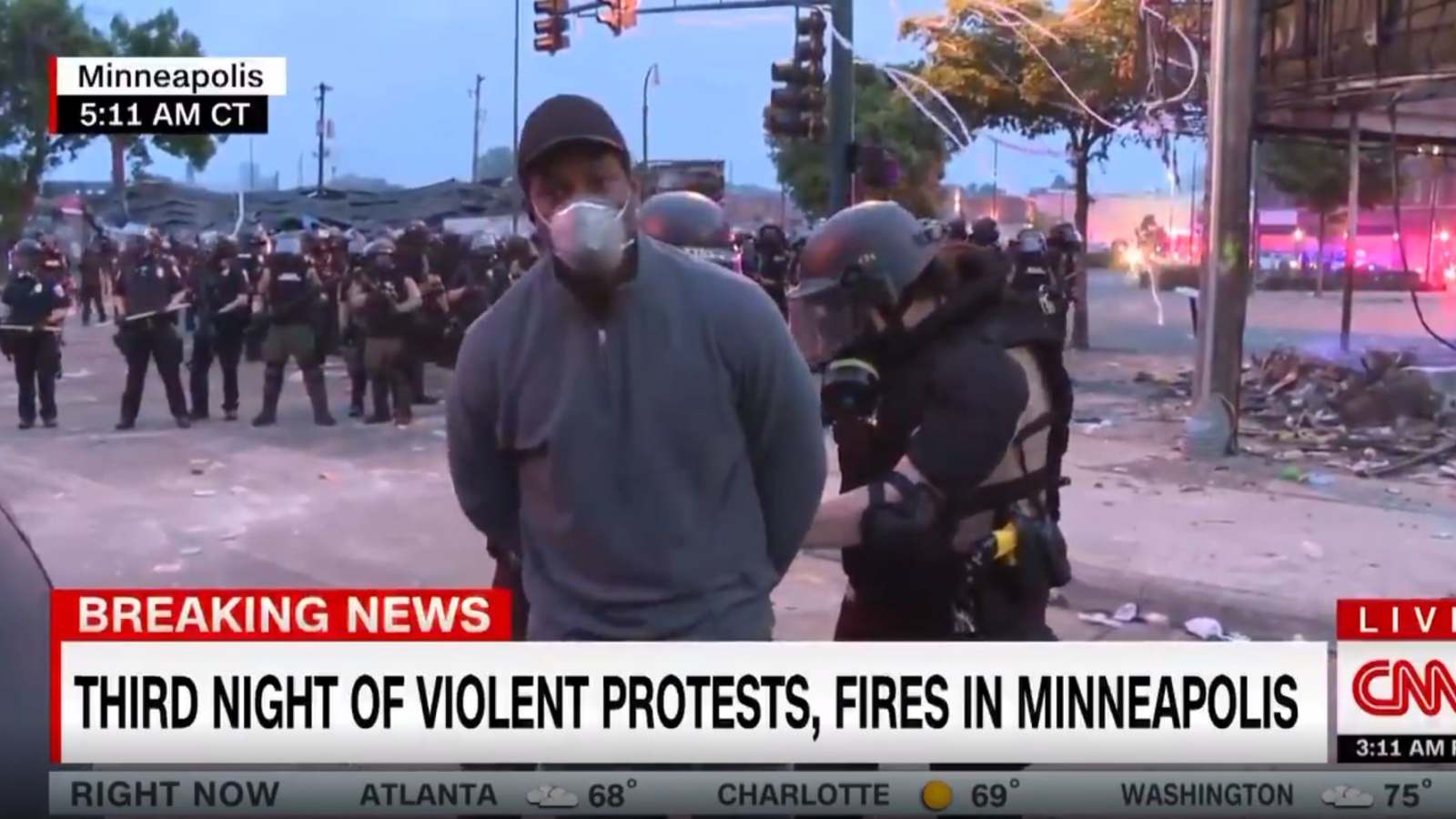 Jimenez, who was arrested while broadcasting live, is already back reporting live on camera.
"Everyone to their credit was pretty cordial after that happened," Jimenez said of his arrest, adding that an officer told him that he was only following orders. "They weren't violent with me," he said.
Minnesota Governor Tim Walz apologised to CNN later in the morning, saying he took total responsibility for the arrests.
"This is a very public apology to that team," Walz said at a news conference.
The incident took place as Jimenez and his team had just shown a protester being arrested when about half-a-dozen white Minnesota State Patrol officers surrounded them.
"We can move back to where you like," Jimenez told the officers, who were wearing gas masks and face shields, before explaining that he and his crew were members of the media.
"We're getting out of your way.
"This is among the State Patrol unit that was advancing up the street, seeing and scattering the protesters at that point for people to clear the area. And so we walked away," Jimenez said, before being told he was under arrest and handcuffed by two officers. "Why am I under arrest, sir?"
The anchor of the program was then heard saying: "If you're just tuning in, you are watching our correspondent being arrested".
Jimenez and the television crew were released after CNN's Jeff Zucker spoke with Walz.
Jimenez, speaking on CNN after his release, said the officers were cordial and not violent with him. He said he asked why he was arrested, and that an officer replied, "Look, I dunno man, I'm just following orders."
He said he was glad that his arrest was shown on the air.
"You don't have to doubt my story," he said. "It's not filtered in any way. You saw it for your own eyes. That gave me a little bit of comfort. But it was definitely nerve-wracking."
The killing of Floyd has drawn widespread condemnation after a police officer, Derek Chauvin, knelt on his neck and ignored Floyd's pleas that he could not breathe. Mobile phone video of his death has fuelled protests across the US and calls for prosecution of the officers. Protests continued overnight, including the burning of the Third Precinct police station in Minneapolis.
On Friday, Chauvin was arrested and charged with third-degree murder and manslaughter.
It wasn't immediately clear why Jimenez was arrested. He had offered to move to wherever officers asked him to. Josh Campbell, a CNN reporter who is white and also covering the protests, was a block away at the time and was not arrested.
The State Patrol claimed the crew was arrested and then released once it was confirmed they were media. Jimenez is heard on the video saying the four were a team, including a security guard CNN had hired, and that they were live on air.
CNN called the State Patrol statement inaccurate.
President Donald Trump has said the federal government will assume control of the situation if it's not contained. "These THUGS are dishonoring the memory of George Floyd and I won't let that happen," he tweeted. He added the phrase "when the looting starts, the shooting starts."
The quote was said by former Miami Police Chief Walter Headley during a December 1967 news conference at a time that city was undergoing racial disturbances, according to The Washington Post.
Twitter then put a warning label on the tweet, saying it was "glorifying violence," escalating the feud between the social media company and Trump, one of its highest-profile users. Trump has called on Congress to remove the liability shield that US tech giants have, potentially exposing them to a flood of lawsuits.
Trump repeatedly criticises CNN, though his campaign criticised the arrests on Friday. The mayor and governor "have completely lost control in Minneapolis in a catastrophic display of failed leadership," Trump's campaign tweeted. "The city is on fire & they outrageously arrested a CNN crew."
Bloomberg