After 83% Rebound, It's Time to Ditch Chevron Stock
As oil price uncertainty remains, take the money and run after last month's epic rally
[Editor's note: "After 70% Rebound, It's Time to Ditch Chevron Stock" was originally published April 6. It has since been updated to reflect the most relevant information available.]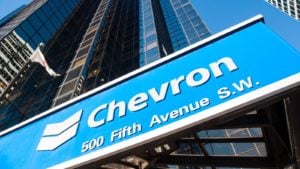 What's next for Chevron (NYSE:CVX)? Like its major oil company peers, Chevron stock has been hammered thanks to record low energy prices, and, of course, weakened demand due to the novel coronavirus.
But, as shares have rebounded about 83% from their 52-week low ($51.60 per share), is the stock a buy at today's prices?
It all depends. If oil continues to bounce back, shares could continue heading back to past highs (around $120 per share). On the other hand, if weakened demand means oil stays far below $50 per barrel, expect shares to drip from their current price level (around $94.50 per share).
With this in mind, it doesn't look promising to buy CVX at today's prices. Why buy now, if you could wait to enter a position on a pullback?
As the macro outlook remains uncertain for the energy sector, it may be time to sell. A bird in one hand is worth two in the bush. If you bought when shares were near their lows, take the money and run!
Low Energy Prices and Chevron Stock
The Saudi-Russian oil price war lit the spark. But it's the pandemic that pushed oil to record low prices. Yet, with coronavirus headwinds starting to enter the rearview mirror, depressed oil prices may soon be behind us as well.
With the IEA (International Energy Agency) predicting oil demand not only to bounce back, but exceed pre-crisis levels, there's plenty to be hopeful for in the oil patch. Yet, that doesn't guarantee oil price continue to climb higher.
A weakened economy could linger on long after the outbreak ends. Considering it's debatable whether we'll see a V-shaped (sudden), or a U-shaped (slower) recovery, don't expect things to bounce back to 100% within a few months.
What does that mean for oil? In recent weeks, oil has climbed from around $25 a barrel to around $34 a barrel. But it's uncertain whether oil continue to climb well above the breakeven price of Chevron's more profitable operations. In short, expect the company to continue playing defense until energy prices bounce back.
Dividend and Valuation
A key question regarding Chevron is the dividend. Even after rallying in recent weeks , the company still has a "high yield" dividend. As today's prices, the yield stands at 5.5%.
Yet, that high yield also demonstrates investors remain fearful of a dividend cut. That's reasonable, given to what's happened with the dividends of many of the company's peers. However, this doesn't appear to be in the cards. The company recently announced it plans to cut production and expenses in order to conserve cash.
Chevron's management knows the importance of maintaining its dividend. It knows many of its shareholders are income investors. If they cut the dividend, these investors will bail, sending shares lower.
Assuming the dividend is safe, shares could see limited downside. Yet, is there a pathway for shares to move higher in the next year?
That's going to be a challenge. For the stock to rebound back to past highs, oil needs to continue making an epic recovery.
Back in 2018, Chevron posted earnings of $14.9 billion. But that's back when the average closing price of oil was around $65 a barrel. Oil prices may have to return to such levels in order to move the needle again.
Given today's oil price trends, prices would have to nearly double for that to happen!
Sell CVX Now, But Consider Reentry at Lower Prices
Although the coronavirus is coming to an end, investors may have gotten ahead of themselves bidding up oil stocks like Chevron. With this in mind, it's reasonable to assume shares will pull back.
Yet, that's not to say the stock will retest past lows. The company's recent moves to protect the dividend is a positive factor. In a low-interest world, it's tough to find yield. Income investors may help support the stock's current price level.
Regarding upside, nothing's guaranteed. We could see a long-term oil price slump. But given the unpredictability of oil markets, crude oil prices could rebound back to prior levels, moving the needle. However, this is a long-shot catalyst for now.
Bottom line: consider a Chevron a sell. Shares may be a buy at lower prices. But if you bought in the last month, take the money and run.
Thomas Niel, contributor to InvestorPlace, has written single-stock analysis for web-based publications since 2016. As of this writing, Thomas Niel did not hold a position in any of the aforementioned securities.