Ivanka Trump wears face mask at delayed Nasa SpaceX launch after president mocked it as 'politically correct'
Husband Jared Kushner went without
by Justin Vallejo

Ivanka Trump wore a facemask to the Nasa launch on Thursday a day after her father, Donald Trump, mocked the practice as being "politically correct".

Ms Trump and her children wore the patterned masks, matching to their outfits, as they arrived at the Kennedy Space Centre in Florida for the historic launch of two US astronauts to the International Space Station. Bad weather delayed the actual launch until Saturday.

Husband, Jared Kushner, went without a mask, as did the president, who arrived separately.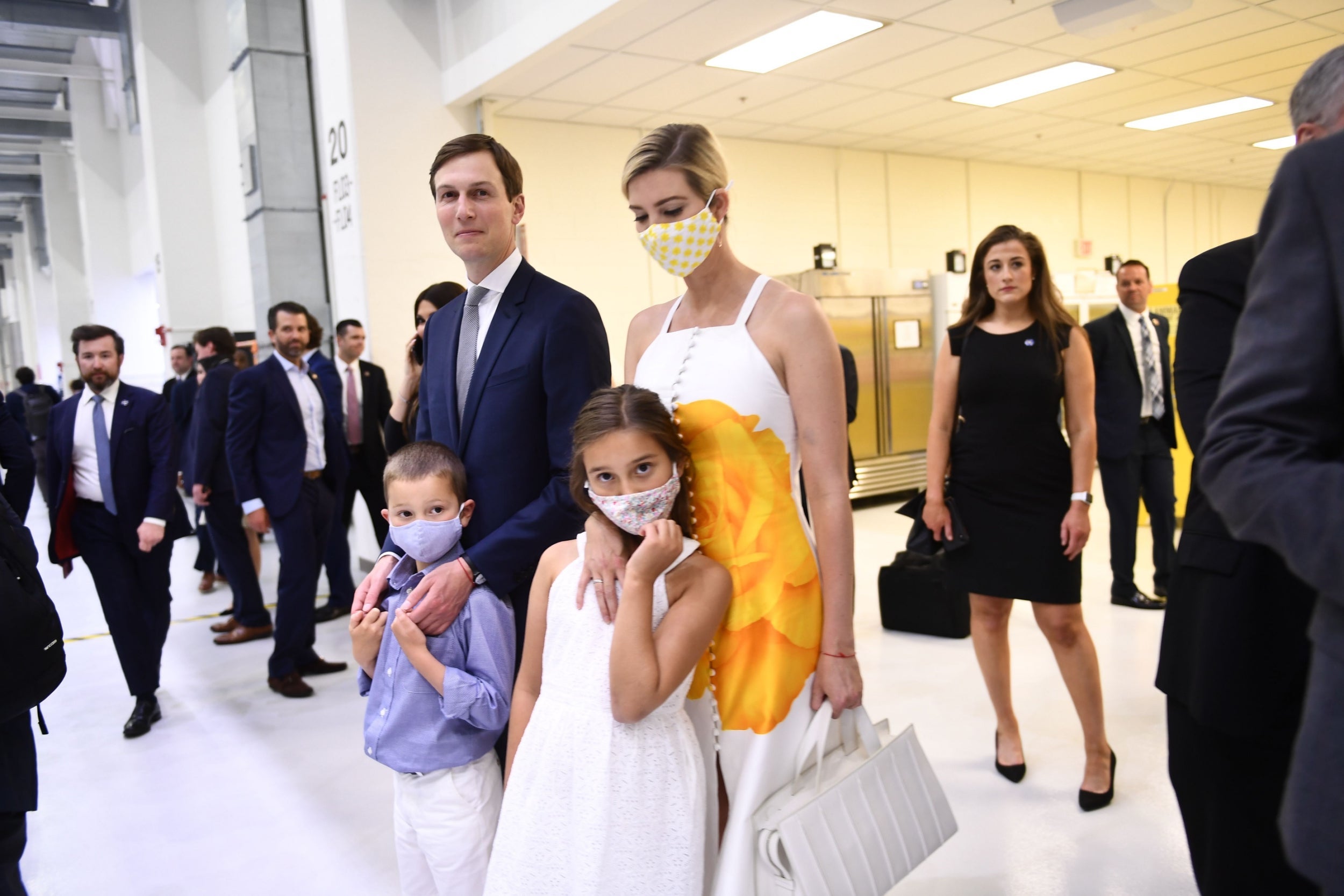 A day earlier, Mr Trump mocked the masks as being "politically correct" while in the process of denying that he was mocking Joe Biden for wearing a mask on Memorial Day.
"You want to be politically correct," the president said to a reporter, whom he had asked to remove his mask to ask a question more audibly in the White House's Rose Garden.
The president has spent the past two days saying he wasn't mocking people wearing masks after sharing a tweet from Fox News host Brit Hume on Monday night that made a joke of Mr Biden's face-covering.
"I thought that was fine," Mr Trump said. "I wasn't criticising him."
Mr Biden called Mr Trump an "absolute fool" for mocking people wearing a mask.
"Presidents are supposed to lead, not engage in folly and be falsely masculine," he said during an interview with CNN.
The Trump family was in Florida to watch the first manned launch of the Elon Musk's SpaceX Falcon 9 rocket with the Crew Dragon spacecraft.
It is the first spacecraft to launch astronauts into orbit from Cape Canaveral since the end of the space shuttle program in 2011. However, the Florida weather saw the event delayed for three days, just 13 minutes before blast-off.