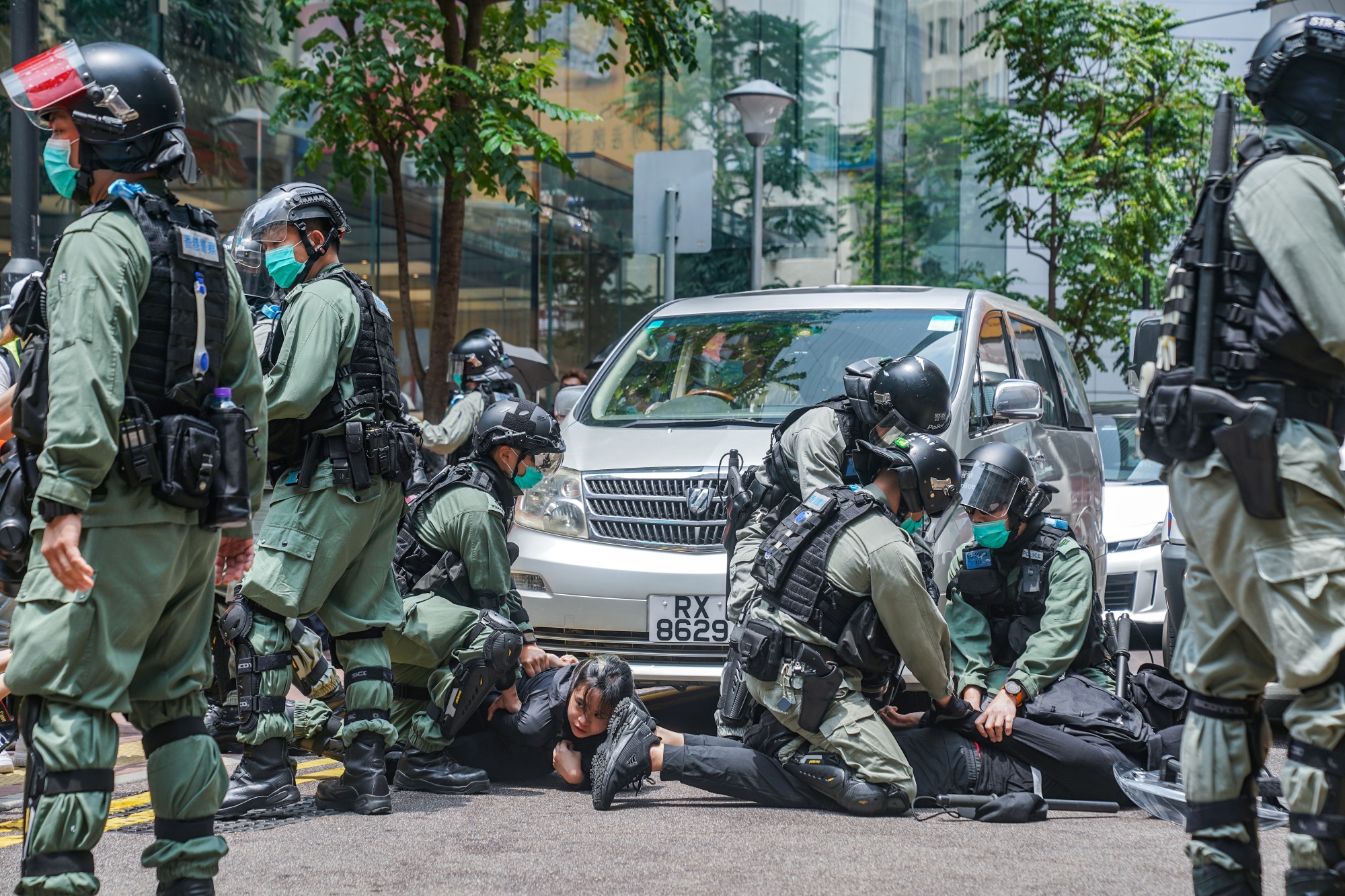 Hong Kong Police Overwhelm Protesters Now Crying 'Independence'
by Iain Marlow, Shawna Kwan, Annie Lee
Smaller crowds turn out in the wake of pandemic to fight China
China's imposition of security laws spurs more radical views
In the first major test of Hong Kong's protest movement in 2020, it became clear that demonstrators face a more formidable challenge in reigniting the street power that humbled China last year -- and that Beijing's moves could inspire a shift toward more radical views.
On Wednesday, protesters enraged by Beijing's move to impose sweeping new security laws on Hong Kong planned to gather at the city's Legislative Council, which was debating a separate law that would criminalize insulting China's national anthem. Yet they ended up getting nowhere close, and the hearing proceeded as normal -- a far cry from about a year ago, when a mass of people managed to thwart a bill that would allow extraditions to China.
Overall, the demonstrations were relatively muted: Heavily fortified security cordons around the legislature prompted pockets of protesters to spread around town, where they were quickly swarmed by riot police who at one point fired pepper-spray projectiles. Officers made more than 300 arrests throughout the day as they sought to preempt protesters from gathering in large groups. Instead of battling radicals with Molotov cocktails, police were pictured detaining young students.
The show of force at a time when limited social-distancing measures are still in place due to the pandemic clearly had an impact, with the small number of protesters who came out saying they worried about an increased chance of arrest. At the same time, the anger over Beijing's recent moves and frustration with the Hong Kong government's failure to push for greater democracy resulted in more overt calls for Hong Kong independence -- a red line for Beijing that protesters had studiously avoided throughout the unrest last year.
'Only Way Out'
At rallies on Wednesday, protesters chanted "Hong Kong independence, the only way out!" -- exactly the kind of sentiments that Communist Party officials warned about while justifying the need to pass new national security laws encompassing secession, as well as subversion and foreign interference.
"The Hong Kong police's latest strategy is to engage earlier to stop people from gathering in the first place now to avoid repeating the situation from last June and July," said a 24-year-old social worker who gave her surname as Lee, as she protested in the city's central Causeway Bay shopping district. "I think we are a bit lost over what the next action can be. But I am here to fight for the independence of Hong Kong, even though I know the chance is low. I will try my very best until the end."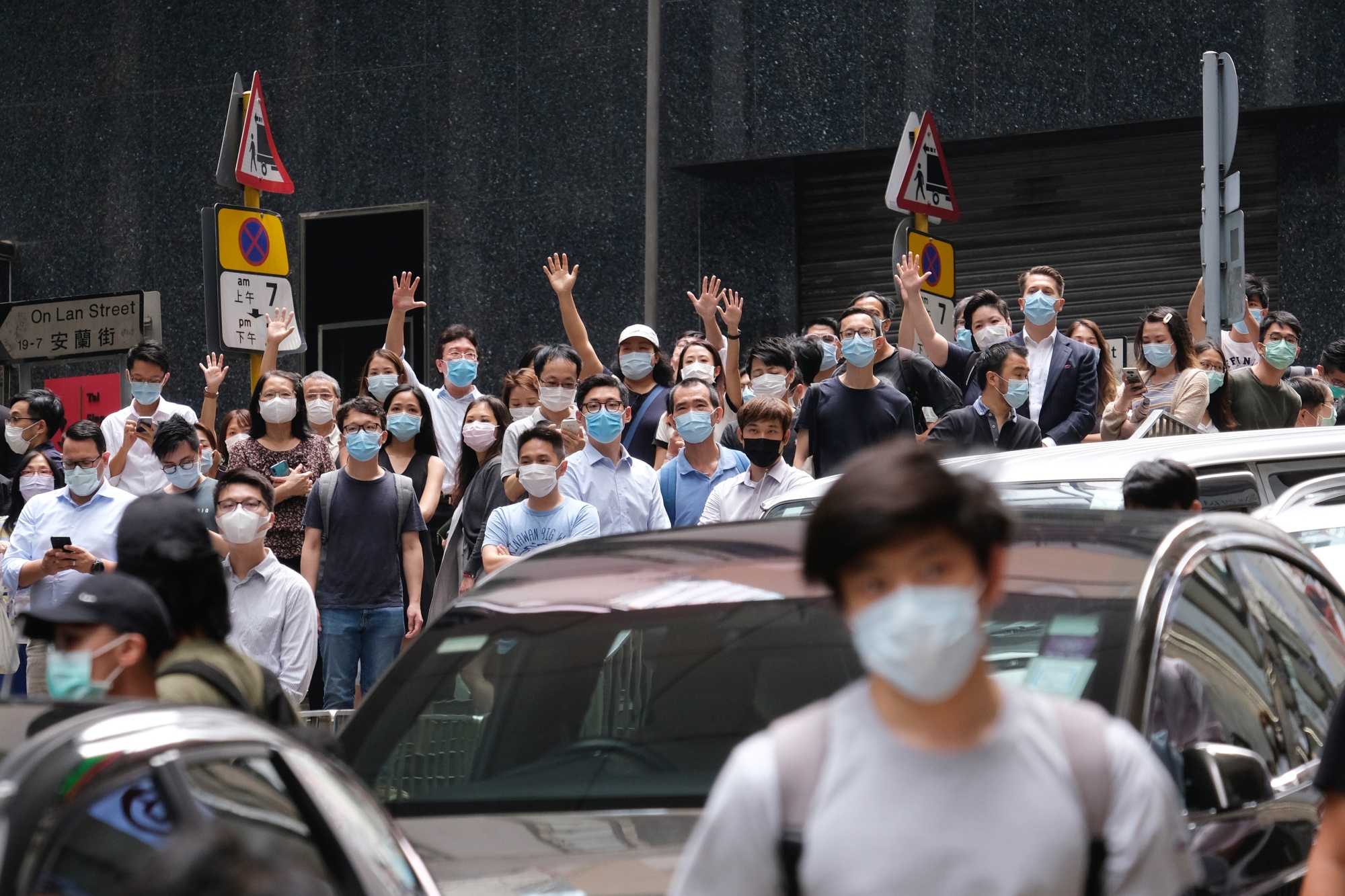 Despite chaotic scenes of riot cops chasing after protesters and images of student arrests that drew condemnation on social media, Wednesday went fairly well for both the Hong Kong government and for Beijing. China is set to pass a draft decision on the security legislation on Thursday at the end of the National People's Congress, the annual meeting of China's rubber-stamp parliament. Details of the laws could then be unveiled in the coming months.
Due to the imposition of the law, U.S. Secretary of State Michael Pompeo announced on Wednesday that Hong Kong was no longer autonomous from China, a move that could trigger sanctions and have far-reaching consequences for the city's status as an international financial hub.
"Security laws only make sense in a democratic country," said a protester with the surname Wong, who feared the city would be "certified dead" once the laws were passed. "In Hong Kong and China, it will just be an excuse to crack down on dissidents."
Protest groups had called for a general strike as well as several rallies on Wednesday. Yet it became clear early on that a relatively low turnout would come nowhere close to preventing legislators from meeting.
"Riot police are everywhere today," said a 19-year-old student protester who gave his name as Hung.
"People were saying it wouldn't be safe on Hong Kong island yesterday -- I think that affected people's attitude of coming out. We could see so few protesters on the streets today," he said. "I was worried today. It's easy to get caught these days. The police don't seem to need a reason to arrest you. They can simply say that you're not cooperative and then detain you."
Alvin Yeung, a pro-democracy opposition lawmaker, said the lack of a huge turnout on Wednesday doesn't mean Hong Kong will stop protesting. The lack of concessions from the government and the imposition of new security laws could be driving even more people toward making calls for outright independence from China, he said.
Independence Calls
"They know that's a red line for Beijing, but when the general public's demands were not met by Beijing and were not being respected, we saw this sort of slogan spreading," Yeung said. "Beijing should ask themselves, 'Why is that?' What were they expecting by imposing these new heavy measures on Hong Kong, the new national security law? They should have expected the backlash from Hong Kong people. How are they going to win over this young generation that want independence from China?"
Calls for independence have gained steam in Hong Kong since the largely peaceful 2014 Occupy protests, which failed in a bid to win meaningful democratic elections. Backed by Beijing, local authorities in 2016 disqualified legislative candidates who advocated "self-determination" or independence.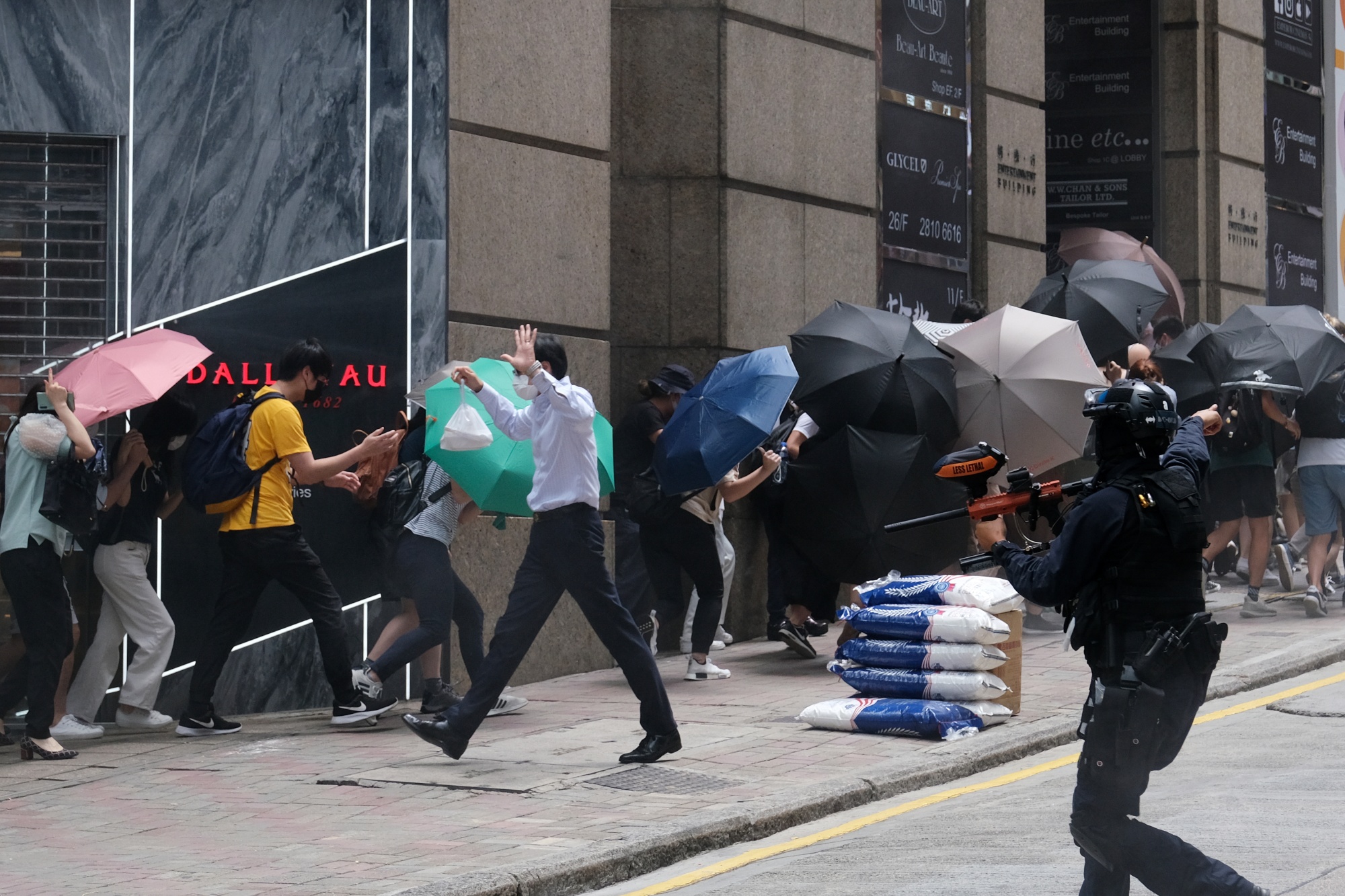 Any notion of independence is effectively a non-starter: China provides most of Hong Kong's water and food as well as about half its trade. The People's Liberation Army has about 6,000 troops stationed in the city at any given time, and there's no foreign governments that would back such a movement.
Still, the goal was repeatedly mentioned at the protests on Wednesday.
One demonstrator said the movement has been driven toward more radical demands because the Hong Kong government refused to make any concessions last year on demands such as universal suffrage and an amnesty for protesters charged during the unrest. She said China also hasn't faithfully implemented the "one country, two systems" policy that underpins freedoms of speech and assembly outlined in Hong Kong's mini-constitution, the Basic Law.
"Many Hong Kongers think the national security law, as well as the government's responses to our requests, now actually mean that we are losing our freedom, democracy and rule of law," said a 24-year-old clerk surnamed Chan. "There's no other step to get back our Hong Kong now, except making the city independent of China."
— With assistance by Josie Wong
(Updates with U.S. declaration Hong Kong is no longer autonomous.)