Intel Remains A Blue-Chip Stock to Buy Post-Pandemic
Intel stock has held up remarkably well in 2020, as evidenced by Q1 results
Given all the curveballs 2020 has thrown investors, it's comforting to know that one company is still chugging along nicely: Intel (NASDAQ:INTC). Tech has remained a nice area of respite in uncertain times, and Intel stock in particular is poised to continue outperforming.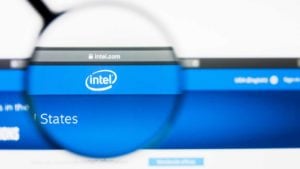 Shares of the semiconductor giant were up on the year going into Memorial Day weekend, in sharp contrast to the year-to-date declines for both the S&P 500 and the Dow Jones Industrial Average.
The numbers back up INTC's solid showing and shares still look comparatively cheap relative to the market. Let's dive into the company's recent results.
Intel Stock Q1 Earnings
Revenue at the Santa Clara, California-based Intel rose 23% year-over-year to $19.8 billion in the first quarter — not bad for a quarter in which most companies both domestically and internationally saw serious deterioration, particularly over the last 45 days of the period.
Results were boosted by the data-centric segment of its business, which saw revenue jump 34% year-over-year.
And non-GAAP earnings per share (EPS) saw an even greater boost, surging 63% to $1.43.
Intel stock is an out-and-out cash cow, returning capital to shareholders left and right in the first quarter; the chipmaker paid $1.4 billion in dividends and bought back $4.2 billion worth of stock.
As with many companies, INTC has suspended stock buybacks for the time being, planning to "reinstate share buybacks as circumstances warrant."
Thankfully, this is nothing to worry about longer-term, and the dividend is extremely well-funded; Intel uses only 24% of earnings to finance its quarterly payout, and has been raising that quarterly payment for five straight years now.
The dividend yield currently sits at 2.1%, which isn't too bad for income investors these days as the 10-year Treasury yield sits well below 1%.
And valuation-wise, Intel stock trades at just 12 times earnings
The shift to the cloud, as well as growing adoption of 5G technology will both drive growth for important parts of Intel's business. Cloud service provider revenue surged 53%, and the Mobileye business set a new revenue record as well last quarter. Mobileye, which INTC acquired, makes the computer vision technology that goes into self-driving cars.
Non-GAAP gross margins are on the rise at the moment, rising from 58.3% to 62.1% year-over-year. Plus, if Intel is able to play as large a role as it wants to in the coming shift from 4G to 5G technology, then more and more business should filter in longer-term.
The wireless base stations that are necessary for the 5G rollout will be powered by Intel's new Intel Atom P5900, a 10 nanometer system-on-a-chip.
All in all, few names offer the sort of combination of established blue-chip powerhouse, valuation, dividend yield and growth potential that Intel stock does. It's an A-rated stock for a reason, and the company, worth more than $250 billion, is a great option for shareholders.