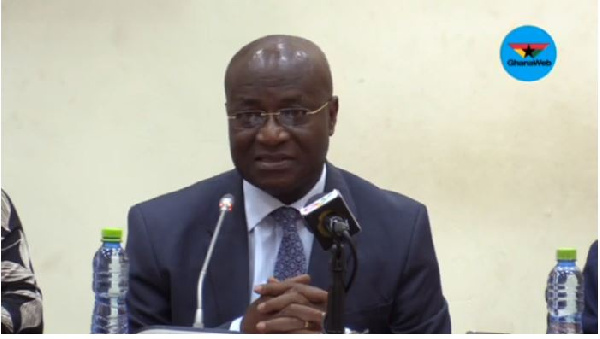 Parliament incensed over media reports of MPs contracting coronavirus
Click to read all about coronavirus →
Majority Leader and Minister of Parliamentary Affairs Hon Osei Kyei Mensah Bonsu has described as speculative and untrue, media report that 2 Members of Parliament and 13 staff have tested positive for Covid19 following the mass testing last week of MPs and staff for the virus.
Hon Osei Kyei Mensah Bonsu made the statement at a press conference at Parliament House this afternoon.
Miss Kate Addo Director of Public Affairs of Parliament and Dr. Prince Pambo Medical Director of Parliament also addressed the press on the same issue.
According to Hon Kyei Mensah Bonsu, the result of the test conducted on Members of Parliament and staff is confidential and not made public by the Covid19 team and therefore wondered how and where the media house which alleged the Covid19 positive cases in Parliament got the report from.
" . . anybody who tested positive, the information will not be transmitted to all of us. It is between the person and the people who did the test. Some confidentiality is required in these matters and we needed to be very circumspect."
"The reason why we decided to do this, as I sit here, . . . if Kate [Addo - Director of Public Affairs at Parliament] has tested positive, I wouldn't know, if the Clerk [of Parliament] has, if I [Kyei-Mensah-Bonsu] have, they wouldn't know. So it is part of the agreement that we all came to, so nobody knows whether anybody has tested positive. The people who will know will be perhaps, those of them who did the test."
"So just to emphasise the point that what that medium [media house] has done, amounts to nothing but speculation. They are only speculating that two Members have tested positive. Its speculative journalism. We would want to let you know that there is no truth in that."
" . . As Speaker indicated, because we are all here together, we are appealing to all staff in the House, all Members of Parliament and even non staff as you are [parliamentary media personnel] that everybody must subject himself or herself for your own sake and for the sake of your households, your friends and others that you come into contact with at work places and the various houses so that we are able to protect ourselves as a family within the prescints of Parliament."
"So that is how it is, the agreement was that if anybody's results came out positive, it will only be known to that person, be a staff, journalist or a Member of Parliament. I don't know, the Clerk to Parliament doesn't know, the Director of Public Affairs wouldn't also know, so I will plead with you not to be engaging in such unhallowed speculative journalism," the Majority Leader and Minister of Parliamentary Affairs.
Commenting on the issue, Miss Kate Addo said Parliament is not aware of the alleged positive cases of CVID-19 in Parliament. She said the media report has created fear and panic in Parliament which should not be so.
Dr. Prince Pambo Medical Director of Parliament also explained the COVID-19 mass testing in Parliament. Whilst describing the COVID-19 mass testing by Parliament as a useful exercise, he explained that Parliament has no control over the result of the test. He said the COVID-19 team is in charge of the result.
Results not yet known - Statement from Parliament
Send your news stories to and via WhatsApp on +233 55 2699 625.
Join our Newsletter