It's A Good Idea To Ignore REITs Right Now, Despite Soaring Yields. Here's Why
Investing in companies which manage some of the country's largest real estate properties—such as apartment buildings, hotels, hospitals, malls, office complexes, data centers and warehouses—has become quite a challenge in the post pandemic world. These companies, more commonly known as Real Estate Investment Trusts (REITs), are usually prized by investors seeking fixed income for their ability to pay steadily growing dividends.
But, as current conditions prevail, REITs are increasingly under pressure as both residential and commercial tenants struggle to survive. This sudden change in the economic environment has threatened to deprive millions of investors who sought shelter in REITs, for their high, safe payouts, from their monthly income in a world of low bond yields.
So far this year, the S&P REIT Index Fund (NYSE:FRI) has been one of the worst performers, falling 22%.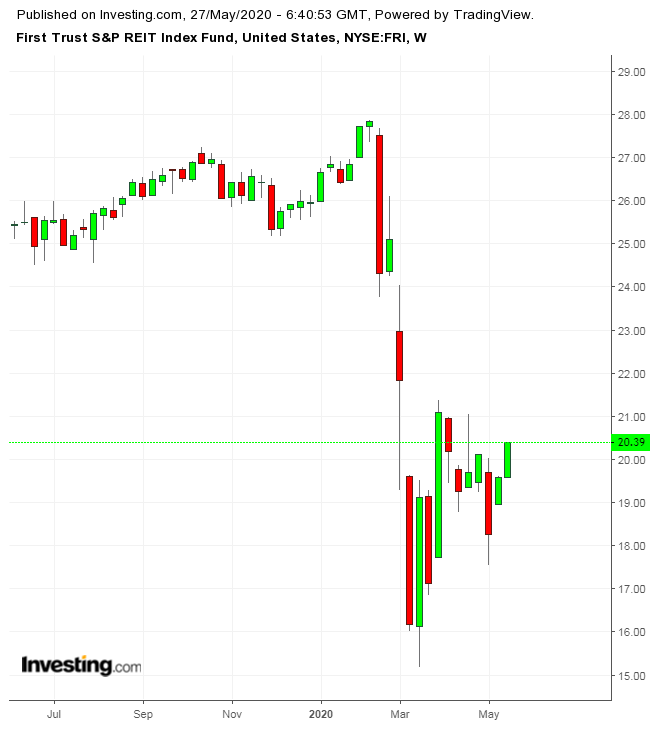 Before the pandemic, REITs were among the best performing asset classes. Indeed, the REIT Index returned 24% in 2019, at a time when the yield on the US 10-year Treasury slid to around 1.9% from about 2.55% at the start of the year.
Sometimes called bond proxies, REITs distribute much of their property management profits to shareholders, delivering average dividend yields of about 3% to 4%. They also disburse any profits from changes in their stock prices to stakeholders. When bond yields fall, REITs become more appealing to income investors, and the US 10-year bond is currently yielding just 0.66%.
But the COVID-19 pandemic has forced malls, restaurants and offices to close their spaces, shifting shoppers online and forcing employees to work from home. That means REIT revenues are currently drastically reduced, which is why we don't recommend them at this time.
In fact, it's anyone's guess how long it will take for things to get back to some form of normal and whether these operators of malls and office spaces will be able to get through this crisis. As well, many companies have discovered that working remotely could be a viable option for a significant percentage of employees, delivering cost savings by eliminating the need for office space for some workers.
Extreme Level Of Distress
One of Wall Street's most successful investors, billionaire Carl Icahn said in recent media interviews that his biggest trade right now is a multibillion dollar short position against the commercial real estate market. "You're going to have this blow up, too, and nobody's even looking at it," Icahn told CNBC in a recent interview.
Simon Property Group (NYSE:SPG), America's largest mall operator, has plunged more than 60% this year.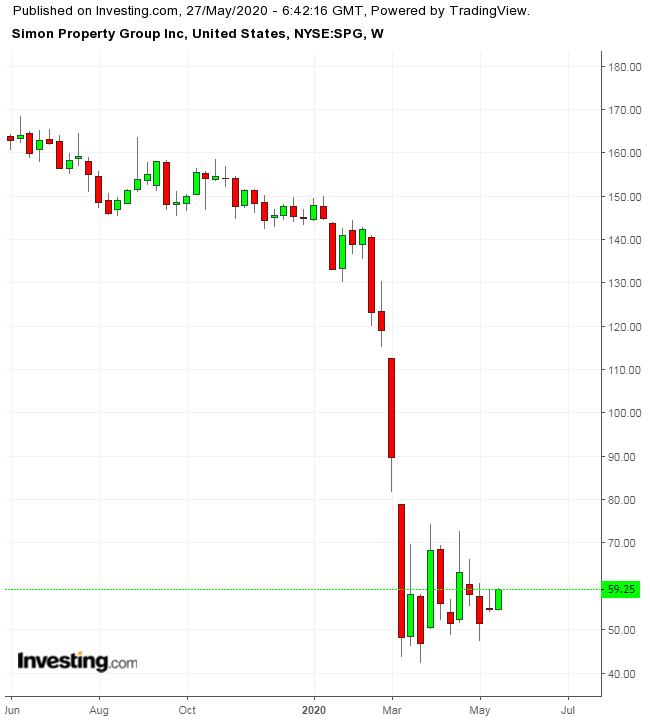 The stock, which pays a quarterly dividend of $2.10, now yields 15%, showing the extreme level of distress in its business model.
Similarly, Brookfield Property Partners (NASDAQ:BPY), which manages office, retail, multifamily housing and industrial assets globally, has seen its yield push past 14% as its stock price plunged almost 50% since the start of 2020.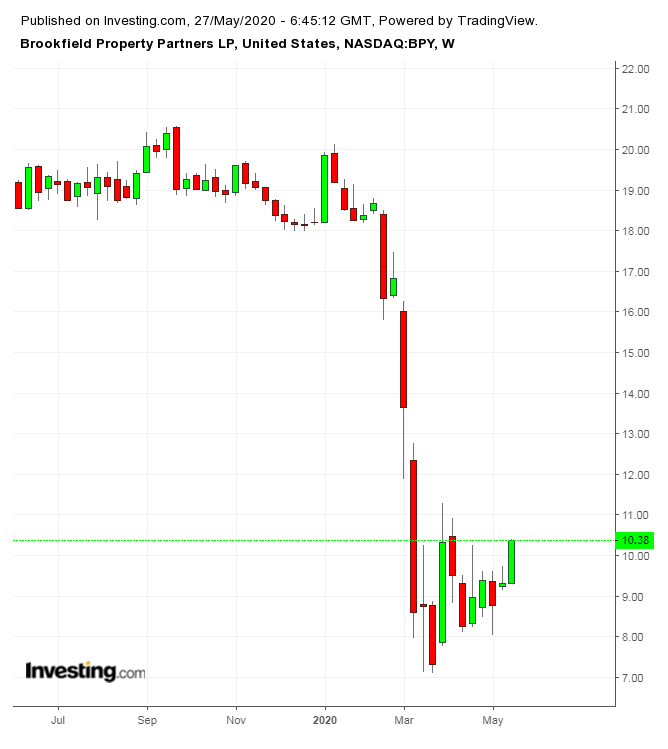 With a payout ratio of 235.37% and its business in trouble, investors would be smart to doubt the sustainability of its $0.3325 a share quarterly payout.
The biggest uncertainty hurting REITs this time around is whether tenants can pay their rent, something that wasn't as much of an issue during the financial crisis of 2008 when REITs values also collapsed.
In addition, the latest real estate data suggests that investors are in a holding pattern. Sales of U.S. hotels, offices, malls and other commercial real estate plunged 71% in April to the lowest level in a decade, according to Real Capital Analytics Inc.
Shopping center REITs saw a slight improvement in rent collection during April, according to a report in CNBC. But the sector still reported just 48% of typical rent revenue collected in May.
Bottom Line
Investors should remain very cautious when investing in REITs in this environment. Despite their appealing dividend yields, we think it's a prudent strategy to ignore this sector altogether, especially when there is too much uncertainty about their rent collection and the future of the commercial real estate market in general.