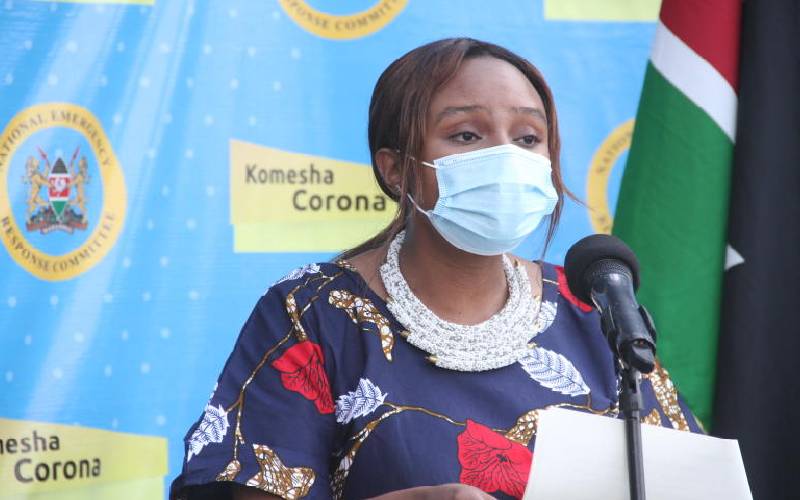 New Covid-19 high as 72 more people test positive
by Mireri Junior

By Mireri Junior | May 25th 2020 at 05:14:10 GMT +0300

Health & Science
Turkana county records the first case as new Covid-19 cases, virus now in 29 counties.

Kenya has recorded 72 new Covid-19 cases after testing 2,711 samples in the last 24 hours bringing the country's tally to 1,286, Health CAS Mercy Mwangang has announced. Speaking at Afya House, Nairobi on May 25, Mwangangi (pictured) said that of the 72 new cases, 70 are Kenyans while the other two from Somal and Uganda. On a positive note, the CAS said nine more people have been discharged from hospital after fully recovering from the disease bringing the total number of recoveries to 402. "We have nine more recoveries bringing the total number to 402," she said.

SEE ALSO: Our corona strategy is not working, change it

The cases spread across the country with Nairobi having 52, Mombasa 11, Kiambu seven while Isiolo and Turkana have one case each. A total of 29 counties have so far recorded Covid-19 cases, with Turkana being the latest to announce a positive case. In Nairobi sub-counties Covid-19 infections in the past 24 hrs: Langata (21), Dagoretti North (15), Dagoretti South (1) Kamkunji (4), Kibera (4), Embakasi East (2), Kasarani (3), Makadara (1) Mathare (1) For the new cases 44 are male whereas 28 female with their ages ranging from 12 to 78 years-old. On a sad note, one more patient succumbed to the virus bringing the total number of those who have died to 52.

SEE ALSO: We must tread very carefully on reopening of learning institutions

"Unfortunately, one more person has died and this means we have now lost 52 patients, we send our condolences to the families who have lost their loved ones," said the CAs. She said the bed capacity in the country is almost reaching 5000 after more facilities were opened in the counties. Mwangangi also said that all the 47 counties now have quarantine and isolation facilities to combat the virus. She further revealed that the Ministry of Health had so far set up 20 testing laboratories across the country to handle Covid-19 cases, and trained 11,000 health workers.