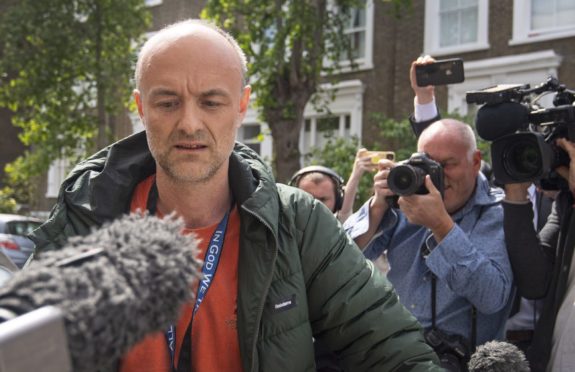 READERS' LETTERS: Untenable position but Dominic Cummings will stay
Sir, – Since lockdown was instigated grandparents have not seen grandchildren, people have died alone and funerals have been limited.
by Reporter

This was done to prevent an even greater outbreak than there could have been.

People reluctantly accepted it having been told by the Tories we were all in this "together".

However it seems that Boris Johnson's senior adviser Dominic Cummings did not think the rules applied to him.

Just after lockdown started Cummings drove 260 miles to his parents home whilst exhibiting Covid-19 symptoms.

He claims this was for "childcare" yet his sister-in-law lives in London and his closest adviser lives two streets away.

When questioned by reporters Cummings said he did not care how it looked as he had done nothing wrong.

On cue the Tory Cabinet and the BBC stenography crew all came out and defended Cummings.

Using the same pious language. Even rewriting the rules to exculpate Cummings.

The self-important arrogance is shocking but not surprising.

When Catherine Calderwood did something far less serious the media and the Tories were screaming for her to go. Now, not a peep.

Cummings' position is untenable. He won't however resign and Boris Johnson won't sack him as their fortunes are so intertwined.

Alan Hinnrichs.

2 Gillespie Terrace,

Dundee.

 
Not a day out at the beach
Sir, – We all know what we should and should not be doing during lockdown and to suggest people will flaunt the rules because of Dominic Cummings' action is ridiculous – the people that break the rules do so because they want to.
Cummings made a decision for the safety and wellbeing of his child – he wasn't having a day out on a beach.
Is it really worthy of taking up practically the whole of the news when we really would rather hear about more important issues and how we can get through this situation.
I personally think it's purely political to score points and the government has done immense work to try to get us out of this situation.
Yes, there have been mistakes and a lot to learn, but this is a pandemic like we have never seen before.
I think there's very little appreciation of what the government, scientists etcetera have done, mostly all that is reported or taken notice of is the doom and gloom or the personal opinions of the presenters.
Long gone are the days when they just read out the news.
During the Brexit nightmare it was exactly the same behaviour, but I really hoped when we found ourselves in this horrendous ordeal that people would be kinder and more tolerant and more willing to help each other instead of stirring up trouble.
They would be better placed putting their energy into something positive.
Elizabeth Kintrea.
101 Main Street,
Coaltown of Balgonie.
Rules must be for everyone
Sir, – The reality of Tory rule is really put into stark relief by the Cummingsgate scandal.
The whole of the UK has made major sacrifices during the current crisis.
Yet we have seen one clumsy Tory blunder after another.
Now we find the prime minister's main adviser totally ignored the rules.
Having been caught, rather then get rid of him, Johnson has chosen to defend him.
He has even set about getting minsters to drop everything to put out tweets of support for Cummings rather than sort out testing or getting nurses proper PPE.
This is serious.
People will rightfully say "is there one rule for the people and another law for our Tory rulers at Westminster?"
Scotland recently rejected Tory rule.
Yet we are still dominated by people who think they are so special that they just make the rules for lesser people.
K Heath.
Cortachy,
Kirriemuir.
Other workers are also key
Sir, – I am in full support of our NHS, but the recent pandemic has brought countless messages of thanks and gratitude for those workers.
I am in no doubt they deserve it.
But many of the other workers we depend on in this difficult time are in low paid jobs with no guarantees of long term employment or pensions.
They struggle along, delivering our shopping, mail and various items of online shopping possibly for a minimum wage, with no guarantee of a lifetime job or pension.
Let's not forget these workers when we next give our thanks in the weekly clap next week.
Willie Robertson.
Grainan, Lynton,
Stanley.
Send Bill back to the Commons
Sir, – A fortnight ago MPs debated the new Agricultural Bill, the first since 1947, which will be the foundation of UK food and farming policy post Brexit.
An amendment was, shamefully, defeated. The new Clause 2 proposed had wide support from farming unions, landowners and tenants bodies, all major animal welfare and environmental organisations.
Alas, many Scottish Conservative MPs who represent rural constituents who rely heavily on farming were among those who voted down the amendment which would have enshrined in law the principle that imported food producers must match the quality and animal welfare standards of UK farmers' production.
That, basically, is the position under EU law at the moment.
Those MPs opposing the motion claim that accepting the amendment would make it impossible to sign a trade deal with the US or anywhere else and that under World Trade Organisation rules we can apply standards to the quality and health of the product but we cannot regulate on another country's method of production methods, so long as the product itself meets UK standards.
This will, however, be dependent on each trade deal, whereas the amendment would have ensured that those seeking to enter the lucrative UK markets for food and animal products are clear that they must meet standards which are acceptable in the UK.
The Agricultural Bill will now pass to the House of Lords who should send it back to the Commons to rectify this grave error.
John Dorward.
89 Brechin Road,
Arbroath.
Easing into a healthier life
Sir, – Our immune systems have been compromised by a lifetime diet of junk food, smoking, alcohol, sugar and refined carbohydrates.
Half of our population is clinically obese.
This has been complicated by our obsession with the consumption of meat.
Several pandemics in the recent past showed a viral crossover between species.
Vegetarian and vegan diets show there is an alternative.
Consumers will be reluctant to eliminate meat and fish from their diet, but a drift away from animal consumption is already happening.
The Scottish Government's action against smoking is bearing fruit.
Because of the current pandemic more people are exercising.
This is the way to go.
Ease out of lockdown and ease into a healthier life.
Sandy Constable.
12 Milner Street,
Dundee.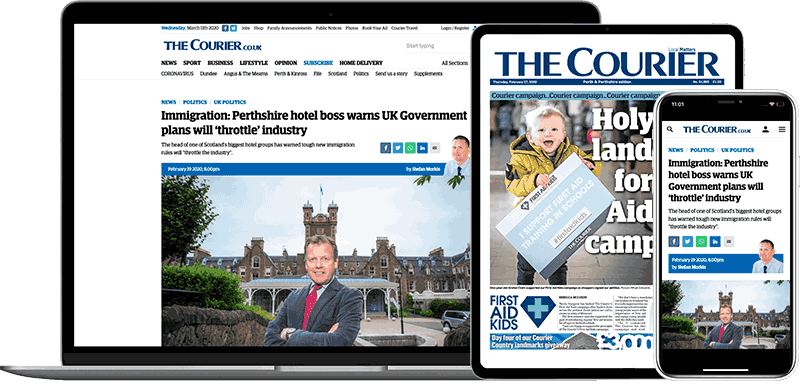 Help support quality local journalism … become a digital subscriber to The Courier
For as little as £5.99 a month you can access all of our content, including Premium articles.