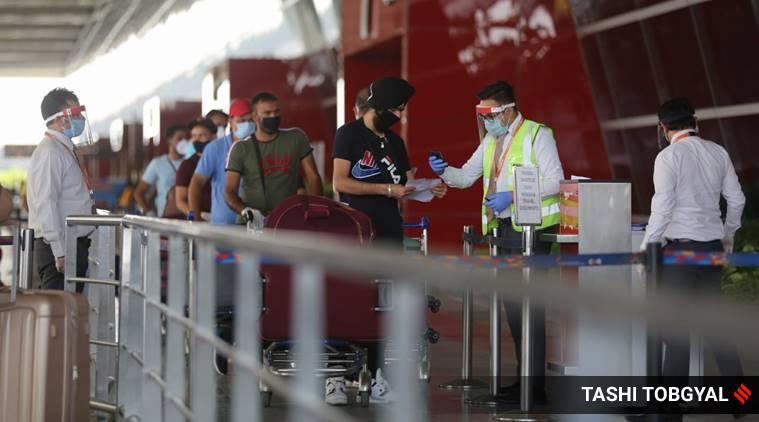 Domestic flights resume today, over 80 cancellations at Delhi airport, 20 in Bengaluru
India domestic flights resume: By 10 am, several took to Twitter to accuse national carrier Air India of either cancelling without any prior notice or goofing up departure schedules.
by Express Web Desk

India domestic flights resume: The resumption of domestic air travel after two months was not without hiccups as there were several flight cancellations and confusion over schedule at some airports.

Of the approximately 380 flights that were scheduled for today in the national capital, 82 (both departures and arrivals) were already cancelled by afternoon. And more than 20 flights were also called off in Bengaluru.

Even Odisha airport registered five cancellations. "Of the 10 flights scheduled to arrive here, five were cancelled due to problems at the departure points, while one flight from Delhi has already reached. Four more flights will land here on Monday," airport director V V Rao told PTI.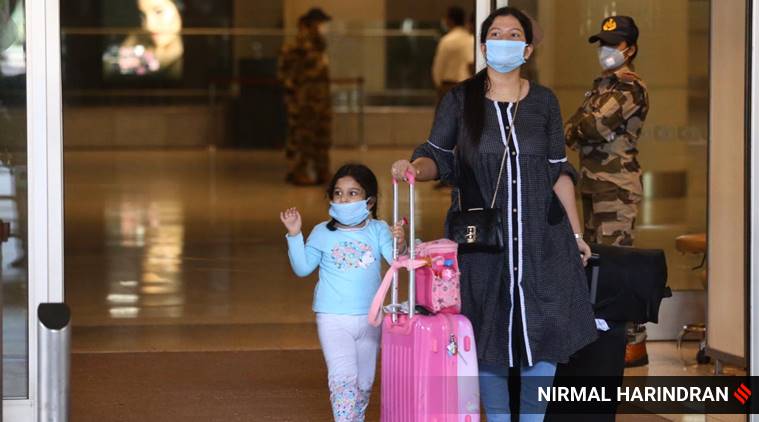 Indigo flight 6E643 was the first aircraft of the day to take off from Delhi airport this morning, according to news agency PTI. Those who boarded the first flight included paramilitary personnel, army men, students and migrants who failed to book a ticket on special trains being run by the railways.
Several flyers took to social media to register their grievances against airlines, particularly Air India. Many accused the national carrier of either cancelling without any prior notice or goofing up departure schedules.
"We just came back from the airport. Our flight was not on the list. Despite that, Air India is showing our flight on time. Helpline numbers and live chat sessions our not available at the moment," Ruchi Chatterjee posted on Twitter.
"My flight AI 515 from Hyderabad to Bengaluru got cancelled without prior notice, and in your website it still shows it's on time,'" another passenger Mujeeb complained on the micro-blogging site.
Some claimed that the national carrier informed passengers of cancellations after they had reached the airport.
"Absolutely horrible from @airindiain. They told me the flight has been cancelled after I reached the airport saying that we can only notify two hours before the take off. How does this make sense when government is asking us to reach the airport two hours in advance?" Neelabh Pandey said.
Besides cancellations, there was confusion over quarantine procedures too.
In a message to the Karnataka DGP, Niveditha wrote: "I have a flight to Chennai via Bangalore. I received a message from IndiGo asking me to apply on Seva Sindhu. The portal asks for the Karnataka destination address. Can I just give the address of the airport since I just have a two-hour layover in Bangalore?"
Many even said they shelled out more to reach the airport as there were limited public transport options available.
While the government announced that flight operations at the Kolkata airport will resume on March 28 in view of the devastation caused by Cyclone Amphan last week, a passenger claimed that an Air India flight had departed from the city today.
Others, who were able to board the flight, expressed satisfaction at the thought of returning of home.
"I have to travel to Bulandshahr and was in Bangalore for the past two months. I could not make it back home as the lockdown was announced all of a sudden. I had been looking forward to this day for a long time since I haven't met my wife in all this while. It is a good feeling to be able to go home finally," Antriksh Singh said as he waited for his brother outside Terminal 3 of Delhi airport.
At least 11 states and the Union Territory of Jammu & Kashmir have mandated either institutional or home quarantine for arriving passengers.
Governments of Andhra Pradesh, Telangana, Tamil Nadu, Uttar Pradesh, Uttarakhand, Kerala, Karnataka, Assam, Chhattisgarh, Meghalaya, Odisha and J&K have mandated either institutional or home quarantine for passengers flying to cities in their state. Some like Uttar Pradesh have also mandated registration of arriving passengers. However, Uttar Pradesh has different norms for passengers transiting through the state or those intending to make a short visit, as long as they can produce a proof of departure.
Airports key travel guidelines
The Airports Authority of India has issued standard operating procedures (SOPs) for airport operators for recommencement of domestic flight operations. Among the key guidelines include mandatory use of Aarogya Setu app for those above 14 years, sanitation of baggage by airport operators before entering the airport, restrictions on vehicles allowed to pickup and drop off passengers.
Here are the guidelines that airports need to follow
Departures
For commuting to and from airport, both by staff and passengers, only the personal vehicles or select authorized taxi services /transport services with restricted seating to be permitted.
All the departing Passengers must compulsorily be registered with 'Aarogya Setu' App on their mobiles and the same shall be verified by CISFI Airport staff at the entry gate. However, Aarogya Setu is not mandatory for children below age of 14 years. Those not showing green on the app will not be allowed
Passengers shall compulsorily walk through Screening Zone for Thermal Screening  at a designated place in the city side before entering the terminal building
Use of trolleys to be discouraged in departure and arrival area. However, select few  passengers, requiring trolley due genuine reasons, to be provided on request basis
Airport operators shall make appropriate arrangement for sanitisation of baggage
Plexiglass covering check-in and security check counters
Support staff handling passengers with special needs like wheel chair etc. will be in full protective gear
Passenger seating arrangement inside airports shall be done in such a manner so as to maintain
social distancing among passengers using the chairs by blocking those seats that are not to be used, with proper markers/tapes
All airport staff handling the flight should be provided with Hand sanitizers and all  essential Personal Protective Equipment such as face masks etc. as per guidelines  issued by MOHFW
No newspaper/magazines will be provided in terminal building/lounges
Use open-air ventilation inside airports where ever possible instead of Central air-conditioning
Entire terminal disinfection should be performed using duly approved disinfectants through fogging/spraying machines or physical mopping at regular intervals
At Boarding Gates, passengers should be allowed to board in batches as per  seating arrangements in the aircraft to avoid crisscrossing inside the aircraft
Arrivals
 To maintain social distancing norms, passengers shall be disembarked in batches  sequentially
To ensure social distance, the markings like circle, square should be provided  around the baggage collection carousel for ensuring social distancing
Before handing over luggage to passengers, all bags will be sanitised by airport staff before putting them on conveyer belt
Hand sanitisers shall be made available by airport operator for passengers and  airport staff at various locations
Airport operator to ensure that cleanliness and sanitisation of every nook & corner of building and public areas including washrooms, chairs, counters, trolleys, railings, doors, lifts, escalator's etc. to be done before arrival of the flight and after last passenger leaves the Terminal Building
Regular fumigation at taxi pickup and drop off points outside airport.