 Remembering the Hoffenheim Nearly-Men Who Almost Pulled Off the Bundesliga's Biggest Ever Shock
by Declan Houten

One of the most repeated truisms about elite sport is that we only ever remember the winners.

No matter how much effort you put in, the obstacles you overcame and the key battles you came through, it all counts for very little unless your name is engraved on a bit of silverware at the end of the process, so the logic goes.

From the psychological unravelling of Newcastle in 1996, to Steven Gerrard's fateful slip in 2014, to Spurs finishing third in a two-horse race; among English football fans there is no pat on the back for missing out on the big one. Bottling, a choke-job, losing your nerve... whatever you want to call the art of royally fudging a title race doesn't always have to be associated with abject shame, however.
The example of Hoffenheim is a case in point, with the Baden-Württemberg club, on the face of it, executing one of the great head-losses in 2009.
Having clinched the 'winter championship' (not actually a championship, but the honour of being top at the halfway point of the Bundesliga season), Ralf Rangnick's boys could not stop drawing in the second half of the season, with a twelve-match winless run seeing them slump to 7th. Things got pretty ugly at times during this miserable run, with Hoffenheim on the receiving end of heavy defeats against Bayer Leverkusen, the lowly VfL Bochum and eventual winners Wolfsburg.
All in all, pretty humiliating stuff that we need never speak of again, right? Well, not quite...
There was much more than meets the eye to this extraordinary story, not least the fact that Hoffenheim had literally never played a game of Bundesliga football before. Hoffenheim, who play their football in a village of just over 3,000 people (for those playing along at home, that's not enough to fill Forest Green's stadium), had, up until the turn of the millennium, spent a fairly placid existence knocking around in Germany's amateur leagues.
Then, Dietmar Hopp came around.
The billionaire IT magnate clearly wanted to give something back to the village where he grew up, and he did it the best way he could - by turning them into a footballing powerhouse. Hopp's investment remains controversial to this day - earlier this year Bayern fans held up banners with some choice words for the billionaire, who used a loophole to bypass German football's '50 +1' rule which maintains that a club, rather than outside investors, must control the majority of its own shares.
The man who owns 96% of Hoffenheim would probably feel that the ends justified the means in this case, with Die Kraichgauer taking just eight years to reach the promised land of the Bundesliga after he took over.
So a village that was more suited to a particularly lively church fête than top-flight football was now going toe-to-toe with your Bayerns and your Dortmunds, but even Hopp can't have planned for how they were to start the season. Hertha Berlin's Vedad Ibišević is a pretty tidy player. Guarantees you around 10 goals a season and very nippy for a man of his age. But you'd never have guessed that he is the man behind one of the greatest hot streaks in Bundesliga history.
It must have come as a surprise to Ibišević too, with the Bosnian - who was forged in the unusual environment of American varsity sports - having experienced his only previous taste of the German top flight during a middling spell with Aachen.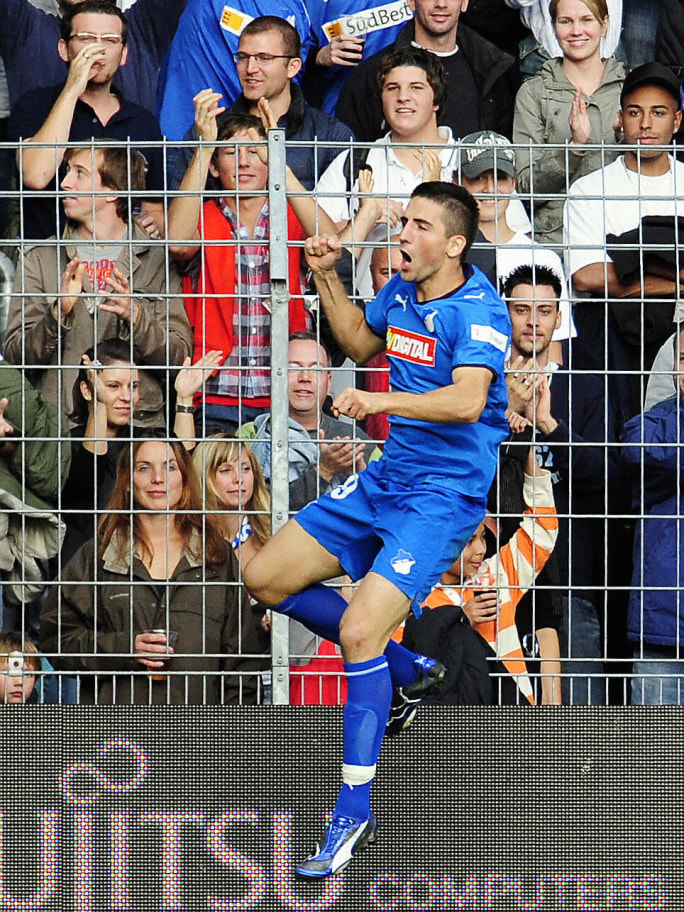 Ibišević was the crown jewel of a fearsome bunch of forwards at Hoffenheim, featuring Football Manager 2010 legend Chinedu Obasi and Premier League Years legend Demba Ba, and proved it by scoring 18 goals in 17 games to clinch that all-important winter championship for Hoffenheim.
Yes, you read that right.
The Bosnian was closing in on Der Bomber, with Gerd Muller's 40-goal record in his crosshairs, and his tenacious style was key to the flowing football that had brought Hoffenheim to the pinnacle.
Until disaster struck. If Ralf Rangnick ever sits down with a cup of tea and thinks about holiday destinations, you can be fairly sure that Hamburg and La Manga won't feature on the list.
It was in a winter break friendly against their fellow German club in the Spanish resort that the worst possible thing happened - Ibišević did his ACL, and even worse, he did it with barely any time left in the match.
A brave face was put on, veteran Boubacar Sanogo arrived as a short-term replacement, but fate had, in simple terms, completely stitched Hoffenheim up. Sanogo scored once in 14 games, with Ba left to carry the can when it came to goalscoring, and though he, Obasi, Wellington and playmaker Carlos Eduardo still provided the odd bit of magic, with Ba's dramatic hat-trick against Stuttgart a particular highlight, the damage was done.
Hoffenheim had been left behind to accomodate a new, perhaps equally incredible story, with Ibišević's countryman Edin Dzeko linking up with Grafite at Wolfsburg to fire them to their first ever title, while Rangnick's side could no longer even guarantee European football.
It certainly wasn't the end for a squad packed with talent, where many of those involved only went on to further their reputations - from youngsters Luiz Gustavo and Pascal Groß going on to make a mark in Europe and Rangnick taking Schalke to a Champions League semi-final in his next job. And of course, European football was still to come, with Julian Nagelsmann - looking like he was fresh out of A-Level double maths - finally leading his team into the big time in 2017, before leaving for Leipzig to replace... Ralf Rangnick.
Still, winning the league with a promoted side in your first season? Rangnick must always wonder what might have been if Ibišević had never set foot in sunny Spain.
But since we'll never know, probably easier to just call Hoffenheim bottlejobs, isn't it?