 Building Manchester City's Perfect Premier League Footballer
by Declan Houten

Let's be honest, if there was a way to build the perfect footballer, Manchester City would probably have signed him up on £350k-a-week by now.

Since 2008, they've been doing the next best thing, and some of their football since Pep Guardiola took over has been as close to perfect as a nice, warm bath.

So how do you build a player for the team that has everything?

We haven't got Txiki Begiristain and £250m in spare change over at 90min, but using the most valuable asset of them all, the power of the imagination (and a very liberal understanding of how human anatomy works), we've managed to create a player so perfect he might actually take City to a Champions League semi-final...
Head: Edin Džeko
His time at City was mixed, and perhaps he never got the appreciation that he was worthy of, but if you ever needed someone to put their name on it in the mixer, the 6ft 4in Dzeko was surely your man.
It's often forgotten that before Sergio Aguero's historic 94th-minute winner (you know the one), Dzeko made sure the comeback against QPR was on with a leap that any salmon would be proud of from David Silva's corner.
The first two strikes of his four-goal demolition of Tottenham in 2011 are well worth a look, with the hapless Lilywhites absolutely out of ideas when it comes to stopping the big Bosnian.
Brain: Fernandinho There are so many attributes of Fernandinho's that have been indispensable to City since he signed from Shakhtar Donetsk, from his engine, to his surging runs, to his simple love of kicking players ten feet up in the air.
The Brazilian is so much more than aggression and physicality however, adding goalscoring and creativity from deep positions and importantly, functioning as a Swiss Army knife of a footballer through his versatility.
The fella's positioning, tactical intelligence and timing is so good that he's been playing as a centre-back for half the season, and in that respect he's the ideal Pep Guardiola footballer, giving his gaffer some much-needed tactical flexibility for the next time he decides to overthink in a Champions League knockout tie.
Eyes: Kevin de Bruyne Don't worry about the conspicuous absence of a certain Spanish playmaker - we'll come to that one later. For now, the assist king and the best player in the Premier League has to take the crown.
Whether with one of his trademark curling ground crosses which inevitably have Raheem Sterling's name on them, a pinpoint crossfield ball or a deft flick to find Aguero peeling away from the last defender, de Bruyne could find a teammate at the back post in the middle of Siberia with one bar of 4G.
Even the Wembley pitch looks small when he's playing on it, and that vision of his must be picking up a Ballon d'Or or two on the horizon.
Lungs - Yaya Touré There was so much to Touré's game that reducing him to the concept of stamina feels like an insult, but at the same time the Ivorian superstar made everything labelled 'lungbusting' up to this point look like a jog down the road.
During his iconic 2013/14 season, easily the best from any Barclays midfielder (sorry Frank/Steven),
Touré time and time again picked the ball up on the halfway line and exploded past three or four players like a bullet train.
That a man of his tall, heavy frame could get off so many sprints in 90 minutes goes a long way towards explaining how many bodies he left in his wake that year.
Body - Vincent Kompany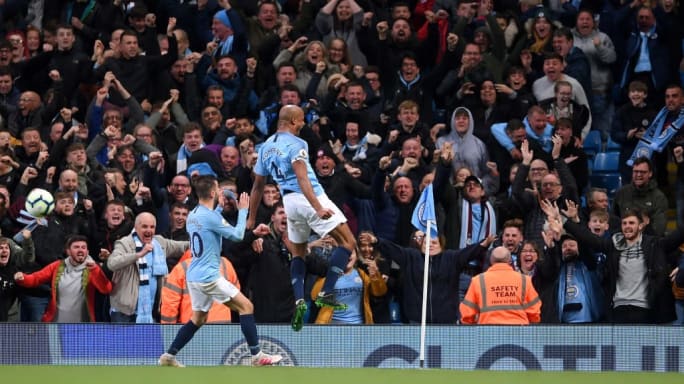 His reading of the game places him in the same Kompany (get it?) as Fernandinho on the brains department, but let's be honest, you don't get to be one of the best defenders in Premier League history without a bit of timber on you.
Kompany's powerful upper-body strength meant that he rarely came off second-best in the air, and he was adept at using his body to block shots and crosses, while many a winger would dart down the touchline only to see the Belgian wall block their path.
For one of Football's Nice Guys, he wasn't shy of a bit of a meaty challenge either...
Left Foot: David Silva So many players have been described as having 'a wand of a left foot' that you'd think Hogwarts is currently stacked with southpaw attacking midfielders.
But El Mago is easily one of the men worthiest of the name, with the diminutive Spaniard possessing a left peg which would even drag Voldemort out of position.
Watching the former Valencia man whip out 'La Pelopina', a bit of skill which he cadged from none other than Xavi, is one of football's most mesmeric experiences, and hopefully it'll be a while yet before he hops on his broomstick and heads to the MLS.
Right Foot: Sergio Aguero That striker you like, their right foot's pretty good isn't it? Score a lot of powerful finishes at the near post don't they? Very good at finishing across the goalkeeper aren't they?
But has their right foot single-handedly rewritten Premier League history?
When the ball dropped to Sergio Aguero that fateful day in 2011, it was never going anywhere other than firmly in the onion bag, and to this day the Argentine's trusty right peg is still producing.
Aguero is so good from tight angles that you can tell exactly what he's going to do before he even does it, so if his crafty movement doesn't get ya, his dominant foot will.
Legs - Jesús Navas It sometimes feels that the only thing Navas was capable of during his time at City, but what a roadrunner he was.
There were rumours that the Sevilla legend was clocked at 10.8 seconds over 100m, which would be more than enough to unsettle the likes of Kyle Walker and Leroy Sane, although they wouldn't be as worried about the cross which they could produce immediately afterwards.
But with De Bruyne's vision and Silva's left foot you wouldn't have to worry about that anyway...