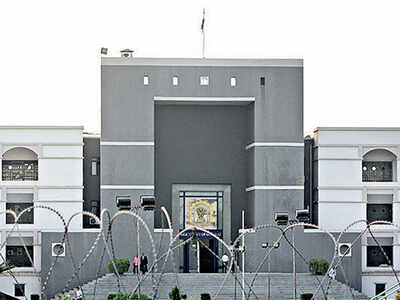 'Docs could turn super-spreaders'
by Nikunj Soni

The vulnerable state of resident doctors serving at the 1,200-bed Covid hospital on Civil Hospital campus has once again cropped up and Gujarat High Court has taken note of it.

A resident doctor has anonymously written a letter to the high court last week about their condition and they being called 'cowards and kaamchor' if they demand testing for coronavirus. The doctor feared that they are likely to become super spreaders as they work at non-Covid hospital.

"Respected sir, I am a resident doctor, working in Civil hospital, Ahmedabad. I'm penning down this letter to inform you about some mismanagement happening here in 1,200-bed hospital as well as in civil hospital Ahmedabad. In 1200 bed hospital there are wards allotted amongst 60 patients. These patients are isolated from the world outside but not from each other," the letter stated.

It said, "In case of Covid-19, it is possible that every patient might have different viral loads, so if no partition is made in between them, then these patients are never going to recover as they will encounter each other's viral load. In a ward of 60 patients only 34 patients are turned Covid -ve after 10-12 days isolation and treatment, the rest still remain Covid +ve just because they increase their viral load because of the patient having bed beside them."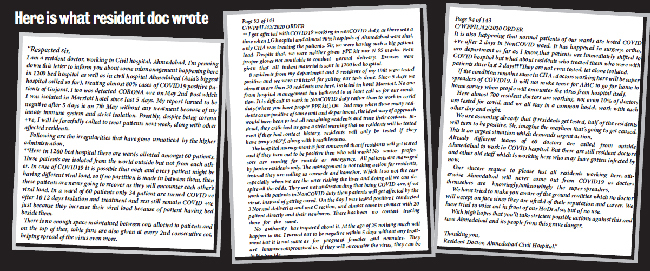 It further said, "Sir, we were having such a big patient load. Despite that, we were neither given a PPE kit nor N95 masks. Even proper gloves are not available to conduct normal delivery. Excuses were given that all indent material is sent to the 1200-bed hospital. It is difficult to work in Non-Covid duty rather than to work in Covid duty (where you have proper PPE kit)."
Raising the issue of their tests after few residents became infected with Covid, the letter said, "On 2nd May when these many residents came positive of the same unit and department, the ideal way of approach would have been to test all remaining residents and trace their contacts. Instead, they criticised us and gave a strict warning that no residents will be tested even if they had contact history, residents will only be tested if they have temp>103°f, along with breathlessness," the letter stated.
It said, "The hospital management is just concerned that if residents will get tested and if they turn out to be positive then who will work?
No senior professors are coming for rounds or emergencies. All patients are managed by junior residents only. The management is not taking action for residents, instead they are calling us cowards and kaamchor."
The letter also raised concern that they can become super spreaders if they treat the non-Covid patients being asymptomatic Covid positive. "If we work with patients in NonCovid duty then patients will get affected by the virus, instead of getting cured. On the day I was tested positive I conducted 3 Normal deliveries and one C section, and almost came in contact with 20 patients directly and their newborns. There has there was no contact tracing done for the same. No authority has inquired about it."
The letter further stated that, "Here almost 700 resident doctors are working, not even 10% of doctors are tested for Covid, and we all stay in a common hostel, working with each other day and night. We are assuming already that if residents get tested, half of the residents will turn to be positive. Sir, imagine the mayhem that's going to get caused. This is an urgent situation which demands urgent action."
What HC observed?
"We are very sorry to state that the Civil Hospital, Ahmedabad, as on date, appears to be in an extremely bad shape.
Ordinarily, the citizens hailing from a poor strata of society are being treated at the Civil Hospital. This does not mean that human life is not to be protected. Human life is extremely precious and it should not be allowed to be lost at a place like the Civil Hospital at
Ahmedabad," stated in the order issued by bench of Justices J B Pardiwala and I J Vora.
What Civil authority said?
Officer on Special Duty at Ahmedabad Civil Hospital Dr M M Prabhakar said, "I cannot comment on the issue as it is sub judice."