Rare, Early Portraits of Jim Morrison and The Doors Are Headed to Auction
The Doors left a bluesy mark on rock 'n' roll music that lasted long after the tragic death of frontman Jim Morrison at age 27. But because the band only existed for about six years—in a pre-smartphone era, no less—there isn't a ton of behind-the-scenes content to tell the story of Morrison's bright, albeit brief, career.
Come February 25, nine rare photos of Morrison from The Doors' first European tour in 1968 will end up in the hands of one fortunate fan. Swann Auction Galleries is selling them as part of their "Classic and Contemporary Photographs" auction, which also includes portraits of early Hollywood stars like Joan Crawford, John Barrymore, and Veronica Lake.
The black and white photographs of Morrison were taken by German-born photojournalist Michael Montfort when the band performed in Frankfurt, Germany that September, and they manage to capture the strangely hazy, somewhat intense nature of the legendary lead singer. In one, Morrison looks right into the camera while leaning against a church pulpit; in another, he lies on the stage clutching the microphone with his back turned to the audience; in yet another, a sweat-drenched Morrison holds a leather jacket in one hand and makes a peace sign with the other.
The Doors played early hits like "Light My Fire" and "Break on Through (To the Other Side)" to raucous, devoted crowds across Europe, but the tour wasn't without its calamities, due largely to Morrison's substance abuse. After leaving Frankfurt, the band stopped to perform a show in Amsterdam, where a drug-addled Morrison collapsed on stage during Jefferson Airplane's opening set. He was immediately taken to a hospital, and keyboard player Ray Manzarek stepped in as lead singer that night. Morrison finished the tour, but his drug addiction would continue to plague him until he died of a (suspected) overdose in Paris in 1971.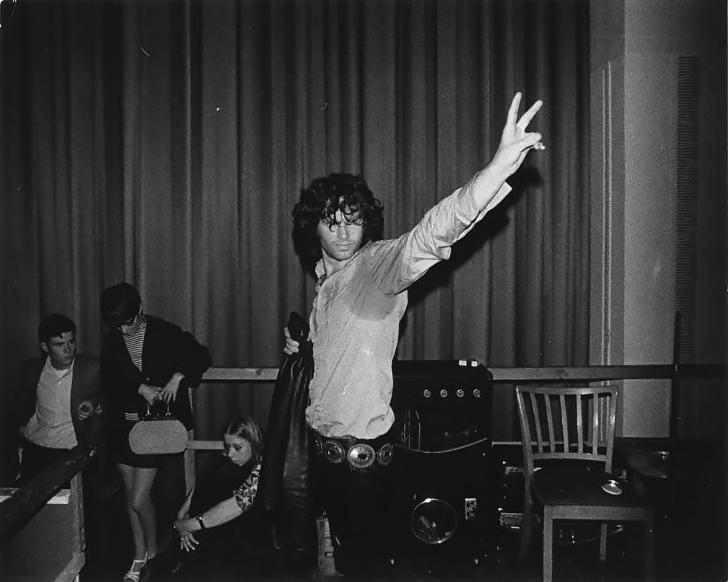 The collection of nine photos is expected to fetch between $1500 and $2500, and you can place a bid here.
[h/t Swann Auction Galleries]