Transocean February 2020 Fleet Status Report Analysis
by Vladimir Zernov

Summary
Transocean publishes its new fleet status report.
The report contains a number of developments, but most of them have been reported before.
There's still absolutely no light at the end of the tunnel for the company's stacked rigs.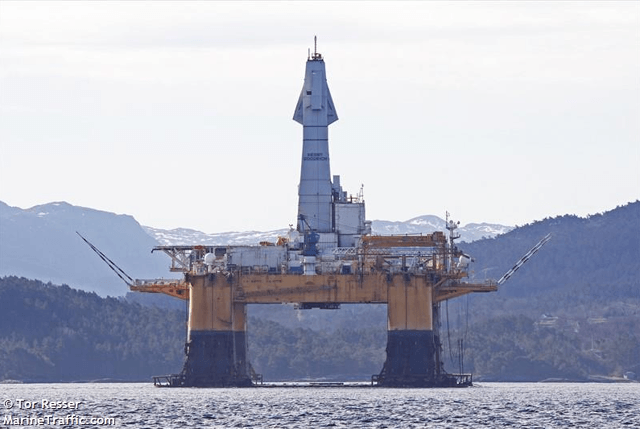 Henry Goodrich
Following the release of Valaris (VAL) fleet status report (I discussed it here), Transocean (RIG) has provided its own fleet status report. The company added $366 million in contract backlog since the previous fleet status report was published back in October 2019. At that time, the company's total backlog was $10.8 billion. Now, it has decreased to $10.2 billion, which is not surprising as Transocean has a number of high-margin contracts whose backlog is impossible to replace in current market conditions. I expect that the company's backlog will continue to decrease in the foreseeable future.
Let's get to contract news. The report includes all changes from the previous fleet status report. Drillships Discoverer Inspiration, Deepwater Asgard, Dhirubhai Deepwater KG2, Deepwater Invictus and semi-subs Leiv Eiriksson, Development Driller III, Transocean Norge, Deepwater Nautilus got new jobs. While this list looks long, there's not much actual news since Transocean reported most contracts before (I wrote about them here and here). Those who missed those articles can click on the links while I'll focus on new developments.
Harsh-environment semi-sub Leiv Eiriksson got a job with Spirit Energy in Norway. The rig will work from June 2020 to July 2020 at a dayrate of $225,000 and then proceed to the previously reported contract with ConocoPhillips (COP) which starts in July 2020 and ends in November 2020.
Harsh-environment semi-sub Henry Goodrich is now classified as "idle". Henry Goodrich was originally constructed back in 1985 so the decision to idle the rig raises questions about its viability.
That's all the news since most contracts in the fleet status report have been reported before. Since floater awards lack long-term contracts, Transocean will have to deal with a number of contract roll-offs in 2020:
Semi-sub Transocean Leader - June 2020.
Semi-sub Deepwater Nautilus - July 2020.
Semi-sub Transocean Arctic - July 2020.
Drillship Discoverer Inspiration - July 2020.
Drillship Discoverer India - August 2020.
Semi-sub GSF Development Driller I - October 2020.
Semi-sub Paul B. Loyd, Jr. - October 2020.
Drillship Deepwater Asgard - October 2020.
Drillship Dhirubhai Deepwater KG1 - November 2020.
Semi-sub Leiv Eiriksson - November 2020.
Following the idling of Henry Goodrich, the fate of harsh-environment semi-subs Transocean Leader (built in 1987, currently works in UK) and Transocean Arctic (built in 1986, currently works in Norway). As per Diamond Offshore (DO) comments made during the earnings call, the UK market is not looking particularly strong this year. In Norway, a newbuild semi-sub from Awilco (OTCPK:AWLCF) will enter the market in 2021. In short, older rigs may find themselves in a tougher environment. I'd note that semi-sub Paul B. Loyd, Jr. (1990) also works in the UK part of the North Sea and finishes its current job in October 2020. It's still too early to tell whether the idling of Henry Goodrich indicates lower demand for older harsh-environment semi-subs, but it's definitely a thing to watch.
In the short-term, Transocean share price dynamics will continue to be heavily influenced by oil price moves and evaluation of coronavirus impact on the world economy. From a fundamental point of view, the floater market is dominated by spot work which is not great for speedy dayrate recovery. Transocean's stacked drillships (Ocean Rig Apollo, Deepwater Athena, Deepwater Mylos, Deepwater Olympia, Deepwater Orion, Deepwater Champion, Discoverer Luanda, Discoverer Americas, Discoverer Clear Leader) have no prospects to return to work in the foreseeable future as the market is too competitive and the company is busy with finding jobs for active rigs. Having a whole fleet of modern cold stacked drillships will most likely lead to major impairments sometime in the future, but the company won't adjust its book value anytime soon due to devastating accounting consequences of such a move. I'm not impressed by Transocean's fleet status report, and I maintain my view that the company's shares are better used as a trading vehicle.
If you like my work, don't forget to click on the big orange "Follow" button at the top of the screen and hit the "Like" button at the bottom of this article.
Disclosure: I/we have no positions in any stocks mentioned, and no plans to initiate any positions within the next 72 hours. I wrote this article myself, and it expresses my own opinions. I am not receiving compensation for it (other than from Seeking Alpha). I have no business relationship with any company whose stock is mentioned in this article.
Additional disclosure: I may trade any of the above-mentioned stocks.