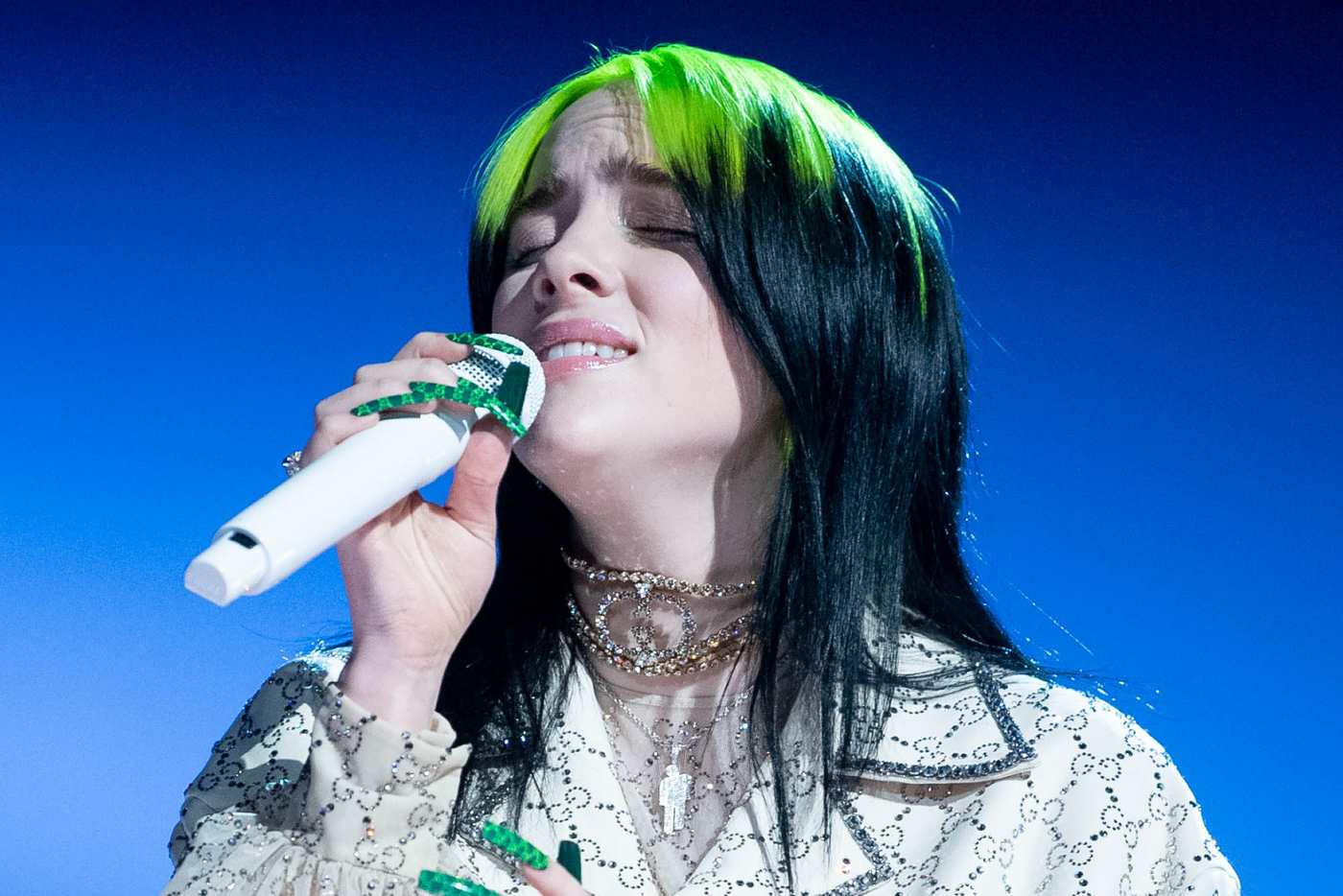 Billie and Bond Are a Perfect Marriage
by Craig Jenkins

James Bond is Old Hollywood's last man standing, the rare film franchise from the '60s that can still do numbers in the 21st century. People will always show up for a meticulous crime thriller, for a hero who never seems to sweat or worry. A character as adept at cheating death as 007 needs a soundtrack every bit as breathless and reckless, so the outrageous Bond theme has also endured, reimagining the treacly, orchestrated big-band pop from the era that spawned 1962's Dr. No across an ever-changing musical landscape. In the '70s, Paul McCartney's "Live and Let Die" and Carly Simon's "Nobody Does It Better" were massive ballads and successful chart hits. Things got dicey in the '80s, though, when the series tried to get hip, calling on new wave acts like like A-Ha and Duran Duran, whose stringent rhythms and synthetic sonics were a weird fit for longtime composer John Barry's symphonic accompaniment.

Since the '90s, the Bond theme has been a tug-of-war between legacy and modernity. If it cuts one way for too long, it springs back in the other direction. Garbage's Shirley Manson brought trip-hop sensuality, pop smarts, and noirish charm to "The World Is Not Enough." Then Madonna and Mirwais shredded a string arrangement and scattered the shrapnel over the vital disco jam "Die Another Day." In later years, Chris Cornell, Alicia Keys, Adele, and Sam Smith belted to glory on "You Know My Name," "Another Way to Die," "Skyfall," and "Writing's on the Wall," although the last two came up a little stuffy trying to revisit the glamour of powerhouse U.K. vocalist Shirley Bassey's iconic Goldfinger and Diamonds Are Forever anthems. Tapping Billie Eilish to do the theme for the forthcoming No Time to Die is another vote of confidence in her voice and a signal that Eon Productions, the company instrumental in the production of 25 Bond films in nearly 60 years, is looking toward the future again. (True Detective director Cary Joji Fukunaga getting tapped as the first American to helm an Eon Bond film seems to follow that same wisdom.) It's a perfect marriage, another prestige token for a young artist who's been racking them up lately, and a solid shot at chart traction after Sam Smith's Academy Award–winning Spectre theme bricked on the Hot 100.

On the surface, Billie Eilish's "No Time to Die" is your textbook James Bond theme in the sense that it is yet another song about a person refusing to expire. (For kicks sometime, try playing "Live and Let Die," "Another Way to Die," "Die Another Day," "Tomorrow Never Dies," and "No Time to Die" in a row without cracking a smile.) It's also a study in contrasts. It's possibly the quietest Bond song ever, while also being one of the few times you get to hear Eilish raise her voice to a shout, as she does when the strings swell at the song's climax. It's sparse-sounding and also lushly arranged. It's a song about perseverance dressed up in death drag, like last November's one-off "Everything I Wanted," where Eilish is comforted after a dream about dying. Tasteful orchestration works so well with her older brother Finneas's baroque production and balances Eilish's quiet, coy vocal so comfortably that you wonder what the O'Connell kids might manage with a big budget and a room full of session players. That's not their style yet — this one was recorded in their L.A. home and studio, per usual — but "No Time to Die" is proof they do bells and whistles just as well as empty space and whispers.