The 13 Best New Songs This Week
by Robby Seabrook III

Week in and week out, there are plenty of brand new rap songs, no matter the time of year. It can be really difficult to stay aware of what's out and also what's hot, so XXL decided to make things much easier for you. Instead of sorting out nearly everything that released this week, we've narrowed it down to strictly the best of the week, saving you plenty of time.

Expect to see selections from the established stars, the next wave of new talent, the up-and-comers and everyone else in between. If your song is fire enough to beat the competition, it'll take one of the weekly spots. You can trust us on this one; follow our lead and you'll never get laughed off of the aux cord again. Your friends will finally trust you with playlists; it'll be wonderful. In addition to that, you can check back every week for the latest and greatest tracks. You'll always have somewhere to turn to each week, being sure to find some songs you'll dig.

Enjoy this week's list, featuring new songs from Migos ("Give No Fxk" featuring Young Thug & Travis Scott), A Boogie Wit da Hoodie ("Stain" featuring DaBaby), Polo G ("Go Stupid" featuring NLE Choppa & Stunna 4 Vegas) and more. See you next week!
"Give No Fxk"
Migos featuring Young Thug & Travis Scott
https://www.youtube.com/watch?v=2n9gE20hqU4
"Stain"
A Boogie Wit da Hoodie featuring DaBaby
https://www.youtube.com/watch?v=oiLyMoWQMOI
"Go Stupid"
Polo G featuring NLE Choppa & Stunna 4 Vegas
https://www.youtube.com/watch?v=PEEoaKwwxbg
"Konclusions"
YG featuring Kehlani
https://www.youtube.com/watch?v=U9OLXmBlVEY
"Barbarian"
Calboy featuring Lil Tjay
https://www.youtube.com/watch?v=ltC_w5Nj7Vw
"Dior (Remix)"
Pop Smoke featuring Gunna
https://www.youtube.com/watch?v=YlRxTNDh4A4&feature=emb_title
"Yikes (Freestyle)"
Dreezy
https://youtu.be/j7SGF1N4rIw
"Knocked Off"
YoungBoy Never Broke Again
https://youtu.be/JjZP0Ef1iaw
"Sign Language"
Conway
"Lamb Pass By"
Chief Keef
https://youtu.be/c4W9CDJ34bo
"Drip Jacker"
Zaytoven and Lil Gotit
https://www.youtube.com/watch?v=mz5kf7rTYD8
"Dame 6"
Damian Lillard & Pusha T
https://www.youtube.com/watch?v=F8m1h3UK6Ts
"Hightop Shoes"
Lil Yachty
https://www.youtube.com/watch?v=CMBOnDqwMJs&list=OLAK5uy_kvs5ydsUgFKyDdJoBU7N3AlpsnPTHogqM&index=1
See 20 T-Shirts That Prove You're a True Hip-Hop Fan
Can't Ban the Snowman T-Shirt
Jeezy's 2006 mixtape, Can't Ban the Snowman, ushered in a new line of merch to further cement his snowman symbolism in hip-hop. When the kids who were already supporting Jeezy wore their snowman T-shirts to school, and school officials got wind of the drug-related messaging of the snowman logo, the shirts started to get banned. A shirt like this is a true rap throwback, paying homage to a former mainstay on the streets of ATL and beyond.
The Up in Smoke Tour T-Shirt
The Up in Smoke Tour was a landmark moment for hip-hop, but if you weren't in attendance to witness Dr. Dre, Snoop Dogg, Eminem and more, you can live vicariously by purchasing this T-shirt.
Fresh Fest T-Shirt
From Curtis Blow to Run-DMC, the 1984 Fresh Festival housed some of the biggest rappers in the 1980s. This particular show became an iconic moment in the New York hip-hop scene, so it is only fitting that it's immortalized on a white T-shirt.
Kanye West Glow in The Dark Tour T-Shirt
Kanye West's Glow in the Dark Tour was as futuristic as it gets, just like the merchandise inspired by the tour, including this stylish T-shirt.
J. Cole KOD Shirt
J. Cole's KOD merch is both simplistic and thought-provoking with the LP's ominous declaration, "Choose Wisely" inscribed on the back.
Salt-N-Pepa T-Shirt
Salt-N-Pepa's mix of sass and lyrical skills made them one of the premier rap acts of their time. This shirt holds an iconic image of the trio, that forever personifies the flare they gifted rap in the 1980s.
Odd Future Red Oval Dual Logo T-Shirt
Vanguards for the D-I-Y approach to their brand, music and image, Odd Future were ahead of the curve with their focus on merchandise, with this T-shirt among the most popular items in their catalog.
Nipsey Hussle Crenshaw T-Shirt
Nipsey Hussle's death is one of hip-hop's biggest losses and truly rocked the culture, but his love for Crenshaw will never be forgotten, as evidenced by his signature line of T-shirts.
Nas Illmatic T-Shirt
Captured during the Illmatic era of his career, this image of Nas is a timeless portrait of one of rap's favorite poets.
Outkast Logo T-Shirt
When the South felt it had something to say, Outkast led the pack, a gesture you can return by representing the dynamic duo with this piece of hip-hop merch.
Wu-Tang Clan Logo T-Shirt
The Wu-Tang Clan may be nothing to fuck with, but a T-shirt decorated with the crew's logo is a must-have for the W.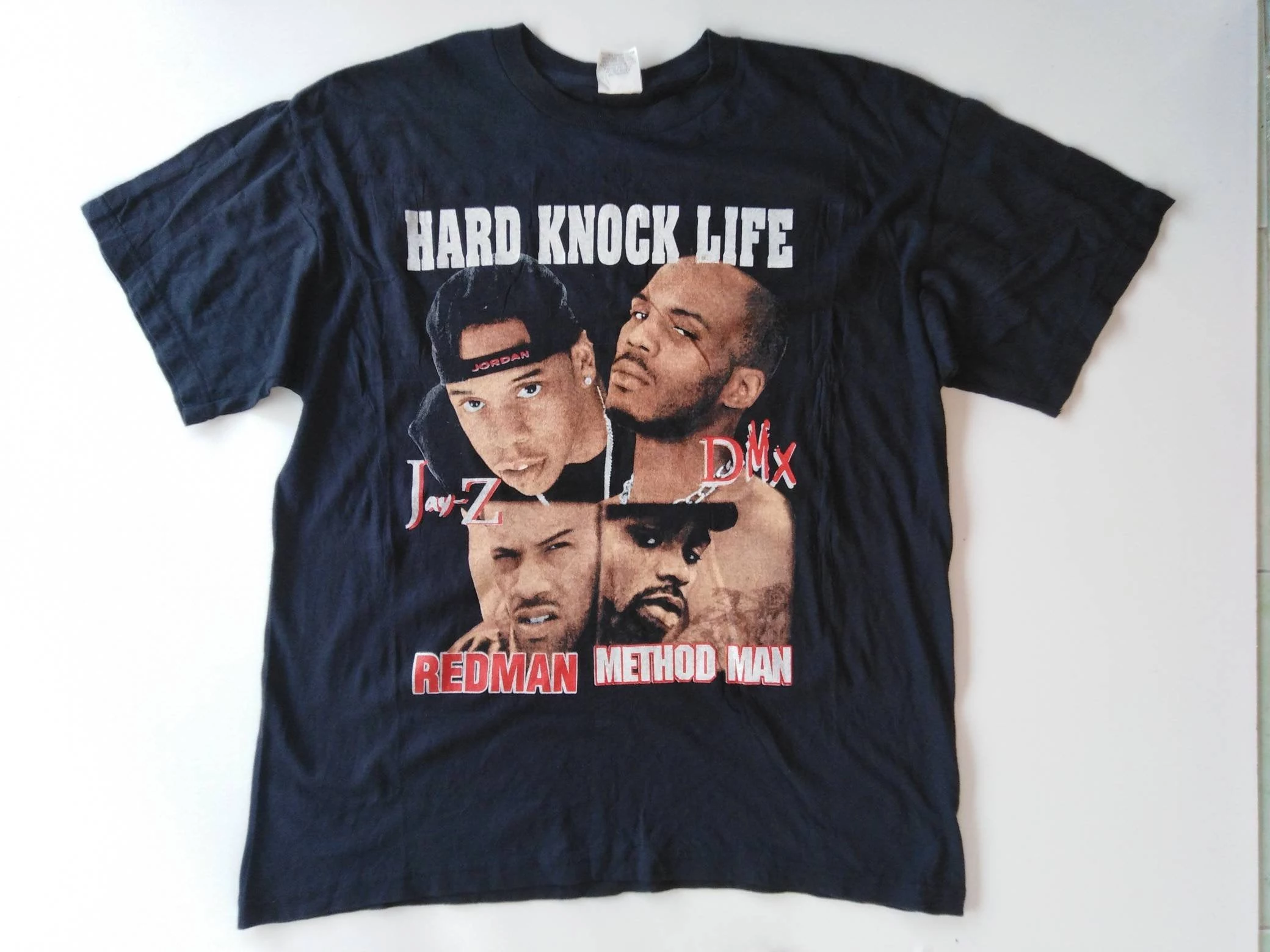 Hard Knock Life Tour T-Shirt
The Hard Knock Life tour paired Jay-Z's Roc-A-Fella Records camp with DMX and the other Ruff Ryders at the height of their careers, making this rare gem a must-have for nostalgic purposes.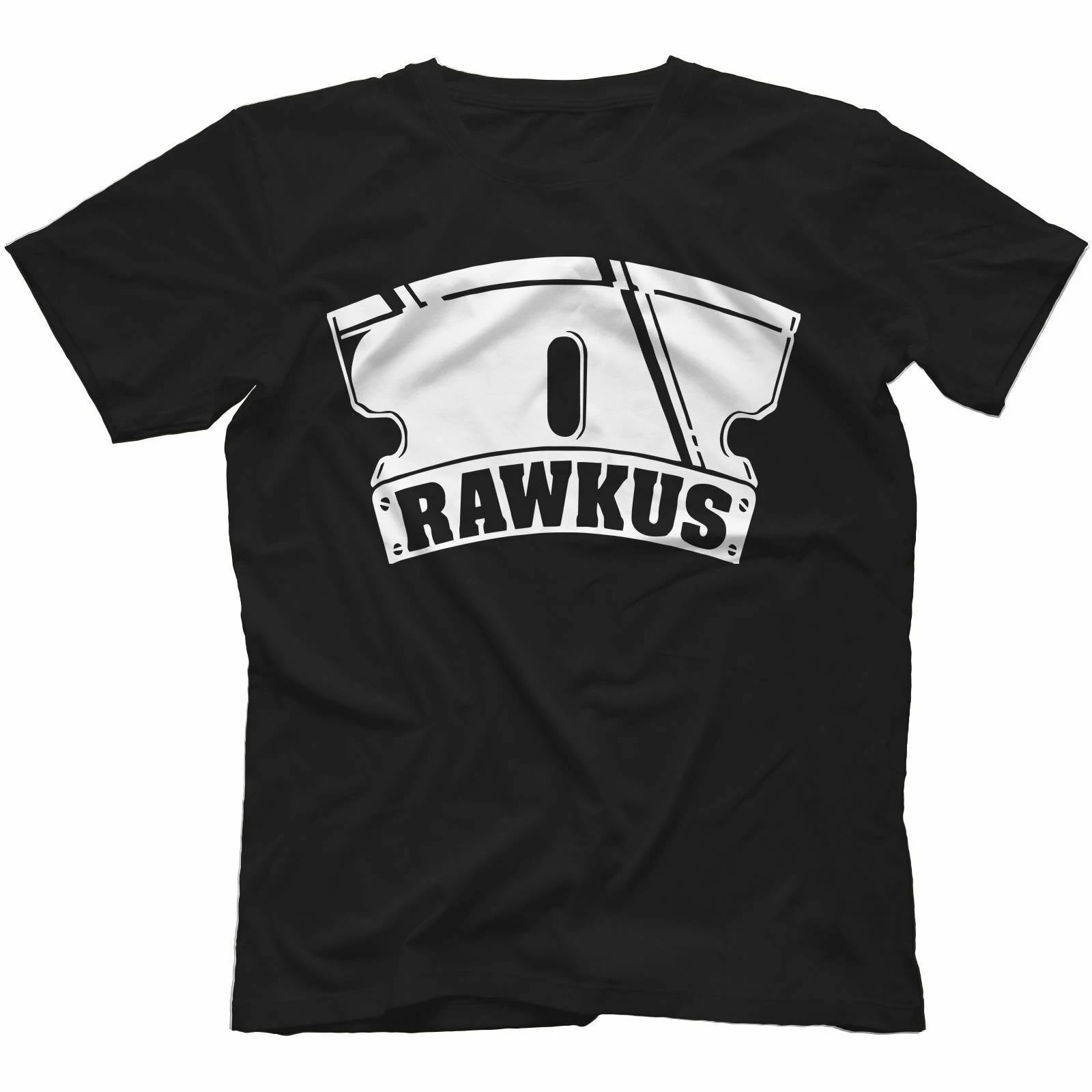 Rawkus Records T-Shirt
In a culture that prides itself on self-sufficiency and rebellion, Rawkus Records' mantra of being "independent as fuck" struck a chord with purists enough to inspire these vintage tees.
N.W.A. Boyz in the Hood Tour T-Shirt
Revolutionary, but gangster, N.W.A is considered one of rap's legacy groups, which is a good reason to cop this shirt celebrating the group's 1989 tour.
Def Jam Recordings T-Shirt
In addition to being one of the most storied record labels of all-time, Def Jam's iconic logo represents artistic excellence, making this T-shirt essential in any rap fan's wardrobe.
A$AP Rocky Live. Love. A$AP T-Shirt
A$AP Rocky is one of the most fashionable figures in hip-hop, so it only seems right to kick your style up a notch with a T-shirt in his honor. This picture comes from A$AP's Live. Love. A$AP mixtape, the debut project that helped launch his career.
Travis Scott "No Bystanders" T-Shirt
Travis Scott's Astroworld album birthed bangers like the track "No Bystanders" featuring Juice Wrld and Sheck Wes. As one of the most well-received songs on the LP, Travis highlighted the phrase even further with this statement T-shirt.
50 Cent Get Rich or Die Tryin' T-Shirt
This 50 Cent T-shirt paying homage to the Queens rapper's debut album, Get Rich or Die Tryin', is what any true hip-hop head should have in their closet.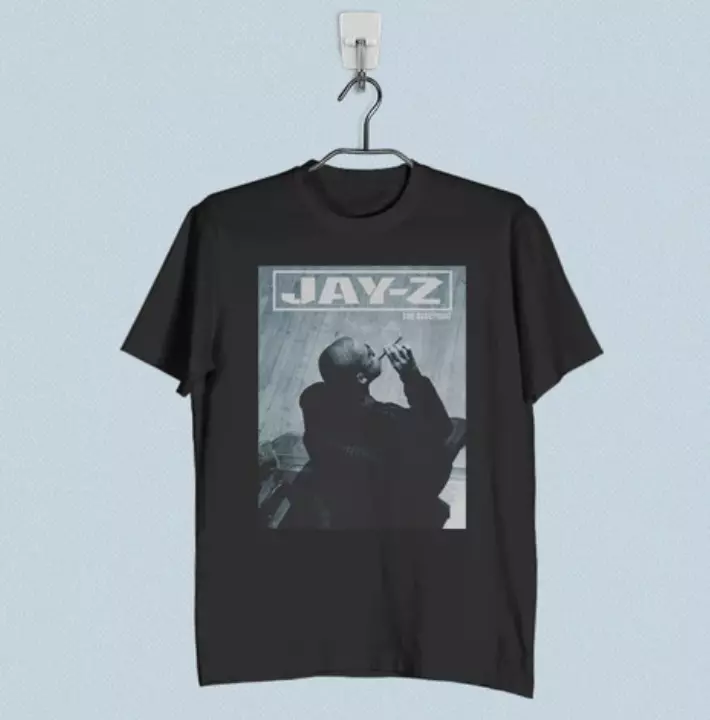 Jay-Z The Blueprint Shirt
Jay-Z's The Blueprint is a staple hip-hop album for Hov stans, so it's only right the classic LP cover is made into a T-shirt. Nearly 19 years after the album's release, its relevancy has yet to fade.
Dreamville racing T-Shirt
From J. Cole to J.I.D, Dreamville has proved themselves to be a legendary camp in the making. After the success of the Revenge of the Dreamers III compilation and the individual steam of each artist, it's only right they have their own merchandise.