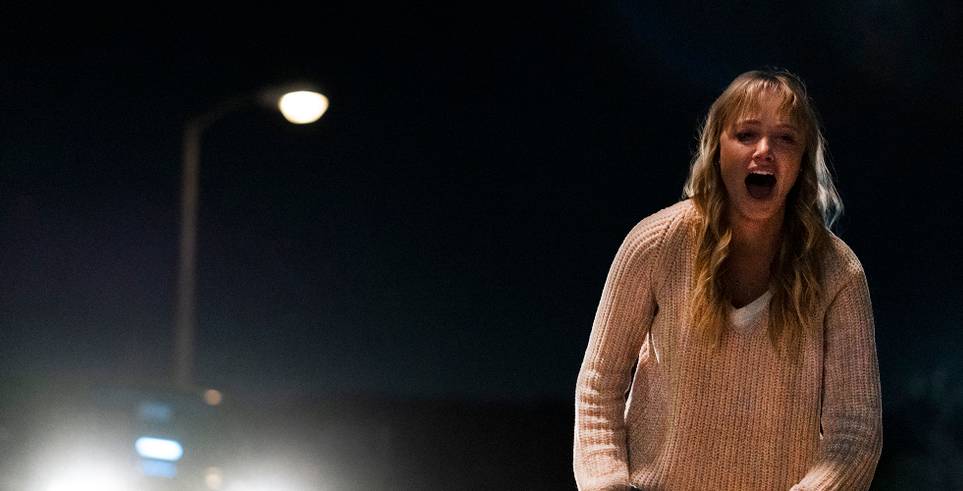 The Stranger: Quibi Drops Trailer for First 'Movie in Chapters' Thriller
by Meagan Damore

For Valentine's Day, new streaming service Quibi dropped a trailer for its upcoming thriller The Stranger.

The trailer picks up as ride-share driver Claire (Maika Monroe) picks up a new passenger (Dane DeHaan), who claims to be called Carly. The two make small talk as she drives them out of a city, deep into a desolate area. With a laugh, she asks him if he's famous because she is driving him to a mansion. "Actually, I have no idea who lives there," he admitted. "45 minutes ago, I rang the bell, and when the woman who lives there opened the door, I shot her in the face."

"Here's the deal: if you tell me a really good story, then I will let you live," he demands, pointing a knife at her as she drives. From there, Claire's evening takes a sinister turn. She attempts to escape the self-proclaimed sociopath, only for him to pop up everywhere she goes.
The Stranger will premiere on Quibi, the streaming service described as "the first entertainment platform designed specifically for your phone." It "is built for easy mobile viewing with new episodes of movie-quality shows delivered daily in episodes of 10 minutes or less." The Stranger, a "Movie in Chapters," will be one of the first properties to launch on the service.
Written, directed and produced by Veena Sud, The Stranger stars Maika Monroe, Dane DeHaan and Avan Jogia. The "movie in chapters" arrives on Quibi on April 6.
https://schema.orgBreadcrumbListListItem1Homehttps://www.cbr.com/ListItem2TVhttps://www.cbr.com/category/tv/ListItem3TV Newshttps://www.cbr.com/category/tv/news-tv/ListItem4The Stranger: Quibi Drops Trailer for First 'Movie in Chapters' Thrillerhttps://www.cbr.com/stranger-trailer-quibi-movie-chapters/