The Highly Accurate Ethereum Golden Cross is Forming, Is a Major Rally Incoming?
by Samuel Wan

Ethereum's stellar performance of late has seen it gain 113% in the six weeks since the start of the year. This achievement reversed a six-month downtrend and helped to inject a sense of anticipation for the rest of 2020.

Buying pressure from this looks to be forming a golden cross on the price charts. Which may well signal a further spike that could take the number two cryptocurrency on an extended bull run.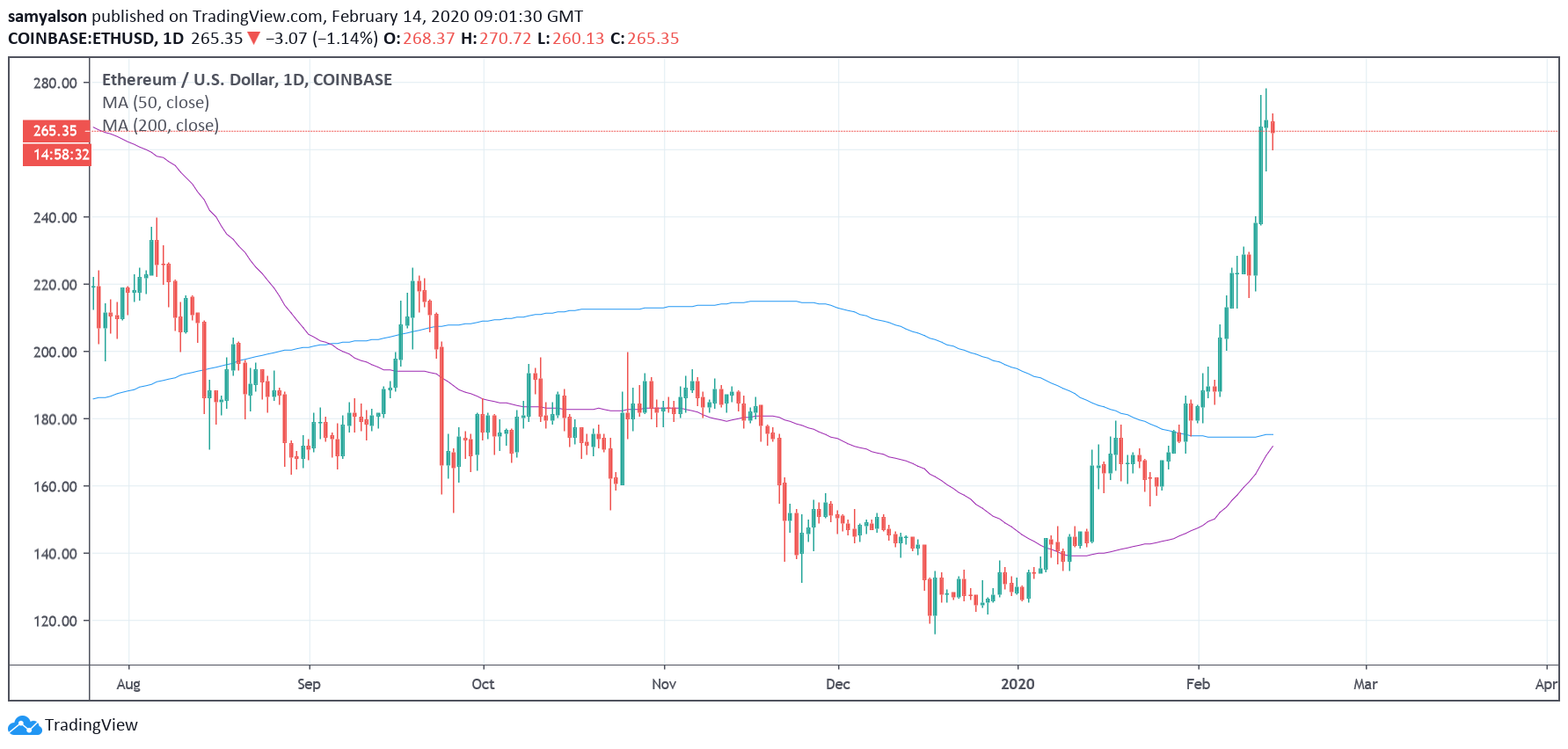 Golden Cross Forming On the Ethereum Price Chart
Following the cooling of the market momentum, high cap prices, on the whole, show modest gains today, with XTZ leading the pack.
At the time of writing, Ethereum has seen a slight dip, after hitting a year to date high of $278 yesterday. Currently, the price is at $265, having bounced back up from the $260 support area.
There is a likelihood of further drops in the short term, which may well test the $255 support level. However, the overall uptrend remains intact.
Analysis of the 50-day and 200-day moving average shows the imminent formation of a golden cross. This refers to the 50-day breaking above the 200-day – a bullish indicator that signals the potential for a major rally.
"As long-term indicators carry more weight, the golden cross indicates a bull market on the horizon and is reinforced by high trading volumes."
Past Golden Crosses On ETH Price
The history of Ethereum shows that golden cross events have happened on two previous occasions. Most recently in April 2019, and in February 2017 as well.
The April 2019 golden cross was followed by a price trend reversal that lasted just 2-months. During that time, from the cross to peak, the price of Ethereum gained 109%, peaking at $365 during that cycle.
This event occurred during an accumulation phase, as evidenced by the tightly packed oscillating wave patterns of the 50-day and 200-day lines. And so, short time frames, as well as relatively modest gains were to be expected.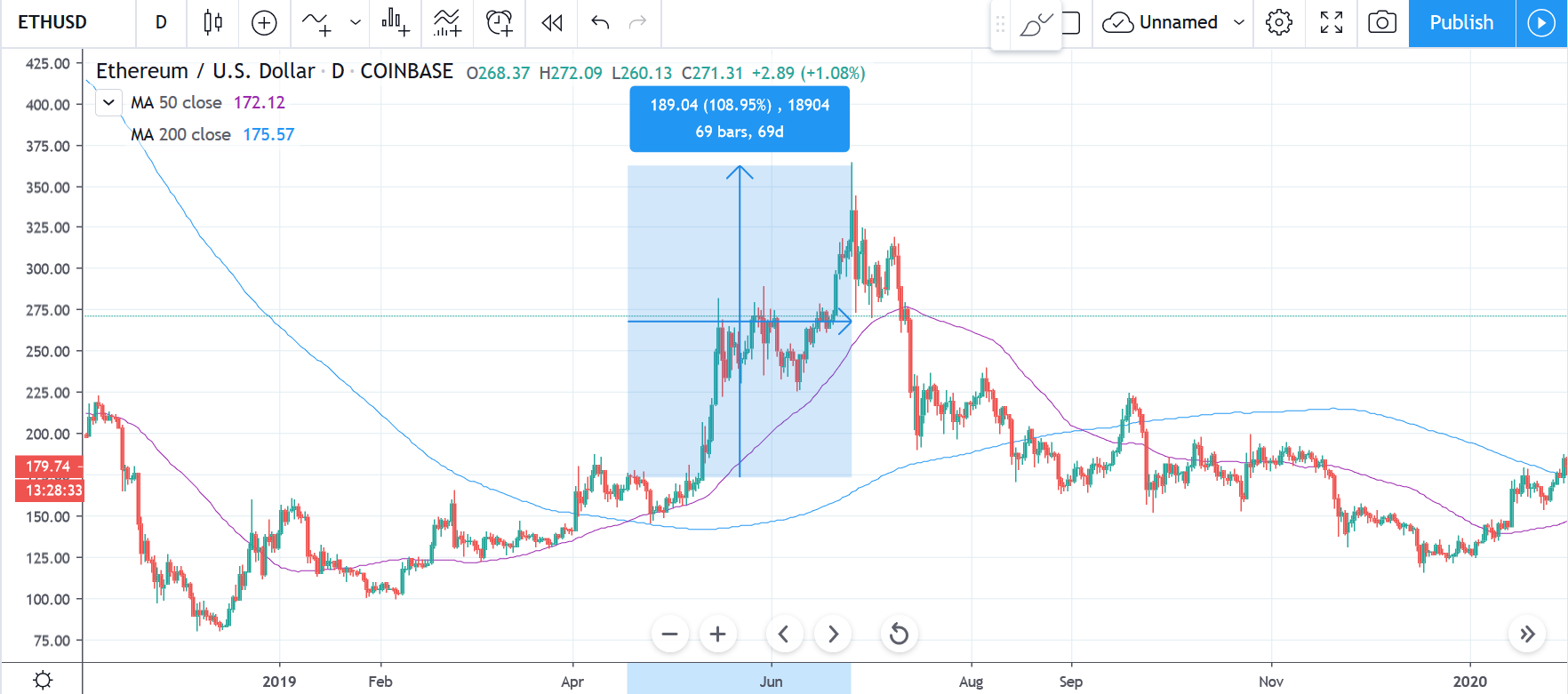 2017 Bull Run Year
This contrasts greatly with the February 2017 golden cross. Back then, Ethereum had strong momentum having cracked double-digit prices.
When the golden cross occurred, the 50-day moving average stayed distinctively above the 200-day moving average for as long as 12 months.
It peaked in February 2018, before descending on a downward path to incept the 200-day moving average. Some two months later in April 2018, the ensuing death cross took place.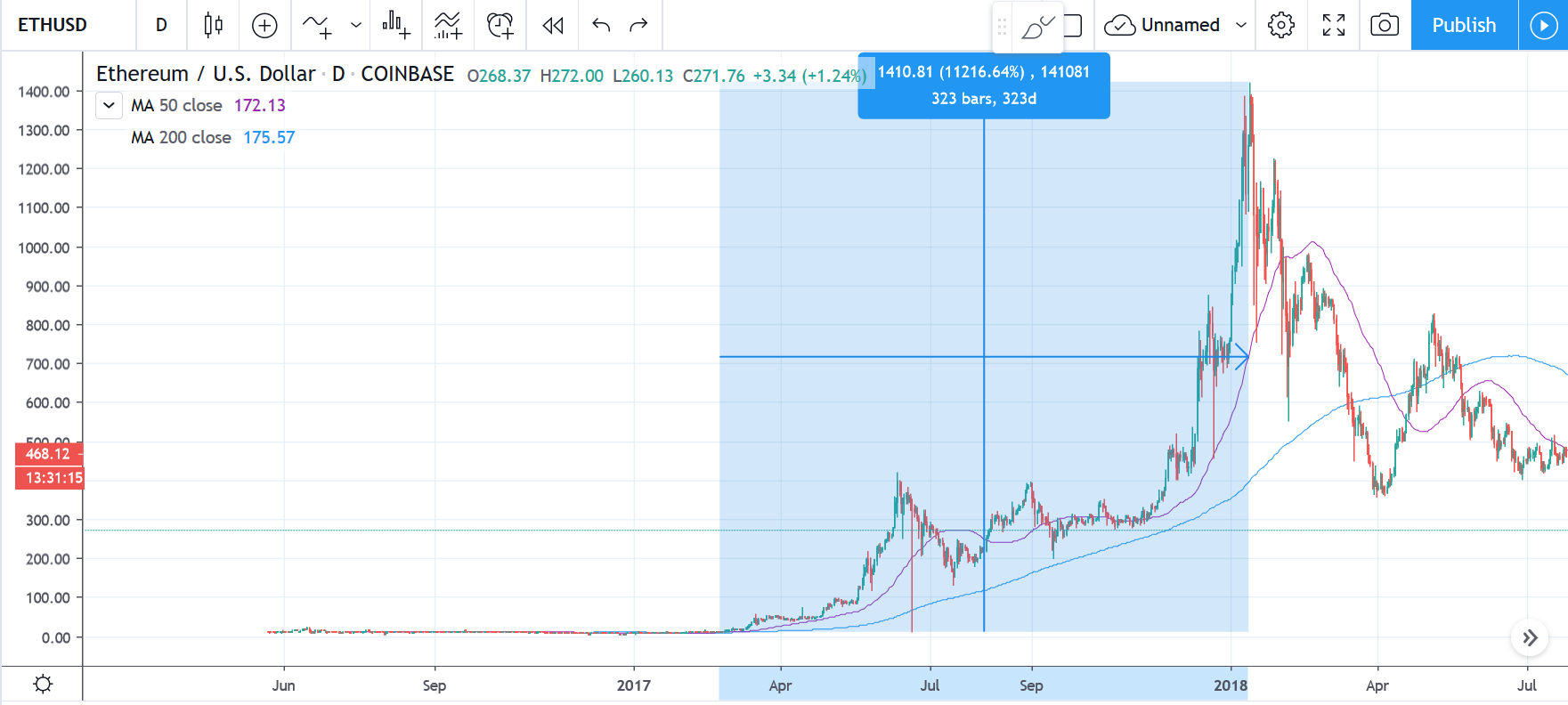 Nonetheless, during this phase, six breakouts occurred with took the price of Ethereum from $12 to $1,400, an astonishing 11,000% gain over a 13-month period.
As such, analysts are wondering whether the coming golden cross will lead to price action as seen in 2017. Or will Ethereum experience a more modest boost in the coming weeks and months?