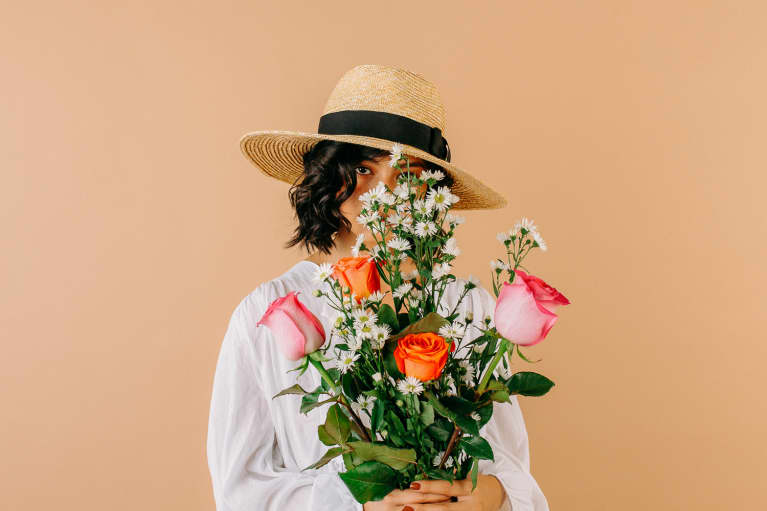 6 Last-Minute Valentine's Day Gifts (Bonus: They're Also More Sustainable)
by mindbodygreen Editorial Assistant

Flowers are the quintessential romantic gesture. Whether it's date night, an anniversary, or Valentine's Day, they're a beautiful gift that shows how much we care. But we care about the Earth, too, so we got to thinking: How sustainable is the flower industry? (More on that later.) And, namely, are there sustainable swaps worth considering when it comes to buying flowers?

Short answer: yes.

We're certainly not calling for a boycott on florists and flower shops, but if you've thought about the environmental impact of the floral industry, you may want to have some alternatives on occasion. So, here are six of our best flower-inspired gifts to give instead.
A potted plant that will grow with your relationship.
One caveat of buying flowers is that they have a relatively short life span. As the famous mystic Osho once said, "If you love a flower, don't pick it up. Because if you pick it up, it dies and it ceases to be what you love. So if you love a flower, let it be. Love is not about possession. Love is about appreciation."
Rather than uprooting a plant to offer as a gift, consider one that's still potted. It will continue to grow, and with the right plant, you can eventually move it outside, where it can still grace your space while being connected to the Earth. Here's everything you need to know about houseplants, plus 10 plants that thrive both inside and outside.
A gardening kit to grow your own flowers.
Another idea in a similar vein is a gardening kit. And when compared to the price of flower arrangements and potted plants, it's nothing short of mind-blowing that you can grow an entire garden for yourself at a comparable price. You can plant your own flower faves, and turn gardening into a fun, new hobby for you and your partner to do together.
To get started, stop by a local hardware store to pick up some seeds and a few gardening essentials (soil, pot, shovel, etc.). You could even take it one step further and sign yourselves up for a gardening workshop as a unique date night!
Craft your own paper bouquet.
If gardening isn't so much your strong suit, consider going the crafty route. Paper flower bouquets are not only gorgeous, but they're also completely customizable, as you're the one choosing the colors, designs, and arrangements. And the best part? They'll never go bad. Here are 11 DIY paper flower designs to try for yourself.
"Adopt" land to conserve wildflowers for generations to come!
For the super sustainable, environmentally conscious partner in your life, they're gonna love this one: an acre of adopted land, conserved in their name, to ensure flowers for future generations to enjoy.
There are lots of programs you can do this through, but one larger option is The Nature Conservancy's "Adopt an Acre" program. Choose the amount you want to donate, plus the region you'd like to donate to, and give the gift of land conservation to your loved one this year. You can also check if your local government has smaller programs to purchase land in your area that you and your partner can visit and enjoy together.
Rose petals or other "functional" plants.
Another idea to get the most out of your gift is to go for flowers and plants that can be used functionally rather than just aesthetically. Rosewater, for example, has a ton of uses, from beauty to cooking. Add rose petals to a bath, or a cup of tea, for example. Rose oil, as well, has been found to have anti-anxiety effects!
And there are plenty more plants and flowers where that came from. Lots have benefits outside their beauty, from lavender to aloe vera. Check out our roundup of eight homegrown plants that can help skin glow.
Reusable swaps for future farmers market trips.
If the special person in your life is a big farmers market buff, another great, sustainable idea is a "farmers market kit" of planet-friendly swaps to take along with you. This kit from the Zero Waste Store includes a natural cotton string bag that can hold up to 40 pounds, a reusable silicone sandwich bag, a canvas tote, a mesh produce bag, and reusable beeswax wrap for food storage.
Everything you need for a waste-free trip to the market! And you know what you can pick up while you're there? Local flowers.
And if you really want flowers...
Which brings us to our final flower point. While the flower industry at large could adopt some more sustainable practices, what with all the transportation and packaging, there are definitely factors to consider to make sure your flower purchases are as sustainable as possible.
As with any purchase, you can typically best limit your carbon footprint by shopping local. It cuts down on the transportation required, and the money can recirculate within your own local economy. Ask your local florist where they source their flowers from and which ones are organic. On top of that, don't forget that flower species can become endangered, too! To avoid putting added pressure on already struggling species, steer clear of these rare and endangered flowers.
For more ideas to show you care this V-Day, check out these feng shui tips for setting a romantic dinner table and this yoga flow for self-love. And remember, Valentine's Day isn't about the gifts so much as the reason we want to give them in the first place: love.