Watch the Who Mess Up New Song 'Break the News'
by Martin Kielty

Fans of the Who were treated to a low-key club show in London this week where singer Roger Daltrey got lost during their first attempt to perform the new song "Break the News."

Daltrey and Pete Townshend appeared alongside an acoustic band to deliver two eight-song sets at the Pryzm venue, during which they performed both "Break the News" and "She Rocked My World" from their latest album, Who, which arrived in November.

Both performances can be seen below.

Daltrey admitted he needed a sheet of lyrics because "I'm in the first stages of the dreaded late-seventies … and the memory ain't what it was. I've never sung this song before live. I might have to read it." He went on to say that, after many years working with Pete Townshend's brother Simon, he was delighted one of Simon's songs finally made it on a Who album.

Partway into "Break the News," Daltrey gave up to much laughter, and asked, "Can we start again? I'm lost. I'm completely lost." Pete Townshend told the crowd, "I knew he'd be trouble. He's deaf and he's blind, and for the last year and a half he's had a carrot up his arse. Should I remove it?"

"Do you give a fuck about the lyrics?" the singer asked. "Well, sadly I do." Pete added, "Simon does! Poor Simon!" Daltrey then apologized to the songwriter, while Pete admitted that he too is "fucking useless at remembering lyrics." The band started the song again and completed it this time.

Watch the Who Perform 'Break the News' 
Watch the Who Perform 'She Rocked My World' 
The Who Albums Ranked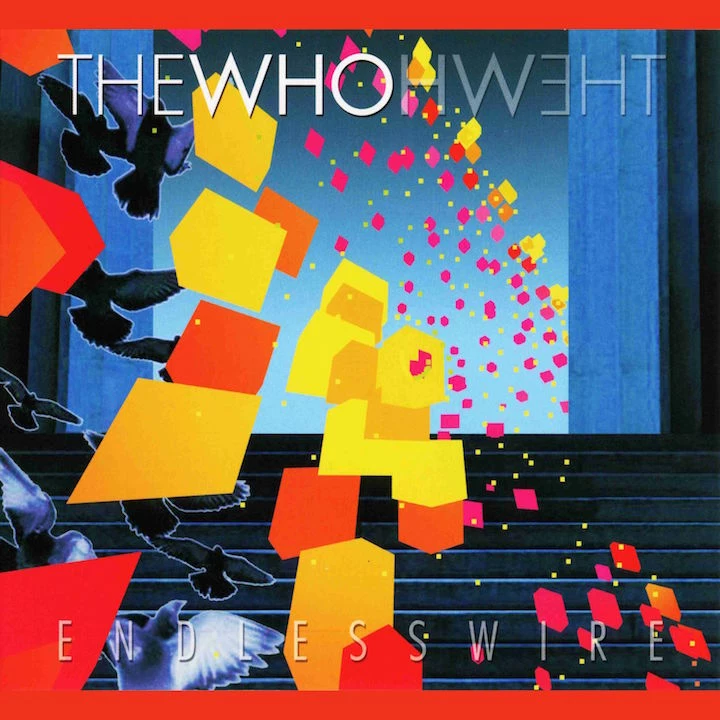 12: 'Endless Wire' (2006)
Twenty-four years after their last album, the Who's two surviving members — Roger Daltrey and Pete Townshend — regrouped with some hired hands to make their 11th LP. (They weren't totally dormant during the break: They launched more than one farewell tour during this period.) Like other records from their catalog, a chunk of 'Endless Wire' centers on a rock opera. It's not terrible, but it's also not a Who album, even if the band's two most vocal members are here.
11: 'It's Hard' (1982)
Like its predecessor, 1981's 'Face Dances,' 'It's Hard' includes new drummer Kenney Jones (formerly of the Small Faces and Faces) along with a mostly forgettable set of songs. Besides a pair of so-so singles — 'Athena' and 'Eminence Front' — there's not much to recommend here. The band was fighting to stay together by this point, with solo careers, apathy and other sidelines getting in the way of their collective focus. It's no surprise that the Who wouldn't make a record for almost a quarter century after this. This sounds like the end.
10: 'Face Dances' (1981)
The Who rallied after Keith Moon's death, and a concert disaster in Cincinnati that left 11 fans dead, by enlisting Jones for their ninth album. Moon's absence, however, is evident. Jones is a solid timekeeper, but he lacks Moon's octopus-armed domination of the kit, which enlivened even the soggiest Who songs. With no such relief coming here, 'Face Dances' sinks under the weight of Pete Townshend's mostly lackluster songs and Roger Daltrey's pallid vocals.
9: 'Who Are You' (1978)
Keith Moon's final album (he died less than three weeks after its release) packs some powerhouse songs — including "Sister Disco," John Entwistle's "Trick of the Light" and especially the killer title track, the Who's last great stand. Still, it's spotty in its attempt to navigate its way through changing musical trends, as punk and disco were nipping hard at rock's heels. 'Who Are You' marks the Who's last bout with glory. After this, they settled in with replacement drummers, waning inspiration and mostly lifeless records.
8: 'Who by Numbers' (1975)
After a decade and six classic albums, the Who slowed down for their most easygoing project. Following a string of ambitious concept albums (including a couple that fell apart and were incorporated into other records), the band set no lofty goals for itself on 'The Who by Numbers,' a simple 10-track, 37-minute collection of nine new Pete Townshend songs (and one by John Entwistle). "Slip Kid" and "Squeeze Box" are the highlights; much of the rest amounts to ho-hum time killers by a band in dire need of some time off. It would be another three years before they made their next album.
7: 'A Quick One' (1966)
Before 'Quadrophenia,' before 'Tommy' and even before 'The Who Sell Out,' the band tried out an extended song suite in the form of 'A Quick One While He's Away,' a nine-minute, six-song mini-opera that tells a somewhat engaging story. And not just any story, but one that would serve as the foundation for 'Tommy.' The rest of the album is a mix of Motown covers, two Keith Moon compositions, a few slight Pete Townshend songs and "Boris the Spider," John Entwistle's timeless ode to a creepy, crawly arachnid.
6: 'Quadrophenia' (1973)
Four years after 'Tommy,' and a couple of abandoned concept projects, Pete Townshend returned with another double-album rock opera. This time he explored London teen culture circa 1965, right around the time the Who were getting their start. In a way, 'Quadrophenia' represents the four splintering members of the group; but in the wider scheme of things, it's the story of teenage rebellion built on idealism and powerhouse rock ("The Real Me," "5:15," "Love, Reign O'er Me"), before it all turned into a wasteland.
5: 'Who Sell Out' (1967)
Before they moved on to bigger and grander concept albums, the Who toyed around with the idea on their third LP, a send-up of a pirate radio station, complete with fake commercials and mostly unrelated songs. Only "I Can See for Miles" stands on its own, but as an album, it's the Who's first foray into stringing together a single concept from many, and sometimes disparate, parts. It's a winking and totally entertaining listen that ranks right up there with other ambitious records from the era.
4: 'Live at Leeds' (1970)
We usually don't include live albums in our rankings, but 'Live at Leeds' is no ordinary live album. Like 'Live at the Apollo,' 'At Fillmore East,' 'At Folsom Prison' and a handful of other classic concert records, it transcends the genre, turning a quick record-company cash turnaround into a statement of purpose. The Who were on the road with 'Tommy' when they stopped at a British university in February 1970 to tear through a set of covers, expanded oldies and, if you pick any of the expanded reissues, a performance of 'Tommy.' Breathtaking and explosive.
3: 'The Who Sing My Generation' (1965)
The Who's first album sounds a lot like other debut LPs by the British Invasion bands: covers of songs by American R&B stars, some tentative and sketchy first steps at original tunes and a group still feeling around for its identity. But guitarist and main songwriter Pete Townshend revealed a much firmer grasp on his artistry than most of his contemporaries, especially on "My Generation," three minutes of stuttering, raging anger disguised as a pop song. "The Kids Are Alright" and "A Legal Matter" are pretty awesome, too.
2: 'Tommy' (1969)
Pete Townshend's masterpiece — and a rock 'n' roll milestone that's been imitated, appropriated and diluted to the point where it's now a cliche — remains a groundbreaking rock opera that actually makes some narrative sense. Rock music (and pop music, for that matter) rarely got this ambitious before 'Tommy.' Sure, albums claimed to revolve around a central theme or two, but 'Tommy' was the first to pull together a coherent story from start to end. More than that, the songs — including "Pinball Wizard," "Go to the Mirror!," "I'm Free" and "We're Not Gonna Take It" — are uniformly excellent.
1: 'Who's Next' (1971)
The Who's greatest album started life as another ambitious concept record (following 'Tommy') titled 'Lifehouse.' Pete Townshend scrapped the project for various reasons but retained many of its songs, which would end up on other records over time. A few of them found their way onto 'Who's Next,' a powerful and dynamic work that remains one of rock's cornerstone LPs. Many of its songs are classics ("Bargain," "Behind Blue Eyes"), but it's the album's opening and closing cuts ("Baba O'Riley" and "Won't Get Fooled Again," respectively) that drive it. Working with synthesizers for the first time, Townshend loops hypnotic fills over some of the group's all-time toughest performances.