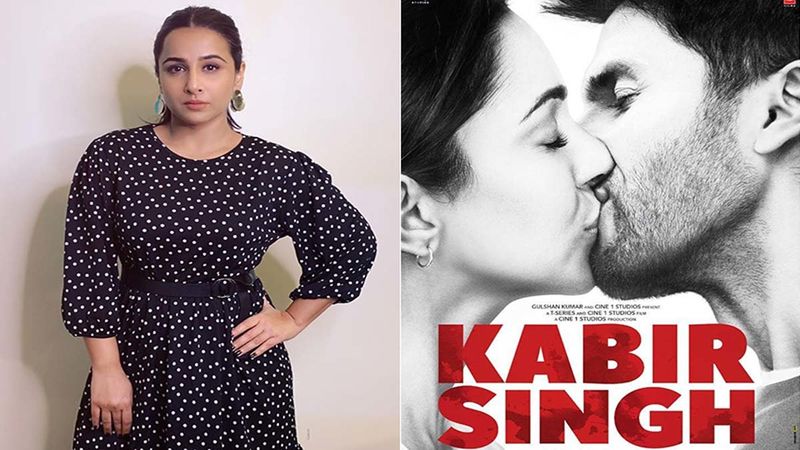 Shahid Kapoor's Kabir Singh Finds Support In Vidya Balan; 'There Are Enough Kabir Singhs In The World'
by Amruta Patel

Vidya Balan at an event shared her opinion on Shahid Kapoor starrer Kabir Singh. According to the actress, it doesn't glorify the main character. Also, she feels being the industry for years now, she is matured enough to watch such film, even if she doesn't sign on the dotted lines for the film falling under this category

Shahid Kapoor's last release Kabir Singh created quite a stir in the society. Resulting in people getting divided into two groups, having polls apart opinion on the film. Now actress Vidya Balan has spoken about the film at an event, where she had an entirely different take on this Shahid Kapoor starrer. According to reports, Vidya feels Kabir Singh was only a story and there are enough Kabir Singhs in the world. Also with the passing years, the actress shared to have matured enough to understand the characters. Hence, according to her Kabir Singh is completely okay. 

As reported by IANS, Vidya said, "There was a huge uproar when Kabir Singh released and people questioned how could the film glorify a character as Kabir Singh, who is absolutely disrespectful and violent towards women. Previously, I would have had the same reaction, but today I feel that the film is not necessarily glorifying it. It's about telling the story of a Kabir Singh and there are enough Kabir Singhs in the world, especially in our country. So, I am okay with that."

 

She further mentioned that had it been earlier in her career, she might have reacted differently to Kabir Singh, as she would felt that the film is not in-sync with her belief. "Sometimes I watch films even if they are not keeping it to my beliefs. Over the years, I have matured as a person. Previously it used be all black or white for me but today, I understand," she added further.

 
Though she mentions about never signing a film like Kabir Singh, it won't be a problem for her to just watch it. She said, "I can make choice not to be a Kabir Singh. As a person that choice would be mine but will I go to the theatre and watch Kabir Singh? Of course I will. So, I think I have kind of matured."
After the release of her last film Mission Mangal, the actress has been roped in by Anu Menon for her next titled Shakuntala Devi- The Human Computer.  ALSO READ: Vidya Balan In And As The Math Genius In Shakuntala Devi – Human Computer, Film To Release In Summer Of 2020
As she shot for this flick in London, the Imperial College of London had awarded her with the Youth Icon Award, leaving her elated with joy.ALSO READ: Vidya Balan Gets The Youth Icon Award By The Imperial College And It Is A Special One; Find Out Why
On the contrary, she completed 7 years of her happily ever after with producer Siddharth Roy Kapur. ALSO READ: Vidya Balan And Siddharth Roy Kapur 7th Anniversary: Actress Shares Throwback Pictures
Image Source: Instagram/balanvidya/shahidkapoor