Pune Police's invite to citizens for a 'Chai Date' on Valentine's Day has gone viral
by Trends Desk

By: Trends Desk | New Delhi | Updated: February 14, 2020 6:52:53 pm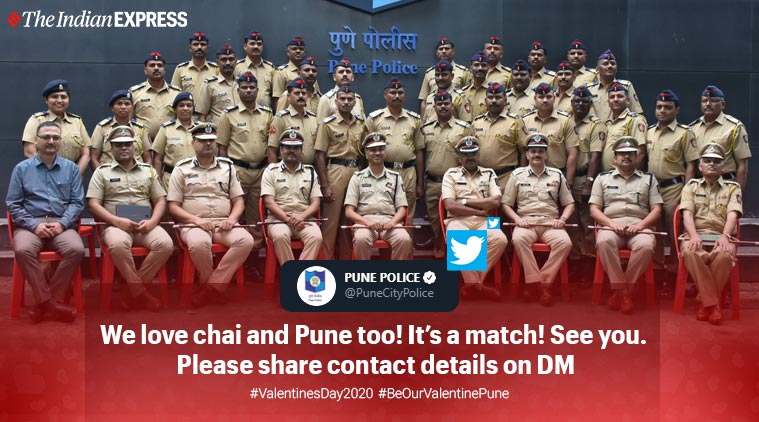 Pune Police's sweet gesture got everyone talking online and has an overwhelming response.
After people asked them if they had any plans for Valentine's Day, the Pune Police invited local residents for a special 'chai date' with the police commissioner.
Netizens who respond to the invite on Twitter will meet the commissioner at 6 pm in his office where they can have tea and discuss issues. The official handle also said that the police were happy to host as many people as possible.
It all started when someone asked the cops for a date on Valentine's Day, and wondered if the Pune Police would be out on date with the Mumbai Police.
The official Twitter handle also responded to people who said they wouldn't be able to make it to the function. When one user posted a photo of a bandaged leg, the official handle said they were open to delivering some happiness to his home.
Here's how the Pune Police handle responded to multiple tweets:
Here's how people reacted to the Pune Police tweets:
The official handle also said it would post photos from the event. Now netizens around the country have started tagging their own city's police forces to ask if similar 'dates' can be organised in their cities.
📣 The Indian Express is now on Telegram. Click here to join our channel (@indianexpress) and stay updated with the latest headlines
For all the latest Trending News, download Indian Express App.
© IE Online Media Services Pvt Ltd