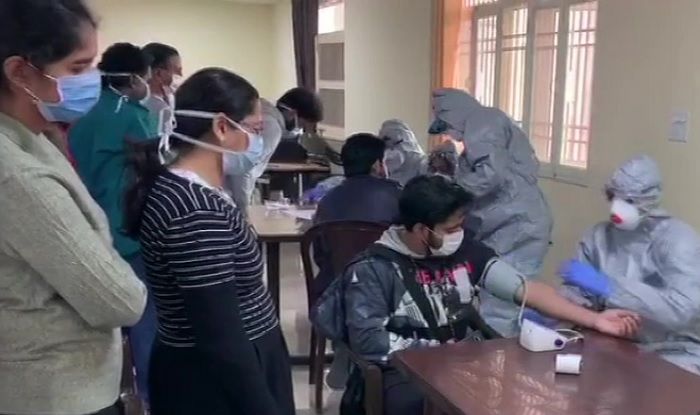 Coronavirus: 'Follow Airport-like Procedures', MHA Issues Advisory to ITBP, SSB
The ITBP is providing the inmates, including seven Maldivians, basic amenities like food, bed, television, internet and indoor games facility at its centre
New Delhi:In wake of the deadly coronavirus epidemic, which has claimed lives of more than 1400 people in Wuhan, the Ministry of Home Affairs (MHA) on Friday sent an advisory to Indo-Tibetan Border Police (ITBP) and Sashastra Seema Bal (SSB) guarding Nepal, Bhutan and China borders, asking them to alert concern departments and follow the same airport-like procedures at the borders' checkpoints.
Related Stories
Notably, the government has created two large quarantine centres– one run by the ITBP in Chhawla area of Delhi, and the other managed by the Army in Manesar. The ITBP is providing the inmates, including seven Maldivians, basic amenities like food, bed, television, internet and indoor games facility at its centre.
A total of 406 people who returned from Wuhan– the epicenter of the epidemic are being looked after at quarantine facility of ITBP. Yesterday doctors had collected samples of 200 housed at quarantine facility of ITBP in  Chhawla to test them for novel coronavirus.
" ITBP facility in Chhawla is functional right now. Total 406 inmates are there, final sampling is being done. 249 samples were taken yesterday, 157 samples are being taken today. Reports will be received in 2-3 days. If the final reports of the tests are found negative, then they will be sent home by next week", said an ITBP spokesperson.
The death toll from the coronavirus outbreak rose to 1483 in China on Friday while the number of those affected by the deadly virus has spiralled close to 50,000.
For breaking news and live news updates, like us on Facebook or follow us on Twitter and Instagram. Read more on India Latest News on India.com.
Comments - Join the Discussion