Apple's AirPods vs Samsung Galaxy Buds+ head-to-head
by Malcolm Owen

Samsung has launched its second attempt at taking on Apple's AirPods, with updates to battery life and speakers giving the Galaxy Buds+ a better chance against its main rival and the noise-canceling AirPods Pro, but does it do enough to warrant your attention?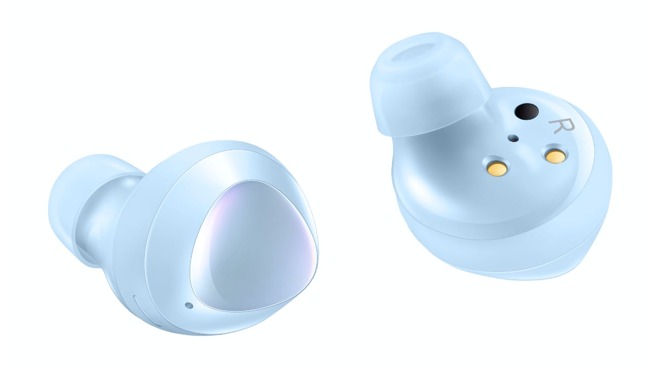 On Tuesday, Samsung used its Unpacked event to launch a number of new flagship smartphones, including the Galaxy S20 range and the foldable Galaxy Z Flip. Alongside its major announcements was one for the second generation of its wireless earphones, the Galaxy Buds , which offer a few improvements on the original version it launched one year ago.

Just as last time, it enters a slowly crowding wireless earbud marketplace, with Apple's AirPods being one of the dominant products at the top of the tree. This time, the Galaxy Buds+ has two rivals to deal with: AirPods and the AirPods Pro.
By the Numbers
Just examining the core specifications of the Galaxy Buds+, it's plain to see that for $20 more on top of the 2019 attempt, there are a few improvements worth looking at. For $149 instead of $129, you get an extra five hours of usage, a faster quick-charge time, theoretically better audio output, and an extra outer microphone.
Galaxy Buds
Galaxy Buds+
AirPods
AirPods Pro
Price
$129
$149
$159
$249
Battery Life
6 hours
11 hours
5 hours
4.5 hours (ANC on)
Charge time
15 min=100 min playback
3 min= 1 hr playback
15 min= 3 hr playback
5 min= 1 hr playback
Speaker
1 way dynamic
2 way dynamic
Single driver
Single driver
Connectivity
Bluetooth 5 single device
Bluetooth 5 multi-device
H1 (iCloud sync,
Audio Sharing)
Bluetooth 5
H1 (iCloud sync,
Audio Sharing)
Bluetooth 5
Microphones
1 outer/ 1 inner
2 outer/ 1 inner
2 outer beamforming
2 outer beamforming
1 inner
Noise Isolation
Yes
Yes
No
Yes
Ambient aware
Yes
Yes
No
Yes (transparency mode)
On earpiece control
Play, pause, skip, volume
Play, pause, skip, volume, spotify
Play, pause, skip, or siri
(Double tap preset)
Play, pause. Skip, siri
(Multi gesture control)
Water resistance
IPX2
IPX2
Not rated
IPX4
Color
Black, white, yellow, silver
Black, white, blue, red
White
White
Audio Quality
The Galaxy Buds+ are packing "two-way dynamic" speakers made in partnership with AKG, which Samsung says improves sound quality. The system includes a tweeter for a richer treble along with a woofer for bass sounds. With the added use of changeable ear tips, that should allow for sufficient noise isolation for most users.

While the originals were able to isolate sound too, as well as the AirPods Pro, the original AirPods doesn't have this option. The Galaxy Buds+ are also the only product in the group to use two speakers, so the others have to instead offer superior audio processing and other qualities to make up for the shortfall.
Noise Cancellation and Ambient Audio
The only product in the four to include active noise cancellation is the AirPods Pro, as it is the main reason to buy the model over the normal AirPods.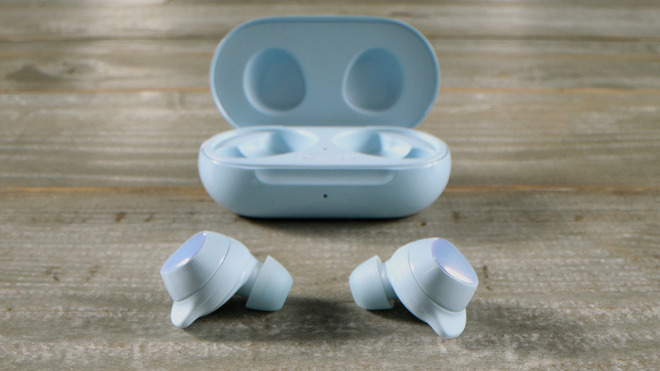 The Galaxy Buds+ still do not have active noise cancellation, instead relying on their noise isolation capabilities. Generally this isn't enough to work as noise cancellation on its own, as it isn't making noises to cut out what is being overheard from the outside world.

Samsung did include Ambient Sound, which is similar to the AirPods Pro Transparency Mode, in allowing some background noise to filter through with music or podcast playback.
Connectivity and Control
All of the products have support for Bluetooth 5.0, with the Galaxy Buds having single-device support and the Plus offering multi-device support. By contrast, the AirPods group use the H1 chip with iCloud Sync and Audio Sharing, with Apple's self-designed wireless chip believed to offer better connectivity than standard Bluetooth connections.

While the AirPods are natively controlled in iOS, Samsung has upped its game to try and garner support from iPhone users by offering an iOS app for the Galaxy Buds+. In the first generation it was available only for Android, so bringing it to iOS for the Plus model is a sign it wants to expand its potential audience.



However, the native connectivity inherent in iOS for the AirPods collection probably gives Apple's hardware an edge for iPhone users in general.

Both ecosystems deal with controlling the personal audio accessories via a series of taps, allowing them to retain a sleek and unspoiled external appearance.
Power
As mentioned earlier, Samsung has improved the onboard battery life in the Galaxy Buds+ from 6 hours to 11 hours, which means it outpaces both the AirPods at 5 hours and the AirPods Pro at 4.5 hours with ANC enabled.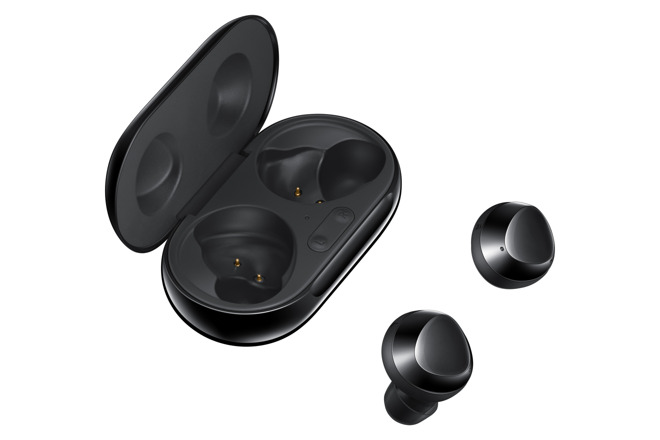 In all instances, you can extend the listening time using the supplied battery case. For the AirPods, this reaches 18 hours in total, rising to 24 hours for the AirPods Pro and the Galaxy Buds+, again up from the extra seven hours the Galaxy Buds case provides.

This puts the Galaxy Buds+ in a situation where it can comfortably outlast the AirPods collective on usage life, but over the course of a day, it's at the same level as the AirPods Pro. All it means is you charge it up fewer times.

For fast recharging, Samsung's edged out the opponents with the Galaxy Buds+, with three minutes of charging equating to an hour of playback. The AirPods offers 3 hours after 15 minutes of charge, and the AirPods Pro get to 1 hour after five minutes.
Price and Other Considerations
Samsung is continuing to include IPX2 water resistance in the Galaxy Buds+, which gives it some protection against rain or water drips. The AirPods Pro are far more durable with an IPX4 rating, but this may not necessarily be a major selling point.

One thing certainly in Samsung's favor is its selection of colors, offering black, white, blue, and red Galaxy Buds+, whereas Apple offers white only.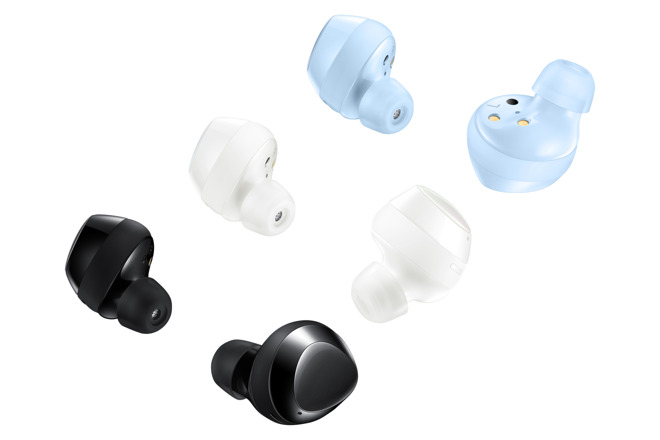 And lastly, the big one: Price. The Galaxy Buds+ will cost $149, which is $10 below the AirPods, and a full $100 under what Apple charges for the AirPods Pro.
In Summary
At this point, it's hard to tell whether Samsung has done the right thing with the Galaxy Buds+. The lack of noise cancellation and relying on noise isolation may not win it any fans from the AirPods Pro crowd.

However, the inclusion of an iOS app to manage the earphones does help to temper the ecosystem bonus of the AirPods for iPhone users, perhaps making them a compelling alternative to Apple's version.

When the Samsung Galaxy Buds+ ship, AppleInsider will be evaluating them for real-world performance.
Where to buy
The Samsung Galaxy Buds+ can be ordered today for $149 from Samsung directly, as well as Amazon and B&H Photo.

Meanwhile, Apple AirPods 2 are currently on sale from $139, with retailers accepting backorders for the $249 AirPods Pro, which are shipped on a first come, first served basis.