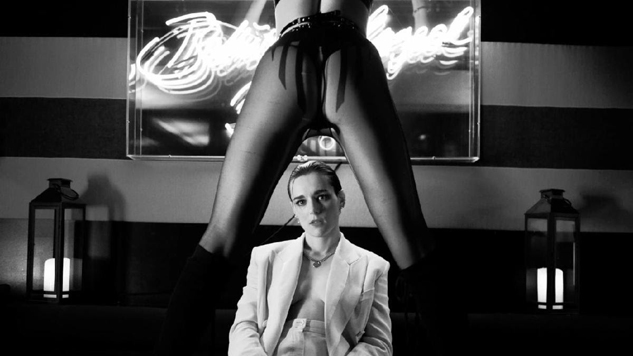 Jehnny Beth Shares NSFW, Anthony Byrne-Directed Video for "Flower," Announces Release of First Book
by Austin Jones  

Friday, Jehnny Beth (Savages) shared a video for her ribald single "Flower" ahead of her first solo album To Love Is To Live. It's her second Anthony Byrne (Peaky Blinders)-directed video, coming in after last year's "I'm The Man," a song released as part of the Peaky Blinders soundtrack.

In the monochrome video, Beth is infatuated with a stripper (Rebeka Adams). It's dripping with sensual energy and is shockingly bawdy—at one point, Beth rips open the stripper's stockings while they're taking a bath. It's certainly an appropriate video for all your Valentine's Day infatuations. Savages have been known for their blatant, direct songs about sex. In an interview today with Laura Snapes, Beth talked about overcoming her Catholic guilt during her time with Savages: "that even a thought could be a sin." She continues, "I see sex the same way—a wonderful way to test yourself. It is important because once you test yourself, you know yourself. You need that as a person and you need that as an artist." The video for "Flower" may well be one of those fantasies—a lascivious refuge for those who, in their personal lives, may struggle with expressing that sexuality in its rawest form.

Beth also announced the release of her first book, a collection of erotic short stories and photographs by her frequent collaborator (and partner) Johnny Hostile. The book is called Crimes Against Love Manifesto (C.A.L.M.) and is set for release on June 11 via White Rabbit. In her interview with Snapes, Beth talks of the books sometimes-taboo content, comparing herself to, of all people, our most famous sadist: "De Sade was not read during his time, he was read the century after!"

You can watch the video for "Flower" below. To Love Is To Live is out May 8.