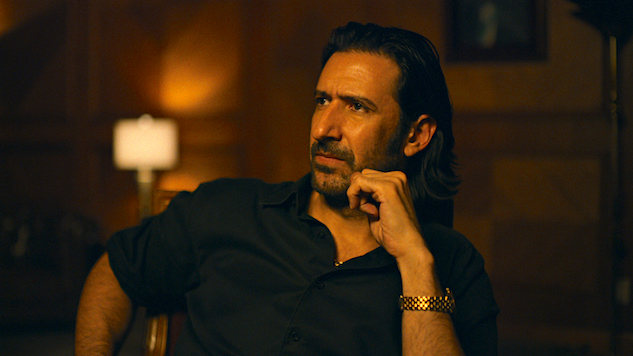 Could a Narcos: Mexico Season 3 Focus on "The Lord of the Skies"?
by Allison Keene  

[Spoilers for all of Narcos: Mexico Season 2 below, although technically it is a matter of historical record!]
With the fall of the Guadalajara cartel at the end of Narcos: Mexico Season 2, its creator Miguel Ángel Félix Gallardo (Diego Luna) gave the DEA's Walt Breslin (Scoot McNairy) a dark prognostication. "The madness has begun, and no one can stop it. You'll be drowning in blood, chaos," Felix says to Walt about Mexico's future. "You're going to miss me."
Yes, Félix did try to bring some order to Mexico's drug trade, and yes we know that El Azul (Fermin Martinez) and El Chapo (Alejandro Edda) will come to rule the cartel eventually. But one of the biggest surprises at the end of the season was the quiet rise of Amado Carrillo Fuentes (José María Yazpik), the aviator-wearing badass who kept his mouth shut but quietly knew his plaza, Juarez, was always the key.
Amado is one of Narcos: Mexico's few crossover characters from its original series; if Mexico gets renewed for another season, could it focus on the man who later became known as "El Señor de Los Cielos," a.k.a. The Lord of the Skies? It would be a smart play; Amado has naturally been one of the most compelling characters in the series from the start, and his laid-back, cautious, but still very badass demeanor in Season 2 set up what felt like one of the show's biggest surprises and betrayals.
Though Amado remained in Félix's good graces throughout the season (despite the friction between Félix and Joaquín Cosío's Don Neto, Amado's uncle)—even getting the go ahead to expand the cartel's fleet of jets to transport an insane amount of cocaine—he revealed in the finale that he had been watching and waiting the whole time to make his move. And yet, it was still reserved. When he tells Félix that the cost of doing business with him was too high and he was out, Félix asks if he now runs the federation. But Amado remains a few steps ahead: He admits that he let the other plaza bosses each take a piece of the pie to make them feel like they had control, while knowing that Juarez—because of its border with the U.S. and because of how it acts as an aviation hub—was really the most powerful territory of them all. As he tells Félix, they won't see him coming. And Félix, realizing how smart Amado has been, later says his name clearly to Walt (with some begrudging respect) as the one to watch.
Of course, each season of Narcos: Mexico so far has focused on a wide array of bosses and the law enforcement officers chasing them, but an Amado-focused narrative could be a good way to show how the game is changing. Early in Season 2, Pablo Acosta (Gerardo Taracena) asks his girlfriend what she thinks of Amado, and she replies, "he's not like you." Acosta is part of the old way, Amado the harbinger of the new. He's not interested in consolidating power through business moves like Félix, or keeping the plaza bosses at peace with one another. He knows that he brings something totally different to the table in terms of drug transportation, but has never hesitated to roll in violently to an area that needs to be cleared out. His story could also continue to act as a bridge between Narcos and Mexico. (The initial presumption for Narcos Season 4, before it shifted to Narcos: Mexico, was that it would focus on Amado. Now is his time!)
Plus, truly, is there a cooler moniker than "The Lord of the Skies"?
The original Narcos lasted for three seasons, so that could be the fate of Narcos: Mexico, or there could be an entirely new spinoff with a new title (and a new agent chasing Amado—which could be based off of Charles Bowden's book on the subject, Down by the River). Or, it could end things here. But one way or another I do hope that we get to see more of this particular story told. Not only is it among Netflix's best series, it reveals a historic context for the escalation of the drug war and the resulting political ramifications in endlessly interesting ways.
Narcos: Mexico is currently streaming on Netflix.
Allison Keene is the TV Editor of Paste Magazine. For more television talk, pop culture chat and general japery, you can follow her @keeneTV
For all the latest TV news, reviews, lists and features, follow @Paste_TV.