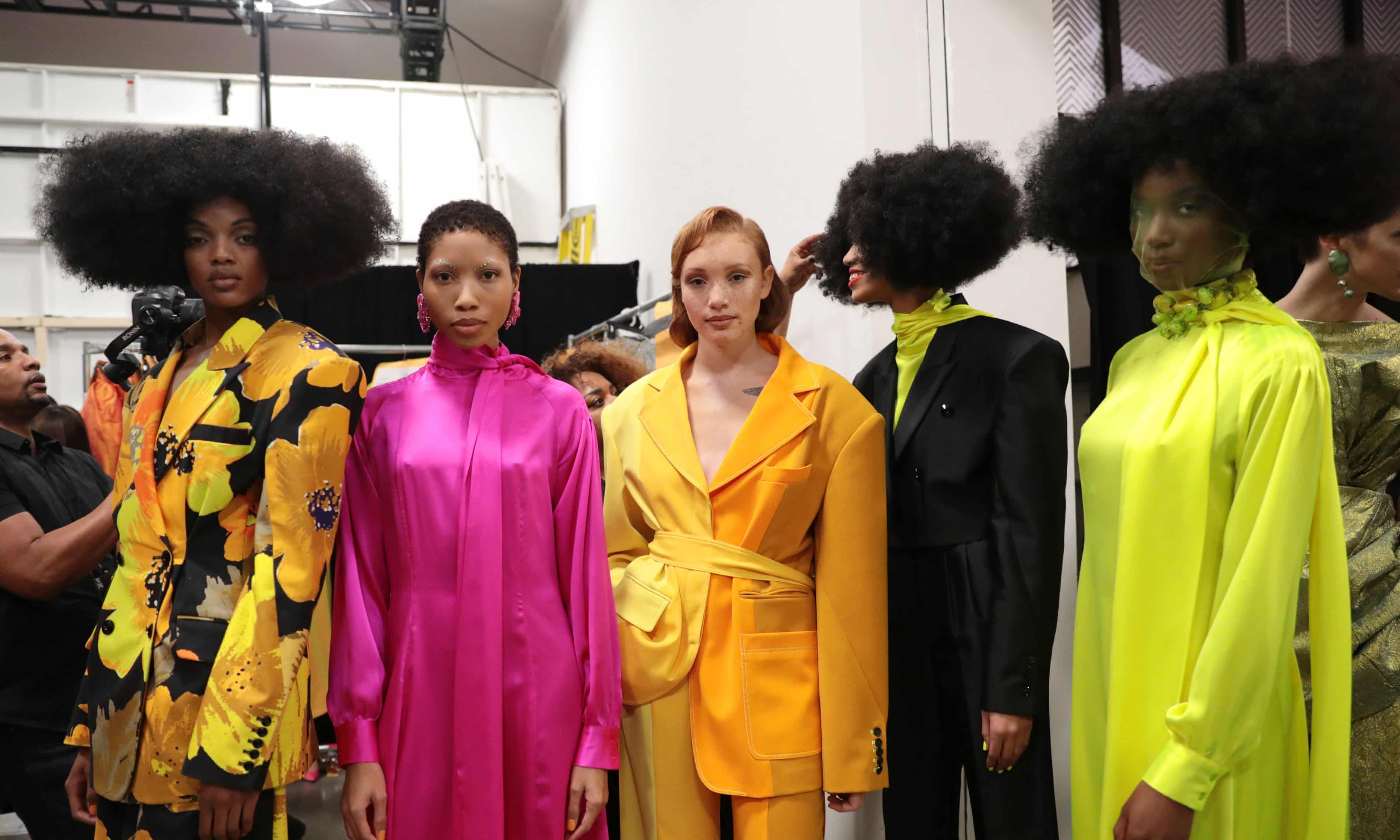 New York fashion week autumn/winter 2020: the key shows – in pictures
From Christopher John Rogers' modern Hollywood glam to an ode to Fantastic Mr Fox at Monse, we share our highlights from the shows
by Jo Jones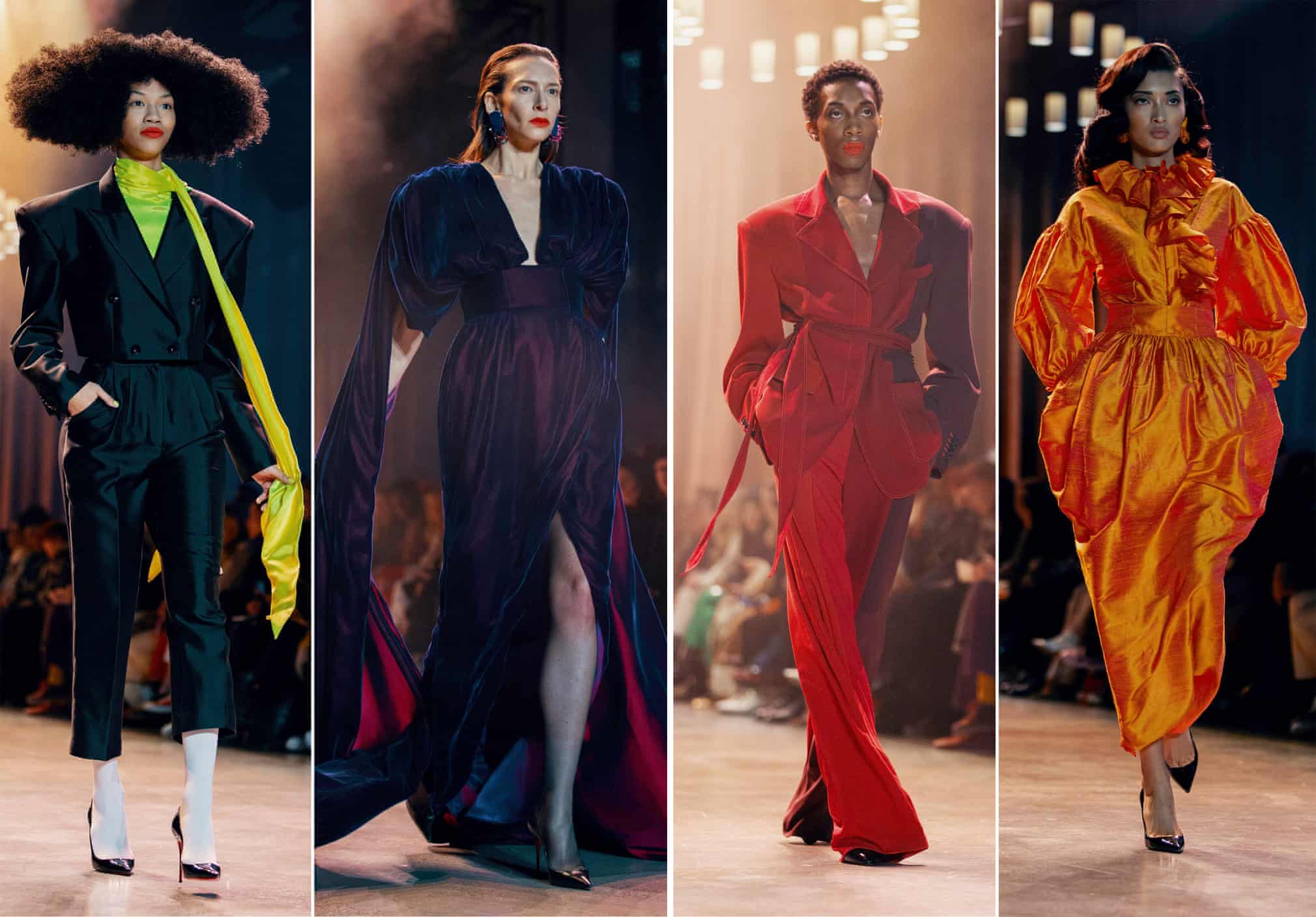 Christopher John Rogers
Rogers is one to watch. His dramatic eveningwear secured him the top prize at the CFDA/Vogue fashion fund, after his debut catwalk show last season. He is known for bright neon creations, including fuchsia bubble-hemmed skirts, green high-necked gowns and balloon-sleeved blouses. For autumn/winter 2020, there were familiar silhouettes: Pierrot ruffled clown necklines and bulbous dresses nipped at the waist, one in red, the other violet. The power suiting was a highlight. With an autumn debut planned on Net-a-Porter, Rogers is heading for world domination.
Photograph: Rex/Shutterstock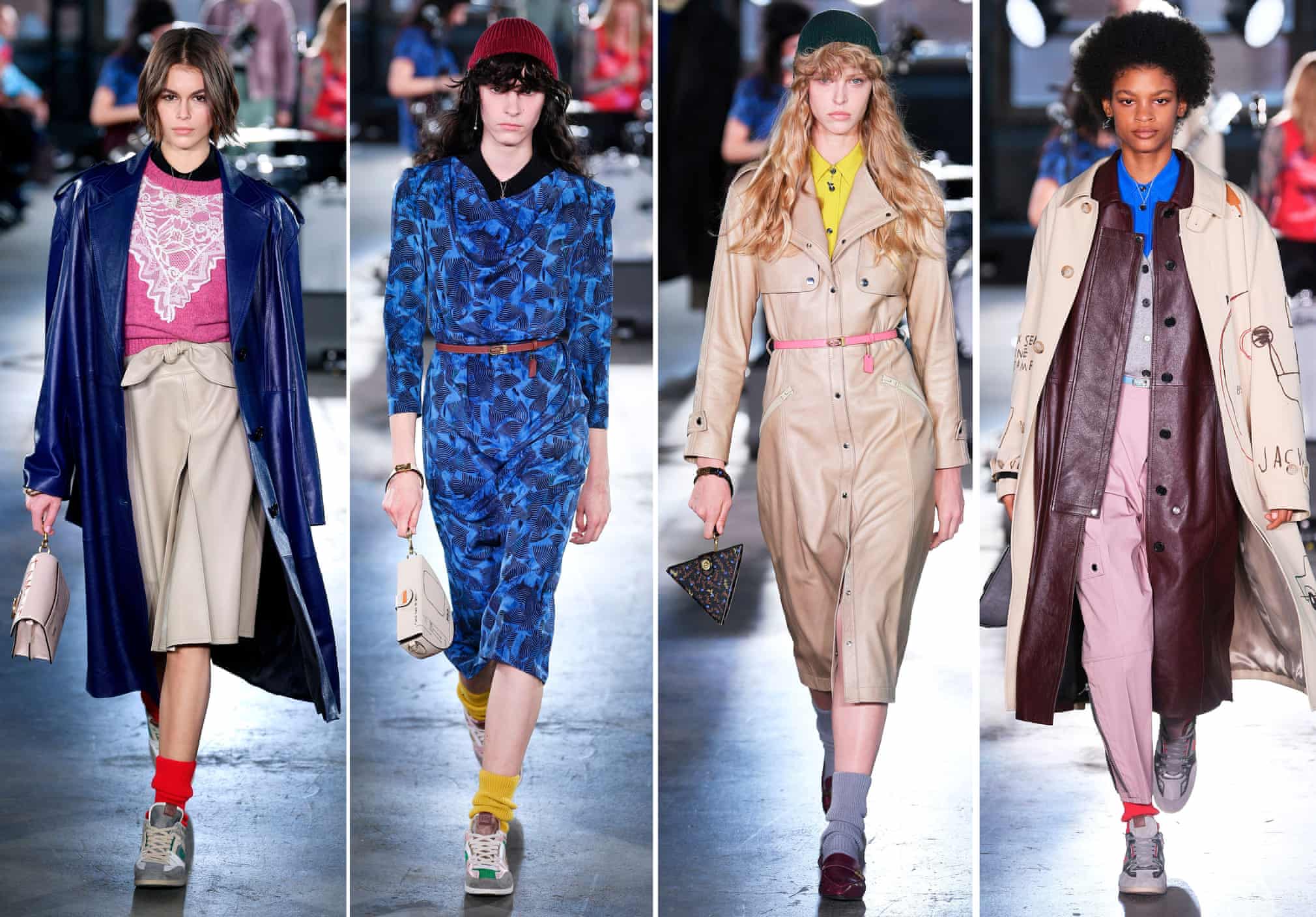 Coach
Stuart Vevers brought the spirit of 80s New York to Coach for autumn/winter 2020. He worked with Jean-Michel Basquiat's family to use the artist's motifs on pieces. Jeanine and Lisane Basquiat, the late artist's sister and stepmother, sat front row while his niece Jessica Kelly walked the catwalk. Backstage, Vevers noted that the leather pieces from last season were big sellers, which put in context the multitude of leather, from culottes to snap-front midi skirts, for next season. If a Basquiat collaboration wasn't enough of an 80s revival, Debbie Harry sang live to close the show.
Photograph: Rex/Shutterstock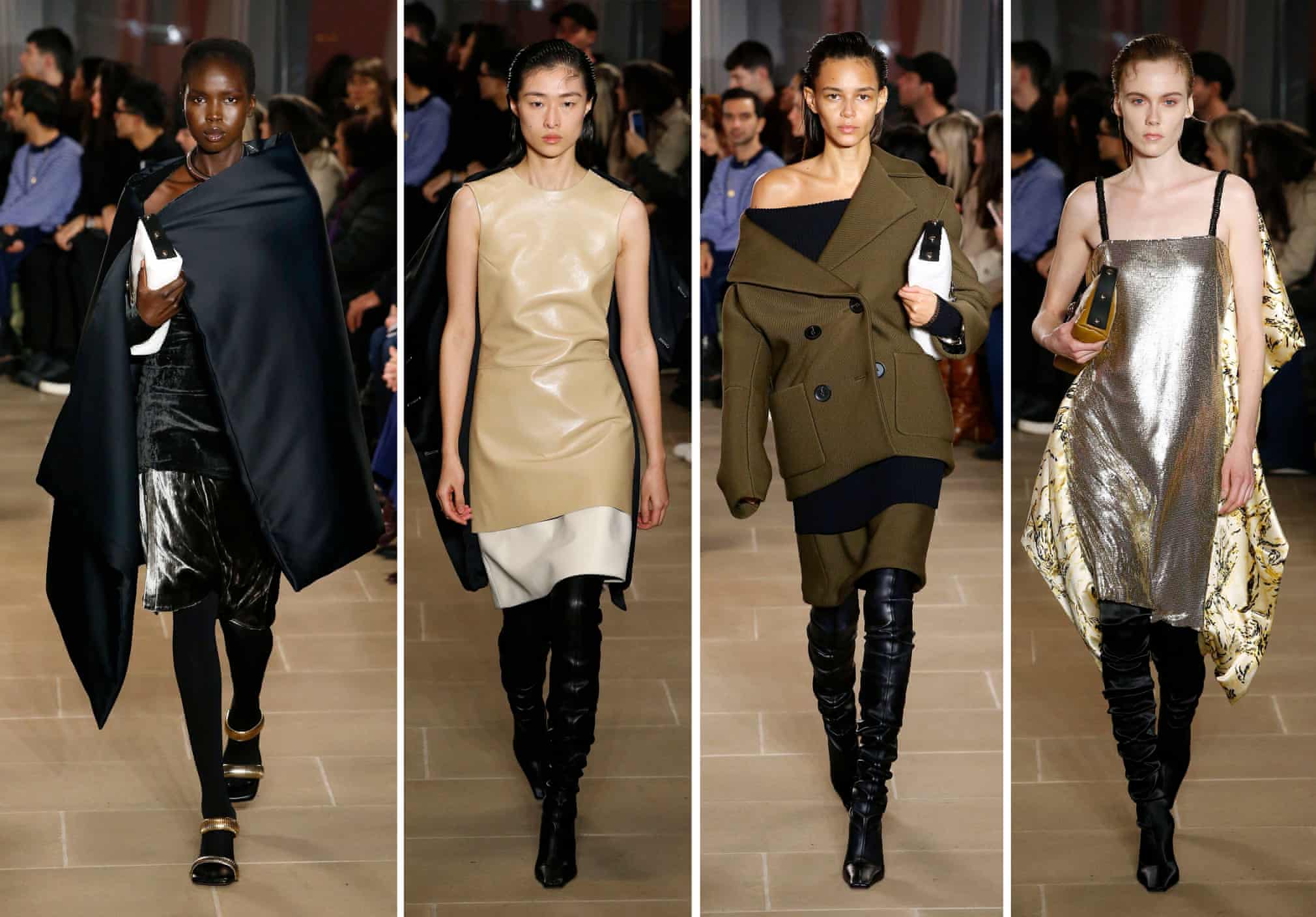 Proenza Schouler
Jack McCollough and Lazaro Hernandez see their target customer as stepping into a new and unpredictable decade. As the show notes stated, they feel the need to blanket her in a protective layer of strength and confidence. The exquisite, luxe look of the collection eluded ease and nonchalance. Dresses twisted and wrapped around the body and were fastened by a single closure – there was nothing fussy in the detail. Coats, of which there were plenty, slipped from the shoulders in a casual, flirty way. The collection felt understated and sexy.
Photograph: Rex/Shutterstock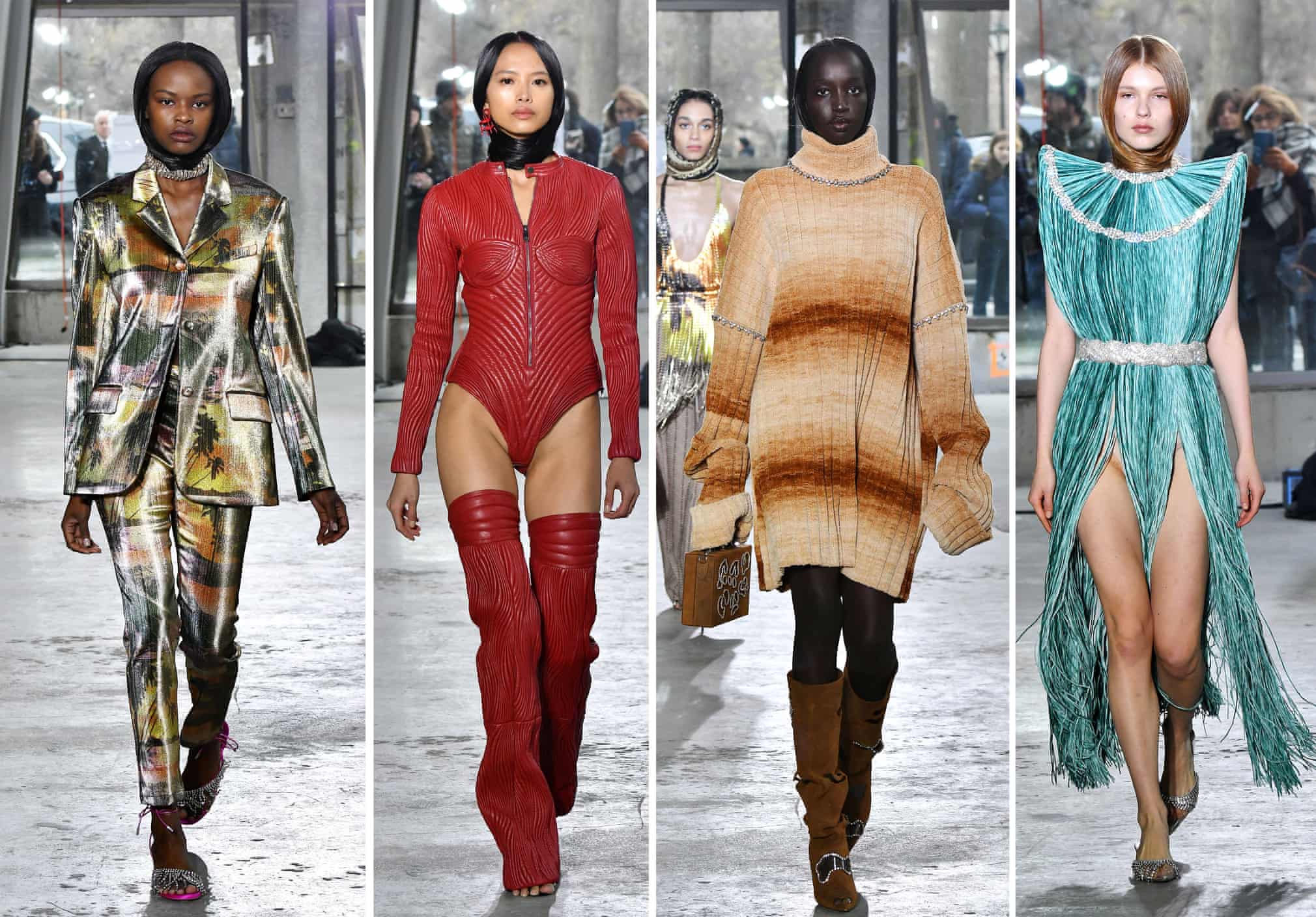 Area
The designers Beckett Fogg and Piotrek Panszczyk took their show to the Africa Center in Harlem, collaborating on interactive programmes including the Portal Program, which connects the centre in real-time to communities around the world. Multiculturalism, inclusivity and diversity have always been at the core of the label. The designers' love of glamour and handcrafted detail was also present throughout a collection focused on soft architecture, the draping work of Madame Grès and the architectural silhouettes of the Japanese costume-designer Eiko Ishioka.
Photograph: Rex/Shutterstock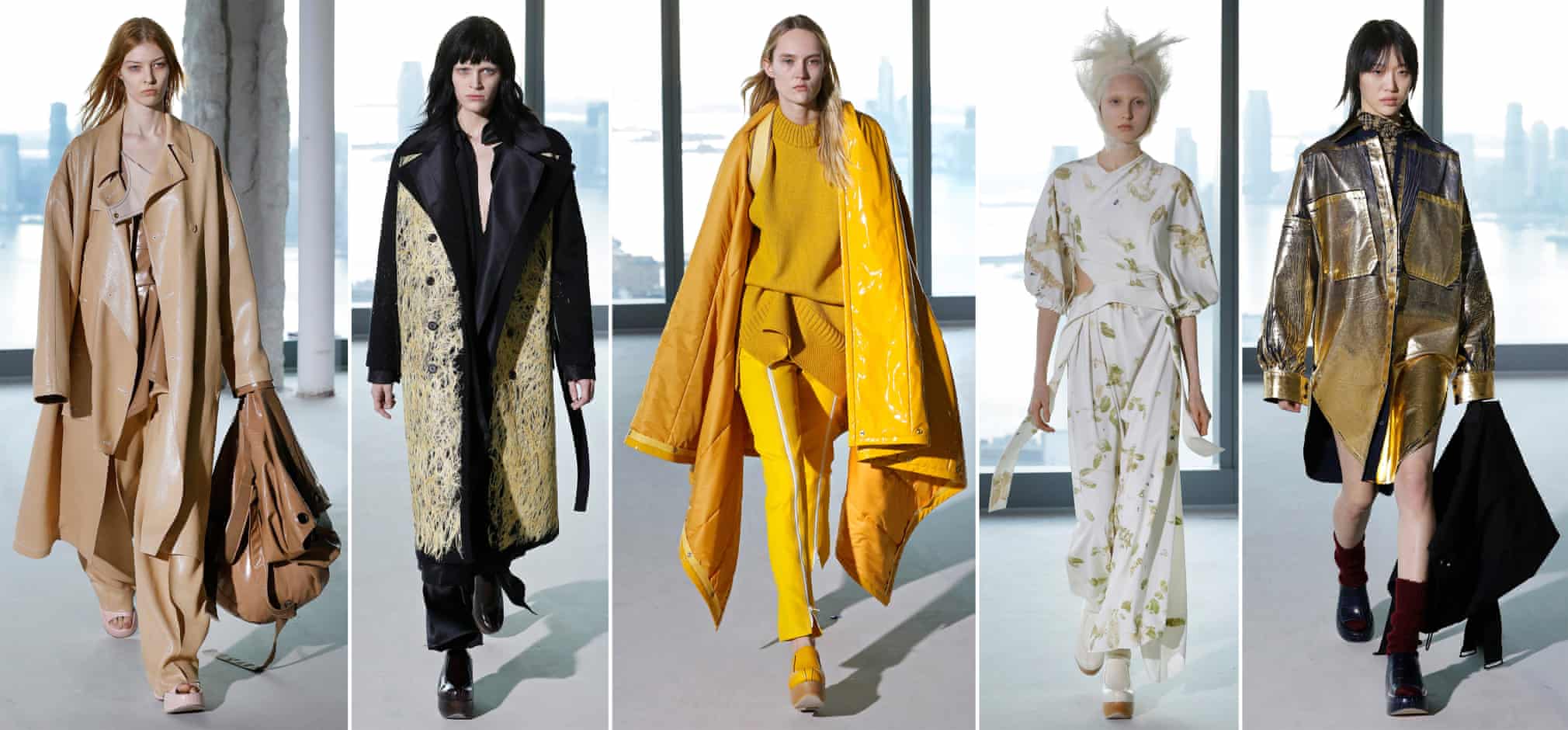 Sies Marjan
The backdrop the Manhattan skyline from the 54th floor of a new skyscraper contrasted with the designer Sander Lak's focus on the countryside. He took inspiration from the Dutch architect Rem Koolhaas's forthcoming exhibition, Countryside, The Future, which opens later this month at the Guggenheim. The collection also focused on artisanal craftsmanship and old-world techniques – Lak collaborated with wool mills in England, Ireland and the Netherlands, and partnered with artisans to create a range of fabrics inspired by countryside landscapes.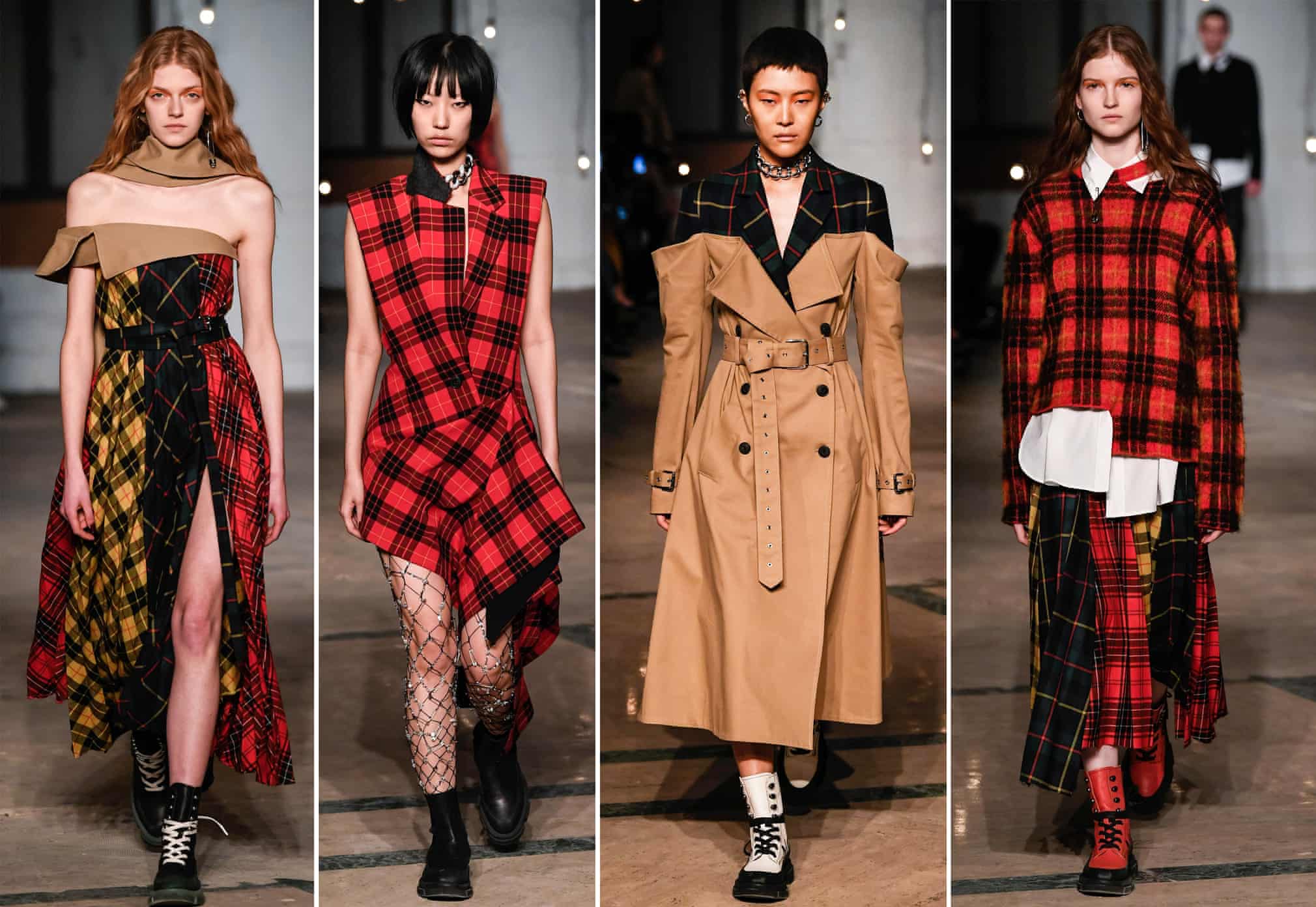 Monse
Taking inspiration from Wes Anderson's 2009 film Fantastic Mr Fox, as well as exploring the world of punk in the form of tartan, Laura Kim and Fernando Garcia's autumn collection had a tough edge – with impeccable tailoring. The duo's signature deconstructed-reconstructed cuts were a masterclass in workmanship. Opening with a play on the trench coat, cut through at the shoulders, some were spliced with blue and yellow tartan to create a patchwork effect. Asymmetric dresses hung from a single trench collar, while floor-length tartan bias-cut skirts worn with fishnets felt new.
Photograph: Rex/Shutterstock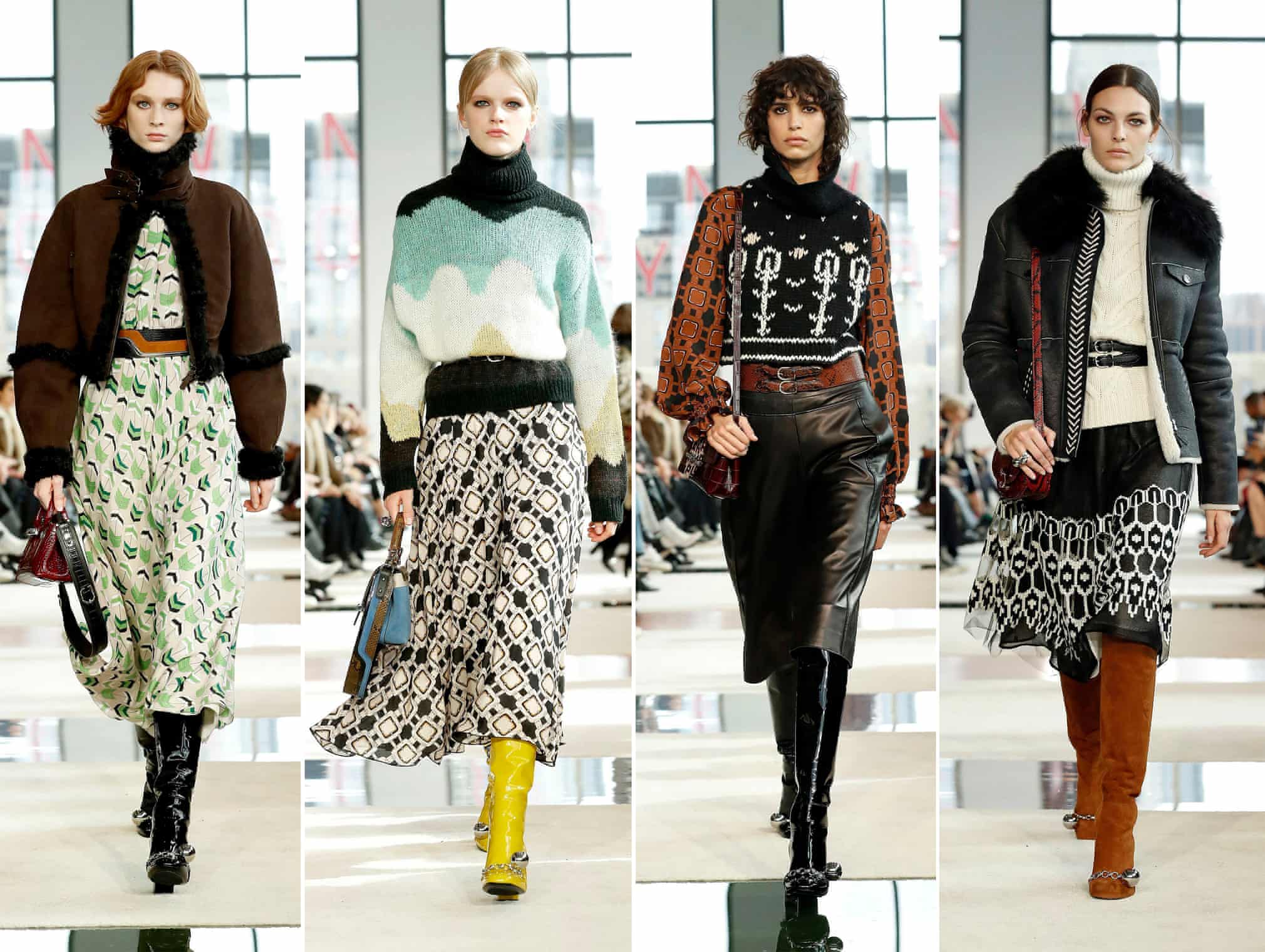 Longchamp
The creative director Sophie Delafountaine's Longchamp woman has a distinct point of view and an individual style, inspired by the 70s and the decade's leading Parisian ladies: Catherine Deneuve, Romy Schneider and Stéphane Audran. Each look had its own personality, from bomber jackets with statement shearling collars cocooned over black dresses to leather Bermuda shorts worn with charming patterned, knitted jumpers and cute blouses. Eye-catching printed dresses were scattered among coats that fitted at the bodice and flared to the shin.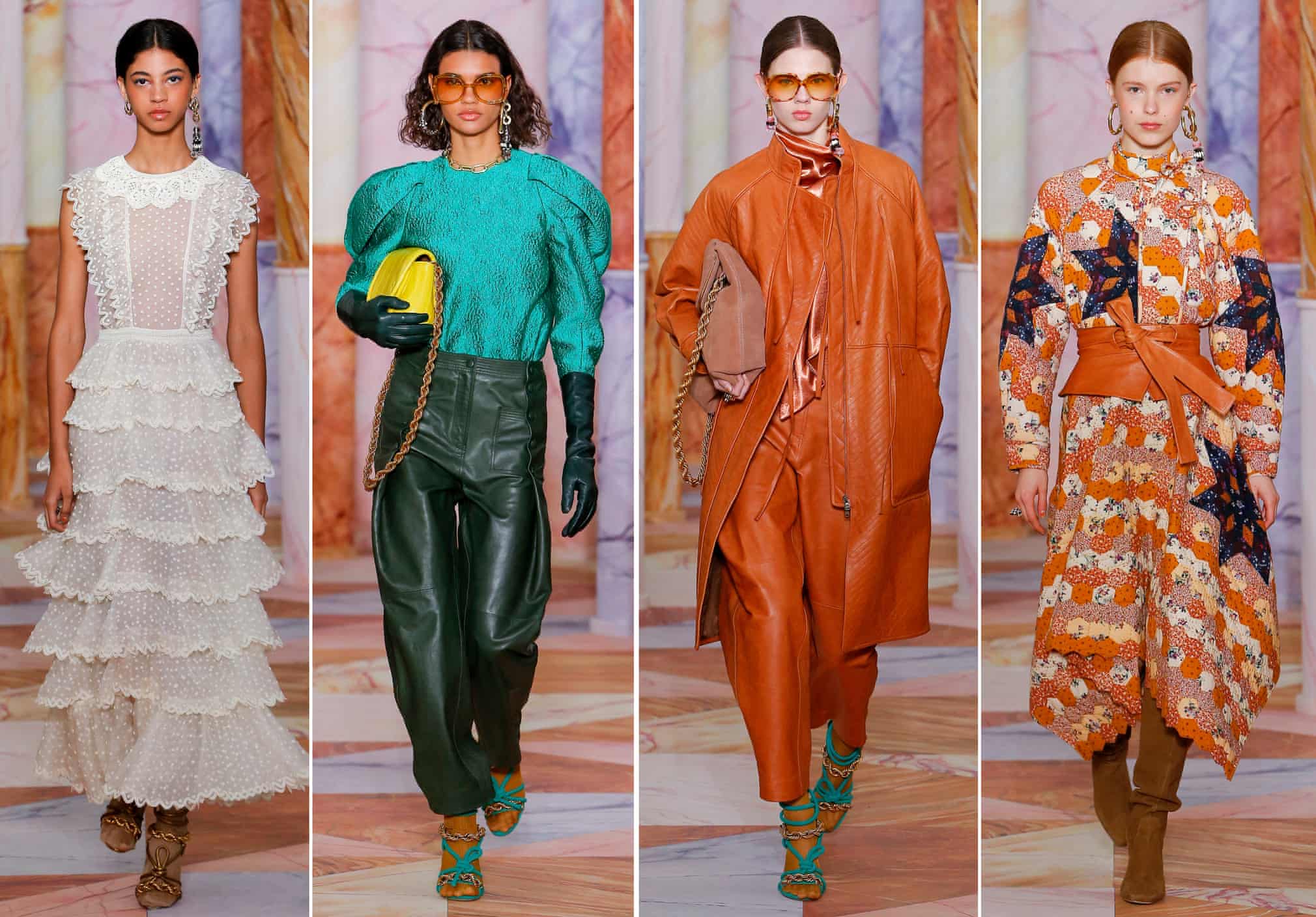 Ulla Johnson
Ulla Johnson took the work of the French architect Charlotte Perriand, specifically the concept of L'art de Vivre, as inspiration for her collection. Craftsmanship was bold, showing rigidness and fluidity. Asymmetric silk taffeta tiered dresses and hand crochet were juxtaposed with patchwork shearling coats, while balloon-sleeved blouses were teamed with butter-soft leather trousers. The focus was feminine yet empowering – there was a cognac leather coat and trousers worn with a satin blouse, a pleated sleeve knitted dress and oversized suede clutch bags.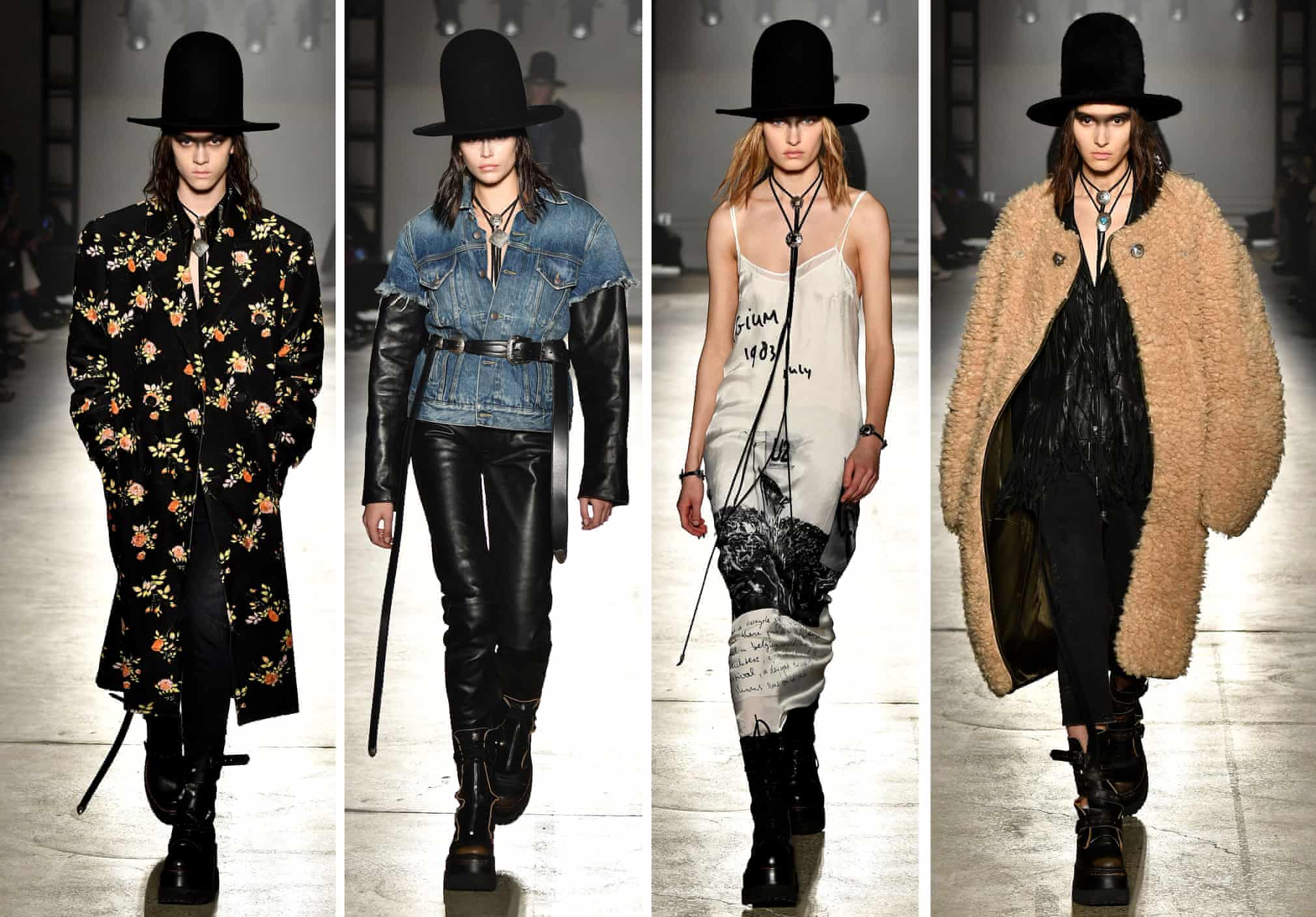 R13
The show soundtrack was U2's Joshua Tree, which explained the Desert Valley and Joshua Tree black-and-white prints by the photographer Anton Corbijn, which decorated slip dresses and shirts. Variations on distressed denim and leather looks were covetable; some were layered over vintage-style military jackets, parkas and leopard-print oversized bomber jackets. All were worn under 10-gallon hats and accessorised with western-style bolo necklaces. Outerwear is where the designer Chris Leba excels – highlights included a floral print overcoat. There was a lot for your wishlist here.
Photograph: Rex/Shutterstock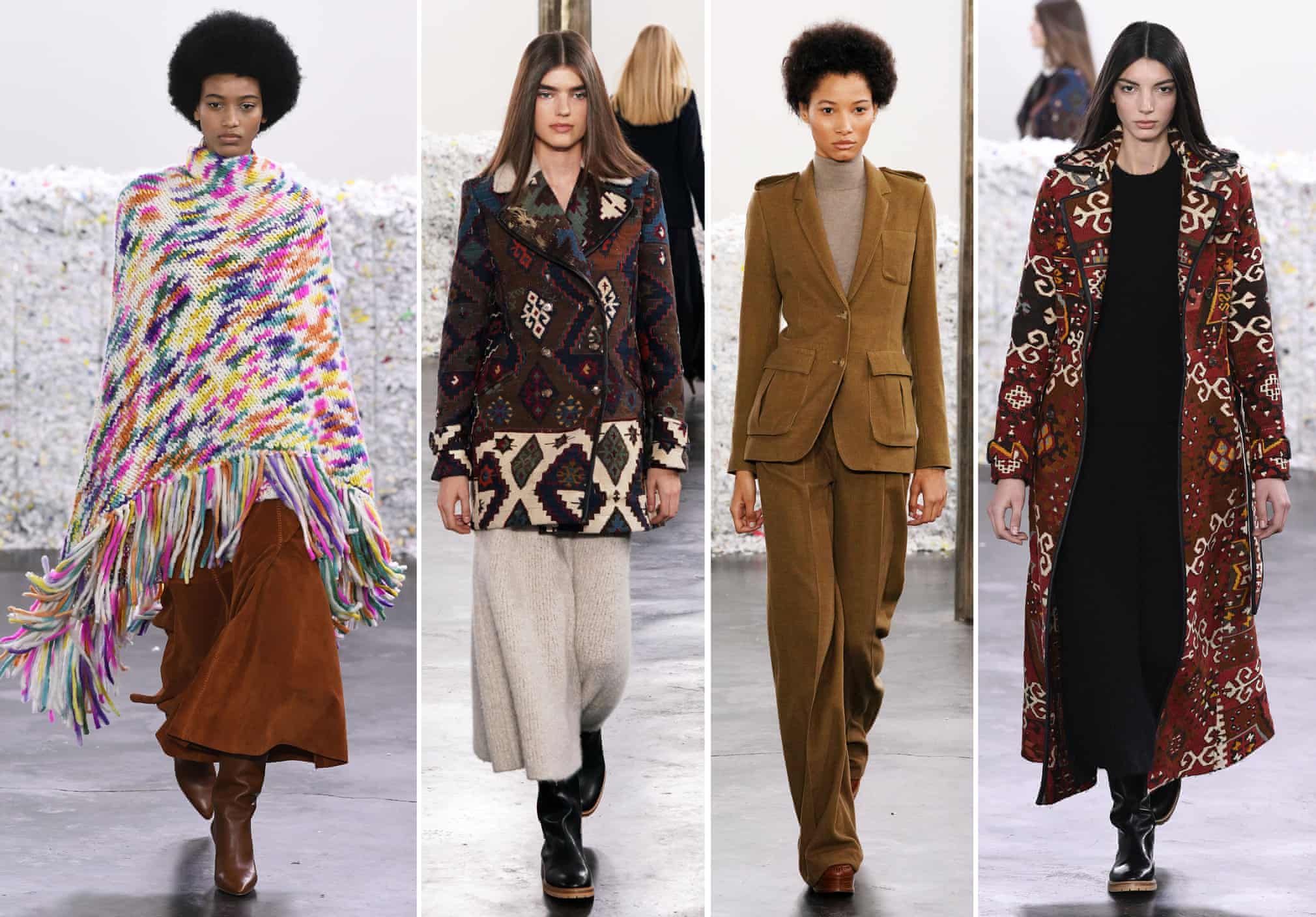 Gabriela Hearst
Gabriela Hearst is constantly in search of techniques for working with waste that won't compromise the quality or aesthetic of her clothes. The catwalk this season was surrounded by bales made from recycled shredded paper, which pushed home her "reuse" message. The precision of her tailoring and quality of fabrics is Hearst's signature. Opening with recycled cashmere and corduroy 70s-style suits, highlights included remnants of antique Turkish rugs puzzled together into outerwear, plus chunky scarves hand-knitted by the Manos del Uruguay collective in Hearst's native country.
Photograph: Rex/Shutterstock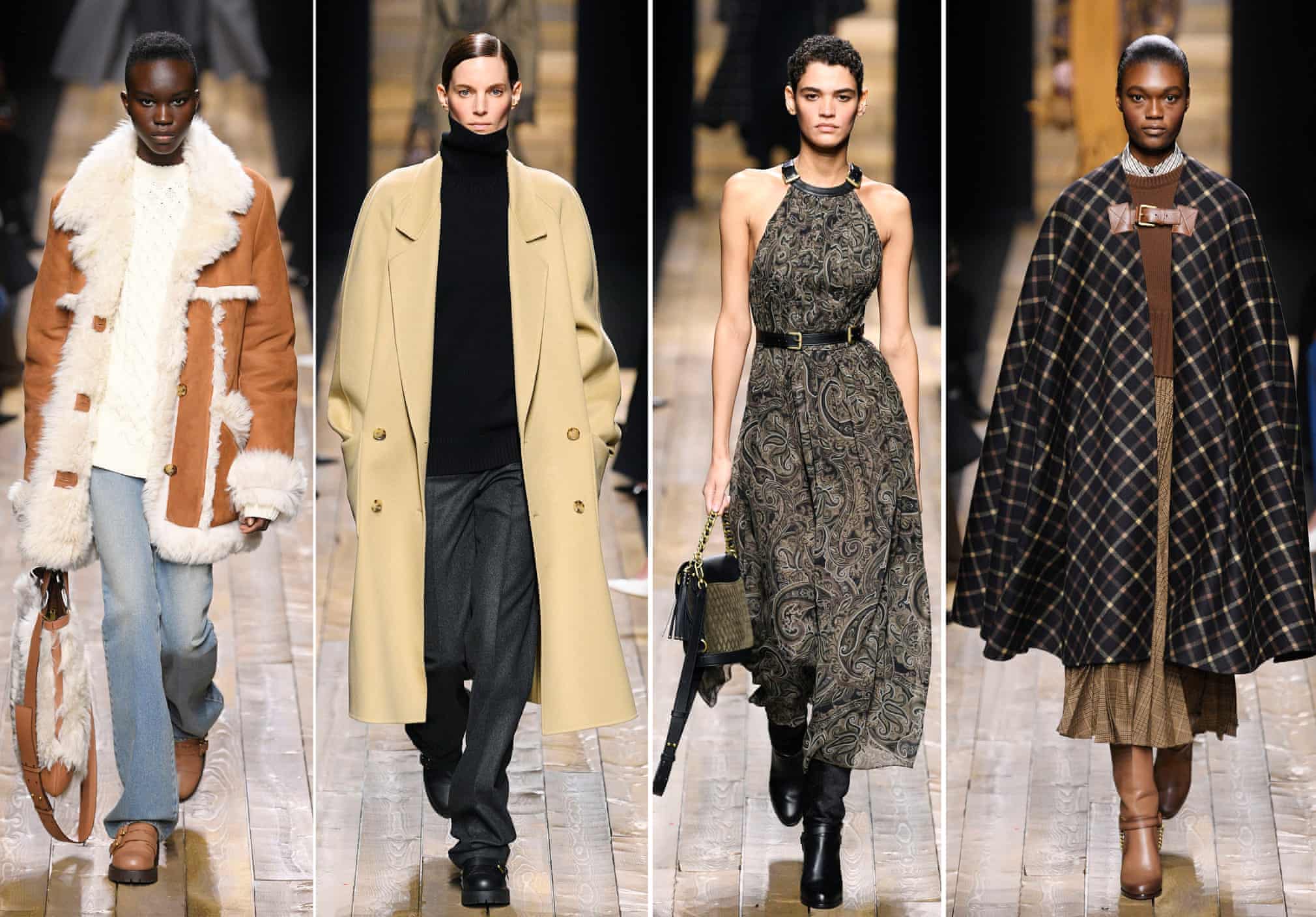 Michael Kors
The collection was themed around "cosy glamour", with dresses and skirts long and nearly every model cocooned in a blanket, a cape or a poncho. Kors had taken cosy to another level with deliciously high-necked knitwear pulled up to the chin, some worn with yet more knitwear slung diagonally across shoulders. The looks were interspersed with bold blanket plaids, shearling coats and billowing paisley dresses. The weather is about to change in New York – temperatures are dropping – and Kors is one step ahead.
Photograph: Rex/Shutterstock