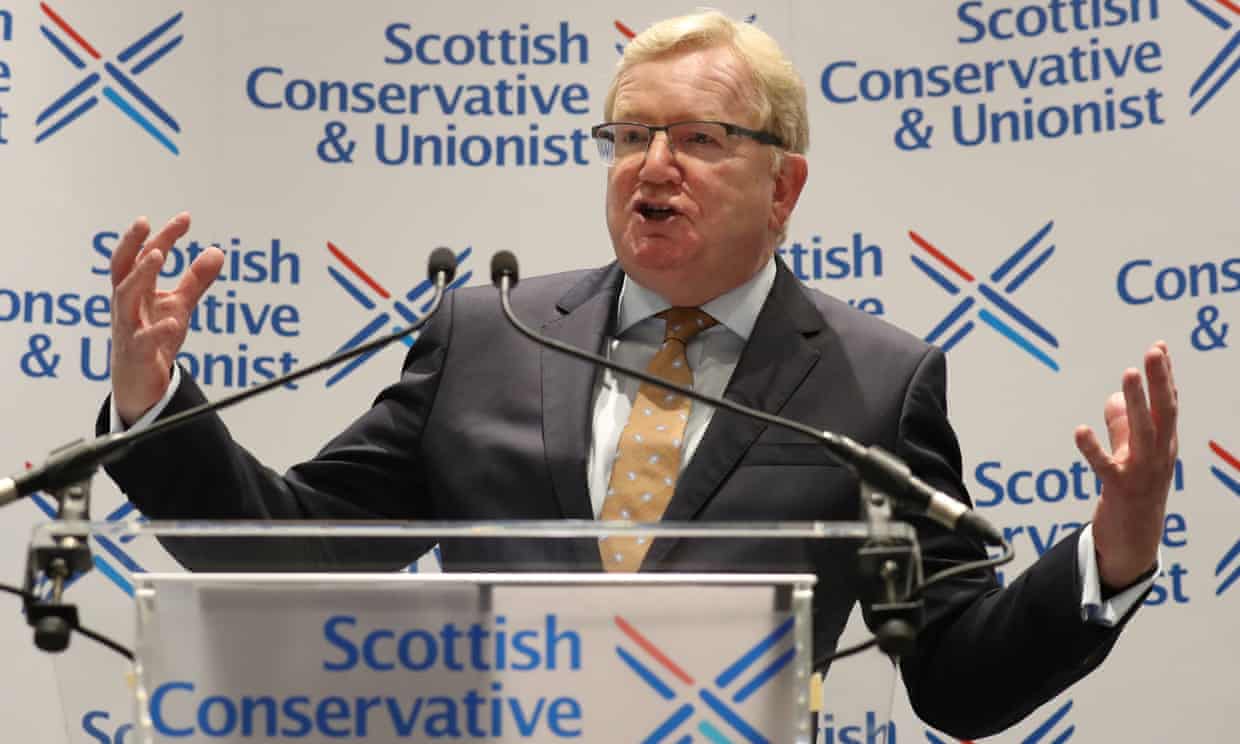 Conservatives
Jackson Carlaw elected leader of Scottish Conservatives
Carlaw succeeds Ruth Davidson and promises to offer 'an ambitious alternative' to SNP
by Libby Brooks

Jackson Carlaw has been elected the new leader of the Scottish Conservatives, promising to offer voters a "clear, focused and ambitious alternative to the SNP" while insisting he has already warned Boris Johnson he will speak out for Scotland whenever necessary.

Carlaw, who has served as an MSP since 2007, had been filling the role as interim leader since last August after the departure of Ruth Davidson, whose own strained relationship with Johnson was well documented.

He comfortably defeated his rival, Michelle Ballantyne, the party's social security spokesperson at Holyrood – who claimed to have had strong grassroots support but did not win public backing from any MPs or MSPs – by 4,917 votes to 1,581.

Carlaw promised a new team at Holyrood to be announced in the coming days and a sweeping policy review, which he has already signalled will put forward a more populist agenda, to dovetail with Johnson's plans for the UK party and win over blue-collar voters disillusioned with the SNP and Labour.

He said the review would also offer "a fresh narrative for the union", with constitutional questions continuing to dominate Scottish politics despite Johnson last month rejecting the Scottish government's request for the legal powers to hold a second independence referendum.

He said: "I don't want it to be lazy and historical, I want it to be positive and forward-looking."

After the announcement of the election results, Carlaw told reporters: "There's a growing realisation across Scotland that the SNP has nothing new to say and is now an exhausted government that is failing on every domestic front."

He said the Scottish Tories would remain "anchored in the sensible, solid middle ground where most Scots stand", while prioritising education, health and housing.

Criticising the Scottish government for the rows with Westminster about preparations for the UN climate summit in Glasgow, Carlaw said he wanted to work constructively with the UK ministers but would always stand up for Scotland's interests.

"I've already said to Boris Johnson that, as leader, when I think Scotland's interests require me to speak out, I will. I expect to be a firm ambassador and champion for Scotland with the UK government."

During the leadership campaign, Ballantyne attacked Carlaw's relentless focus on independence during last December's general election, which Tory insiders accept did not cut through sufficiently with voters and resulted in the loss of seven of the party's 13 MPs.

At the time, Davidson denied that her party's targeted campaign against the SNP leader, Nicola Sturgeon, with adverts urging voters "she still won't listen, so tell her again", was sexist.

Davidson quit as leader of the Scottish Conservatives last August, a few months after returning from maternity leave following the birth of her first child, citing both the conflict she feels over Brexit and her desire to achieve a better balance between her work and family life.

After recent reports that Johnson would offer her a peerage, she said she would give the role "serious consideration".