Allied Racing's Thomas 'riding high' with Risen Star triple threat
by Joe Kristufek/Fair Grounds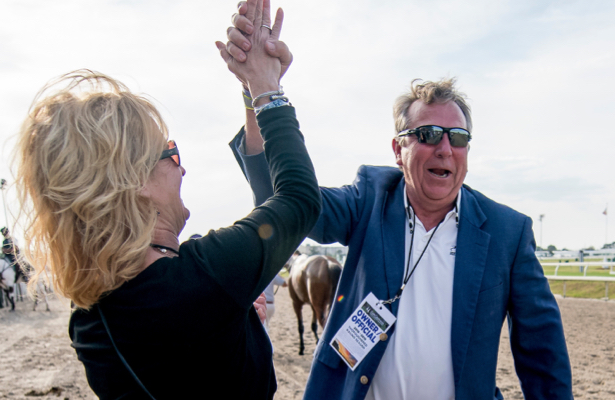 With five graded stakes wins and a Kentucky Derby horse, the past year seems like a dream to Allied Racing's Chester Thomas. The calendar has flipped to 2020, but he still hasn't been pinched.
"It's been an enormous wave and we're still riding high," Thomas said of his recent success. "It's always fun to win, but listen, we've lost a bunch. There's nothing that prepares you better for success than knowing how to lose."
Under the banner of Allied Racing Stable, Thomas has been a successful racehorse owner for the better part of the last decade, but with top 3-year-olds in Louisiana Derby (G2) upsetter By My Standards and four-time graded stakes winner Mr. Money leading the way, his operation earned more than $1.9 million more in 2019 than it ever had before.
"This time last year, By My Standards was still a maiden," Thomas recalls. "Bret (trainer Calhoun) and I were kind of scratching our heads as to why it took him so long (four starts) to win. It was on the Risen Star undercard that the light bulb came on."
With just that maiden score on his resume, By My Standards was dismissed at odds of 22-1 four weeks later in the Louisiana Derby (G2).
"We didn't think we'd have enough earnings to even get him into the Louisiana Derby," Thomas recalled. "With all the issues they were having in California, Oaklawn actually had to spit the Rebel, and that worked in our favor."
The 3-5 favorite off of wins in the Lecomte (G3) and Risen Star (G2), War of Will was compromised at the start, opening the door for an upset, and By My Standards and jockey Gabriel Saez took advantage, earning a trip to the Kentucky Derby in the process.
"Growing up in Kentucky, running in the Derby was even that much more special," Thomas said. "The race didn't turn out the way we would have liked. When the horses were running past us down the stretch the first time, we knew we were in trouble."
By My Standards finished 11th in the Kentucky Derby, and a nagging hoof issue forced him to the sidelines.
"He had a quarter crack working and his foot got pretty banged up in the Derby," Thomas said. "We ended up letting him have plenty of time off to recuperate and get his feet back right. After having eight months off, we all saw how patience can pay off with the way he ran on Sunday."
Sent off as the 1-2 favorite in that second-level optional claiming allowance route, By My Standards sat second early, took full command at the top of the stretch, and then drew off by six lengths "as rider pleased".
"As long as he progresses well out of the race, By My Standards will definitely run in a stakes next time out," Thomas said. "The New Orleans Classic (on Louisiana Derby Day, March 21 at Fair Grounds) will be given serious consideration."
Fourth in the Breeders' Cup Juvenile as a 2-year-old, Mr. Money appeared primed and ready for a productive spring at Fair Grounds, but he failed to seriously threaten in either the Risen Star or the Louisiana Derby.
"We got a little behind the eight ball with him," Thomas explained. "We went into the Risen Star thinking he probably needed the race, but we expected him to step up and run a lot better in the Louisiana Derby, but for whatever reason, he just didn't."
The rest of the year went a lot better for Mr. Money, who strung together four consecutive Grade 3 wins in advance of a heartbreaking second in the Pennsylvania Derby (G1). He ended his campaign with by finishing seventh in the Breeders' Cup Dirt Mile.
"Bret did an awesome job at picking spots for Mr. Money," Thomas said. "It would have been easy to jump right into big races like the Travers, but we kept him on short trips and in good spots."
With a pair of three furlong breezes at Fair Grounds in February, Mr. Money is slowly working his way back, much like By My Standards did. According to Thomas, Calhoun hasn't "penciled anything in for Mr. Money yet."
"We've got a nice chain," Thomas said of the team he has in place. "Bret Calhoun loves his job and pays so much attention to detail. He's easy to talk and very courteous, respectful and professional. Josh Stevens, our bloodstock agent, has a great eye for a horse. There's a lot of hard work that goes into putting yourself in a position to succeed and there's no science to it."
On Saturday, that new wave of Allied Racing sophomores will look to prove their class in split divisions of the Risen Star (G2).
"We were confident Mailman Money would get in, but without the split, Mr. Big News and Ready to Roll may have been on the bubble," Thomas said.
Asked to face his much more highly regarded stablemate and the odds-on Digital on debut, Mailman Money was dismissed at odds of 24-1.
"Bret told me not to be discouraged, but that he thought Digital had the advantage," Thomas recalls. "He was a couple works ahead of Mailman Money and we didn't think our horse was a sprinter type. As it turned out, we took the lead in the stretch, and when Digital came up to him, Gabe (jockey Saez) shook the reins and the horse really dug in. We felt at that time that we had a serious racehorse."
Six weeks later, the son of Goldencents stretched out around two turns in a first-level allowance race, and he didn't disappoint, stalking the pace before pouncing and drawing away to a resounding win.
"This horse has a gargantuan stride and he just floats over the ground," Thomas said. "This (the Risen Star) is a race that is going to separate the men from the boys. It will let us know where we are at."
Mailman Money drew into the second division of the Risen Star, as did stablemate Mr. Big News.
"I think Mr. Big News is a sleeper," Thomas said. "He has never really had a good trip, which is good in a way because it seasoned him."
It took the son of Giant's Causeway four tries to break his maiden, but his speed figures have improved with every start.
"When he broke his maiden, there was no pace in the race and he took a lot of kickback," Thomas said. "He really picked it up the last sixteenth of a mile or so. He is bred for classic distances and we think he's going to love nine furlongs. I watched him work last weekend, and (jockey) Robby (Albarado) could barely get him pulled up."
Ready to Roll, who broke his maiden in the third try by open lengths in the slop last time out at Oaklawn, landed in the first division of the Risen Star.
"He sprinted the first two times out, but we knew he wanted to go two turns and (jockey) Stuart Elliott did a really nice job hustling him out of the gate and putting him in a good position," Thomas said. "He relaxed well and it was an easy win. We were not sure what we were in against, but he definitely made his imprint."
Thomas is excited about having a trio of Risen Star horses, but he is also well aware that this is just the beginning.
"All three are training well and it seems like they are growing up physically and mentally," Thomas said. "As we proved last year with Mr. Money, no matter what happens on Saturday, there are a lot of good races the rest of the year, so there's no need to panic or push on them."
"Whether you're racing or breeding, it's a slow go, it's a process," Thomas continued. "You have to have patience. It's been a nice ride for my wife Jennifer and me. We know this isn't going to last forever. In this game it can turn off just as quickly as it turned on. We hope it doesn't, but you know it can."