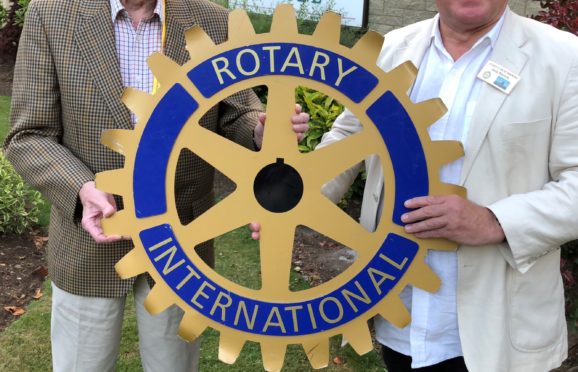 Lifelong Dundee rotarian recalls 'trembling' the day famous club invited him in
A retired jeweller is shining bright after receiving a gem of an honour for service to the Rotary Club.
by Peter John Meiklem

Scott Henderson received the Paul Harris Sapphire Award in recognition of 60 years' service to the fund-raising membership organisation.

The businessman said it was a wonderful way to cap his six decades of service to the club in Dundee.

"I have always been immensely proud to be a Rotarian over the last 60 years," he said.

"I have made so many friends and enjoyed playing a part in so many great projects and events that have helped many people in Dundee and elsewhere.

"Rotary has been the mainstay of my life."

The 87-year-old's achievement is a record for the Dundee club, which will celebrate its centenary next year.

It is also a rare accomplishment within the 47,000-strong membership of Rotary in Great Britain and Ireland.

Mr Henderson received the award for outstanding service at a club meeting at the Invercarse Hotel earlier this week.

He also received a special cake to mark the occasion.

Mr Henderson entered his father's jewellery business in 1954 in what was then a small corner shop at 1 Union Street, Dundee.

The property has since grown and is now run by his son Stephen – the third generation of the Henderson family at the helm of the business.

Mr Henderson said he was inspired by the organisation's motto of "service above self".

"My father Matthew Henderson was not a rotarian but he said if I ever got the chance to join the rotary club I should take it," he said

"The rotary was highly respected as a fellowship club for the business sector which did a lot of very good work for the community at large.

"Rotarians then were held in a certain awe. The leaders of all the main business bodies and institutions in the city were members of Dundee Rotary Club. They were people you looked up to.

"I remember when two prominent members of the Dundee club came into the shop one day in 1959 and asked me if I would consider joining, I was trembling.

"I was naturally thrilled to be asked yet at the same time was shaking, but of course I readily accepted and joined in 1960."

Mr Henderson served as club president in 1976 and was made a Paul Harris Fellow, a precursor to the sapphire award, in 2010.

The honours are named after the 1905 founder of Rotary in Chicago.