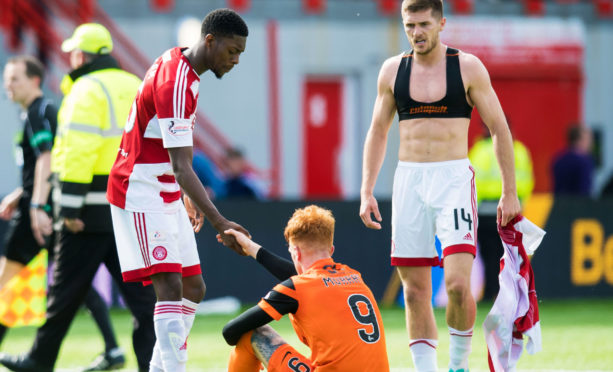 Rakish Bingham helped keep Dundee United down…now he wants to help take them up
Rakish Bingham has played a part in keeping Dundee United out of the Premiership.
by Eric Nicolson

Now he is looking to do his bit to get them back into it.

The Tangerines have done a pretty good job of closing in on the Championship title without him but the recent recruit will be tasked with putting his shoulder to the wheel to make sure the procession continues.

Bingham, who will be in Robbie Neilson's squad for tonight's game away at Alloa, said: "I never scored against United but we had back-to-back victories in the play-offs with Hamilton (in 2017).

"I maybe shouldn't have mentioned that!

"Now I just want to make sure that put it all right and get up to the Premiership this season.

"I've played at Tannadice a few times. We have a great stadium and a big support here at United.

"I must say I had a great time at Hamilton.

"They were good to me but that chapter in my career is done.

"Now it's onto the next chapter and here I want to really push on between now and the end of the season."

United's free weekend was a bonus for Bingham, who has had plenty of time to integrate himself into his new surroundings.

"It has allowed me more time to get settled in," he said. "It's done me the world of good actually.

"Here in Scotland is where I've spent a lot of my career and enjoyed my best moments.

"So it's a place I'm pretty familiar with and feel comfortable.

"I just want to come in and help the lads as much as I can with what I can bring to the team.

"Hopefully that's enough to get me an extended deal beyond the end of the season."

He added: "I had a few options and I was also aware of United's interest.

"It didn't take long for me to come up here. It was maybe less than 48 hours.

"The talks were positive. Of course, I remember playing against Dundee United in the play-offs and recall how big the crowd was inside Tannadice that night.

"I just had a good feeling about the move from a lot of people.

"I know Calum Butcher who's here already, and we have mutual friends as well.

"So overall I was excited."

Bingham's last game for Doncaster was in mid-January so it shouldn't take too long for the Englishman to build-up his match sharpness.

"I'm ready to go in when the gaffer calls upon me," he said.

"I feel as though I'm getting even sharper in training every day.

"To be honest, I don't mind where I play.

"I see myself as somebody who wants to create and score goals, and just contribute.

"Hopefully that gets people off their seats and excited.

"I would say I'm maybe a nine-and-a-half at times. I don't mind operating out wide or just behind the main striker.

"As a striker, you get the glory by scoring goals. You can do it as a wide player as well but I think everyone likes to get goals.

"At the end of the day, wherever the manager decides to play me I'll be giving it my best shot."

Sharing the same forward-line as Lawrence Shankland is the dream ticket in the Championship.

"He's doing brilliant," said Bingham. "Having scored 28 goals already this season.

"If I can help towards that, then I'll be delighted to do so."

Louis Appere is available tonight but Paul McMullan is unlikely to feature.

Alloa skipper Andy Graham and goalkeeper Neil Parry are injured, with Jon Robertson and Steven Hetherington doubtful.