Netizens cringe as KFC teams up with Crocs to come up with fried chicken footwear
by Trends Desk

By: Trends Desk | New Delhi | Updated: February 14, 2020 1:31:43 pm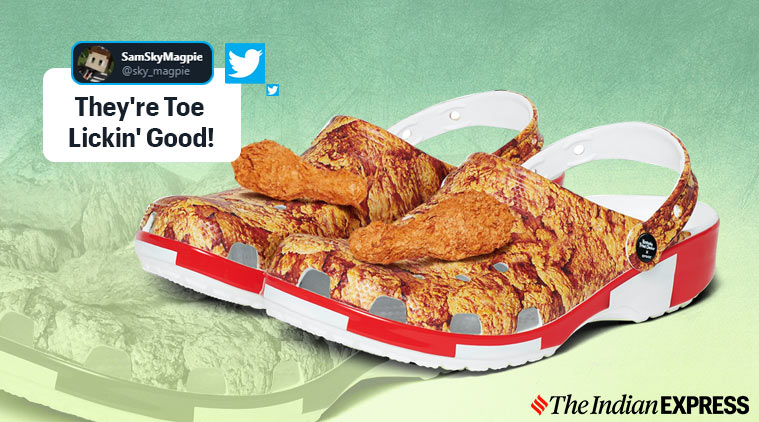 The limited-edition shoes, which is expected to hit the stores this spring will be priced at .99.
Footwear company Crocs has tied up with the world-famous fried chicken brand, KFC, to create KFC X Crocs Buket Clog, a limited edition shoes with a fried chicken print and netizens cannot help but cringe.
Combining the world-famous look of the fried chicken and the KFC bucket with the comfort and style of Crocs, the uniquely designed shoes have KFC's iconic red-striped bucket on the base.
According to a CNN report, they come with two attachable fried chicken charm- which looks and smell like fried chicken.
To promote the collaboration, Crocs has also designed a bucket version of the shoes, with the same design but with a 4.5-inch platform, reported Daily Mail.
The heals will feature the name 'Kentucky Fried Chicken' and the upper head of the fast-food chain's founder, Colonel Sanders.
As per the CNN report, the shoes will be available in unisex sizes and will be priced at $59.99.
Take a look at how people have reacted to the uniquely designed shoes here:
📣 The Indian Express is now on Telegram. Click here to join our channel (@indianexpress) and stay updated with the latest headlines
For all the latest Trending News, download Indian Express App.
© IE Online Media Services Pvt Ltd