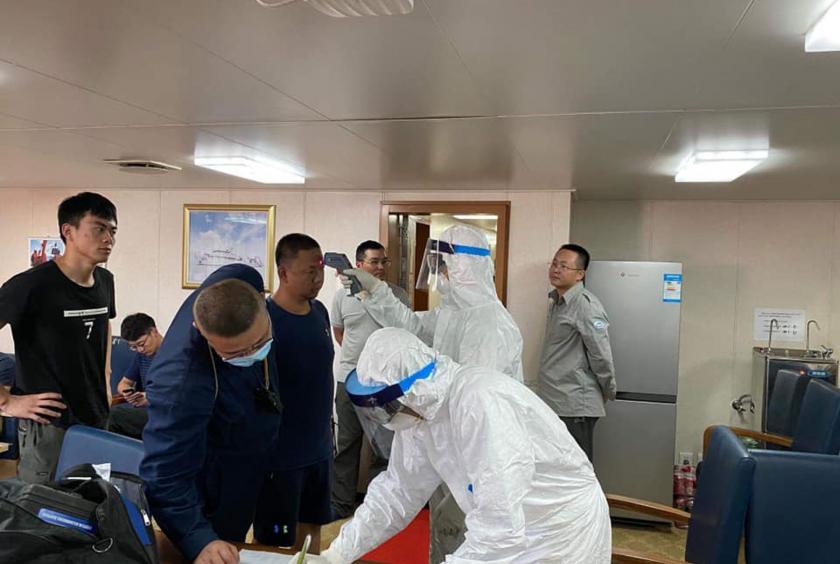 Crew, researchers onboard Chinese research vessel found no fever
by Ei Thinzar Kyaw

 

Authorities conducted health checks on 59 crew members and researchers onboard on a Chinese research vessel that arrived in Yangon Region on February 12 to do marine science research in cooperation with Myanmar, and no one was found to have a fever, the Ministry of Health and Sports reported.

Chinese research vessel XIANG YANG HONG 06 arrived at Thilawa Port at about 4.20 pm on February 12. Then, officials from the Central Infectious Disease Control Department, Port Health Immigration Department and Public Health Department got on the ship and carried out health screenings such as taking temperature of individuals and checking their daily temperature records, health declaration cards and food and hygienic conditions.

The vessel was allowed to be moored at the port at 6 pm as it had left Maldives since January 21 exceeding the incubation period of coronavirus disease 2019 (COVID-19).

"As the incubation period is set to be about two weeks, according to WHO, the passengers coming from the affected countries were not found to have suspicious symptoms and fever when they entered Myanmar. Though one may be healthy, one may have been infected with the virus within the incubation period. To expose the patients and treat them and not to spread the virus, the role of those related to hotel and tourism industry is very important. Relevant departments have been informed by the Ministry of Transport and Communications that foreign passengers will be allowed to enter only after filling health declaration forms issued by the Health and Sports Ministry," said an official from the Central Infectious Disease Control Department.