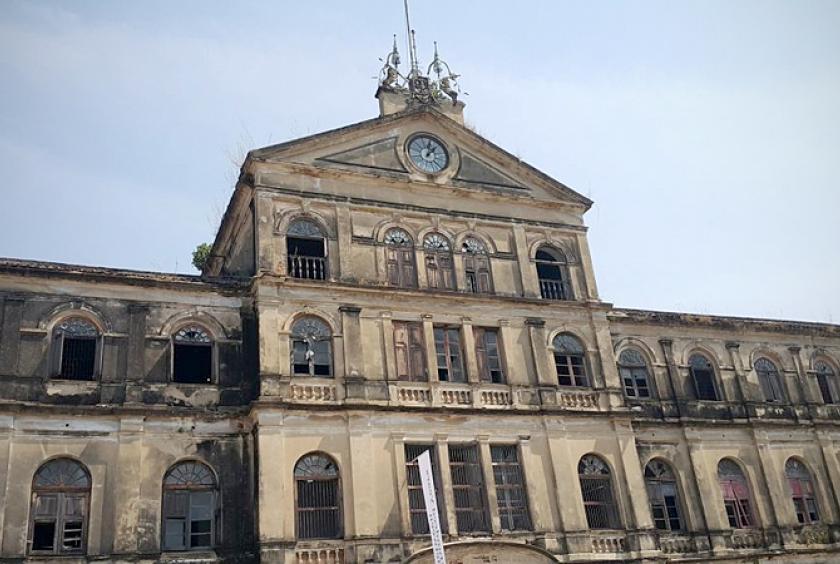 Take a walk into the past – or into the future – with thrilling Bangkok Design Week
The Nation / ANN 
It's bigger, better, more interesting and extra exciting.
The third edition of Bangkok Design Week, ongoing until this Sunday (February 9), has expanded to three more areas – Samyan, Thonglor-Ekkamai and Ari-Pradipat in addition to the main Charoenkrung-Talad Noi – and features unseen places and compelling experiences coupled with mesmerising pieces of creative design.
"It is more exciting than the first two years," insists Apisit Laistrooglai, director of the Creative Economy Agency (CEA). "There are many more organisations and creative designers paying attention to this third year of Bangkok Design Week, such as Creative Village presenting a mapping show on the building of the Central Post Office and 3-4 pavilions installed at the front of the building including Bangkok #Safezone Shelter and Everlasting Forest by PTT Global Chemical."
This edition's theme, "Resilience: New Potential for Living", showcases ideas to prepare Bangkok for whatever the future brings. Bangkok Design Week 2020, which enhances the sustainable growth of the creative economy, expands to new venues to celebrate Bangkok's status as one of the members in the Unesco Creative Cities Network.
"The creative economy is an economic development that is based on the interplay between people's use of knowledge, creativity, and intellectual property. The activities link with cultural foundations, wisdom, technology, and innovation, in the interest of creating new products and services to add value to the economy. Today, many countries are shifting direction towards new economic models, particularly the creative economy. The existing knowledge that combines with creativity, technology and innovation in the development of products and services can lead to a massive increase in economic value," Apisit explains.
My first stop is at the Old Customs House on Charoenkrung Road with a photo exhibition, "Hundred Years Between" by Thanphuying Sirikitiya Jensen, celebrating the 115th anniversary of diplomatic relations between Thailand and Norway. This historic building was built in 1888 as one of many Western-style buildings commissioned by King Chulalongkorn, and was designed by Joachim Grassi in the neo-Palladian style. Thanks to Bangkok Design Week 2020, it is a rare opportunity for the public to gain access to the building, which will be shut for many years to restore and redevelop it into a luxury hotel.
The exhibition features large-scale photos installed on three floors of the building and shuttered through Thanphuying Sirikitiya's film camera while following the footsteps of her great, great grandfather King Chulalongkorn on his historic trip to Norway in 1907. Walking through the entrance of the building into the first floor is like being embraced by the vastness of Norway's powerful and mythological landscape in four photographs, while she visited the island of Torghatten. Stepping up the old wooden staircase towards the second floor feels like also following in her footsteps in exploring Gudvangen, which means the god living at the end of the fjord (Gud means god, as vangen is the stream at the end of the fjord), and North Cape on the third floor.
Thanphuying Sirikitiya noted that most of her work explores the concept of memories, and of history as a multi-dimensional entity that is always in a state of flux. History consists of memories of multiple individuals, with different perspectives and modes of expression. Over time, as people change, history or stories within spaces invariably change in response. As such, landscapes or architectural structures can possess different layers of memories if we just take the time to look.
My next stop is at Marine Police Lodging to see D17/20 present "Design in Southeast Asia" featuring Thailand, Indonesia, Vietnam and France. All these artists, from countries that have had different policies and different views of craftsmanship, are now coming together on common issues: creating while respecting the limits of our ecosystem and with sustainable perspectives. Sobriety, in their eyes, is not synonymous with neutrality, but rather an emphasis on empathetic links between objects and their users. Designers and craftsmen, so few of them gave in to the fashion of the ready to throw away, are seen today as the pioneers of sustainable development. It's an opportunity. It is this dynamic that is reflected in all these exchanges.
OP Place is a destination presenting the exhibition "E!Room", its first time in Asia outside Japan. E!Room understands that sensing nature around us is as hard as preserving it, as "Super Regenerator" is a new theory that the power generated from any sources itself can affect the route source, showing what it is like. The E!Room displays environmentally friendly technology that achieves the sustainable development goal of affordable and clean energy. An extremely small amount of electricity is produced by the contact between specific materials and in facets of the environment such as water, soil and plants.
Not far from OP Place is Wat Muang Khae featuring the "Thai Tiles: Memories of Thai Textiles" exhibition by Silpathorn Award artist Wasinburee Supanichvoraparch in cooperation with young artists from nine universities under the contemporary art and cultural knowledge promotion and application project. It applies ceramic design knowledge of ancient fabric motifs and local art wisdom to reflect the value of community design and the local lifestyle, which changes as time passes by.
Walking down the other side of the Central Post Office towards Baan Liew Lae in Talad Noi one sees a heritage house installed for "Bangkok Sealandia", which is a kind of experimental design in collaboration between Sumphat Gallery and young designers who suggest how Thais can adapt their lifestyles to the new environment in year 2050 through elaborate design solutions. The last is along the alley to Chow Sue Kong Shrine, displaying 49 photographs bringing out the charm and magic of Charoenkrung through the camera lens.
"Charoenkrung has been the main venue for the past two editions of Bangkok Design Week due to key factors," CEA director Apisit says. "The first is tourism: Charoenkrung is home to many historical establishments, for example, the Grand Postal Building at the Central Post Office, where the TCDC is located, Siam Commercial Bank-Talad Noi Office, which is the first Thai bank, the nineteenth-century neoclassical Customs House, and the 100-year-old Haroon Mosque, to name a few. The second is new investment, where the private sector is developing a number of new businesses in Charoenkrung including boutique hotels, art galleries, and for creative events such as Warehouse 30. The third factor is community development of local businesses in Charoenkrung, which are transforming their traditional products and services to adapt to the new business environment and create added value to their business. These are examples of the development which is driven through strong collaboration among the public, private and community sectors in Charoenkrung, making the concept of creative economy clearer every year."
Bangkok Design Week 2020 comprises of five key activities. 
The first is Showcase & Exhibition, displaying design processes and new technologies by designers and creative businesses to introduce different ways to improve the quality of life on multiple levels: from people, community, business to the city. The highlights include "Bangkok #Safezone Shelter" and "Everlasting Forest by GC".
The second is Talk & Workshop, featuring creative speeches and workshops by thinkers, creators, and designers. Learn how to design sustainably based on reducing, selecting and cycling resources, which finally makes a positive impact on people in the city. Highlights include "7 Wonders of Business Resilience" and "Bangkok Design Week 2020 Powered by PechaKucha".
The third is Creative District, promoting Charoenkrung as a creative district that supports both commercial activities and community wellbeing. It is a prototype for creative area development which leads to practical use. Highlights include "Made in Charoenkrung". 
The fourth is Event & Programme, featuring live music, film screenings, art shows, performances and open house activities in celebration of Bangkok's creativity.
And the fifth is Creative Market, showcasing a creative market for new and veteran entrepreneurs for building business opportunities, networks, and market channels. Highlights include Pinkoi Market in Bangkok 2020 that gathers design works from more than 50 design studios from Thailand, Taiwan, Japan, Hong Kong, China and Southeast Asia.